For sugar lovers, a good dessert, pastry, or wine and chocolate pairing can mean the difference between a perfect day and a sour escapade. To satiate our sweet-toothed friends, we picked a few of our favorite Napa Valley desserts, bakeries, and custom chocolatiers. 
DESSERTS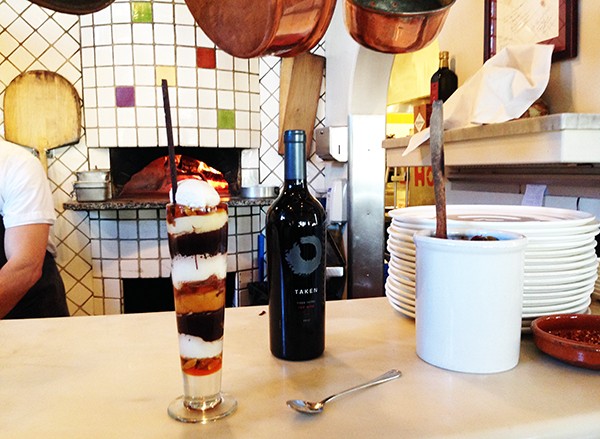 Image of Bistro Don Giovanni  "Bostini" Trifle with Taken Red Wine. A perfect pairing. 
The "Bostini" Trifle at Bistro Don Giovanni is a tall glass filled with layer upon layer of vanilla custard, chocolate cake, whipped cream, clear caramel, and toasted almonds. This dessert has been called the "best in the valley" by many and is often, but not always, shared.
The Camp Fire Pie at Cindy's Backstreet Kitchen was a local secret for a long time, and the cause of many late night tears when unavailable. Finally on the menu regularly, this delicate and delicious nod to s'mores is much better than anything you've made around the campfire.
Sweetie Pies' Chocolate Mousse Cake manages the impossible balance between bold richness and subtle delicacy. It also pairs incredibly well with red wine and can be conveniently found all over the valley -- in Downtown Napa at Sweetie Pies, and in St. Helena at Dean and Deluca and Sunshine Foods.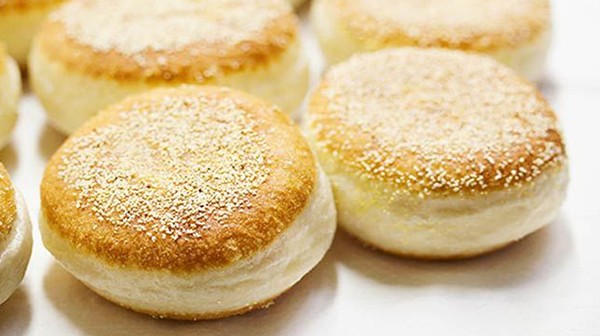 English muffins, Image courtesy of Model Bakery
BAKERIES  
Bouchon Bakery is the place to go for a cappuccino with a baguette, pastry, or cookie (who are we kidding, get all three), especially if you can find a spot in the quaint courtyard. Thomas Keller's famous bakery isn't unique to Napa, but it's famous for a reason, and definitely worth a visit. 
The Model Bakery has a location in St. Helena and Downtown Napa, and makes perhaps the best English muffins on the planet (pictured above). Other baked and buttery delights can be found here, and the breakfast sandwiches are a local staple.
Alexis Baking Company seems like a hole in the wall, but makes a killer scone, offers all kinds of stellar baked goods, and has become known for their tasty breakfast concoctions. It's also important to note that their Apricot Pistachio Cake, and other baked sweets, are almost always listed among the Valley's best.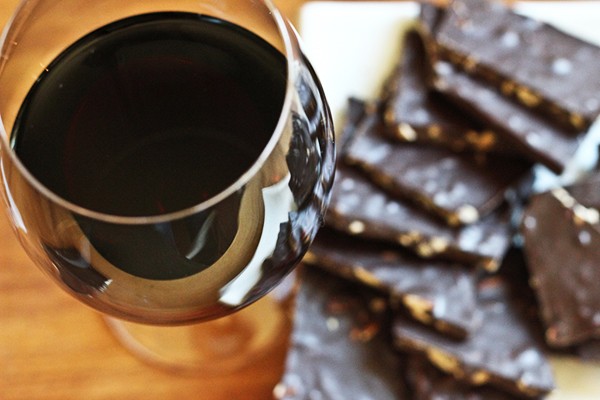 Image courtesy of Bark 72
CHOCOLATIERS
Bark 72 is amazingly tasty, rare, expensive, and designed to pair with wine. I've heard it said that "chocolate is only as sweet as the chocolatier," and chocolatier/chef Mariela Viader is about as sweet as they come. Find it online, at ACRES in St. Helena, and other specialty shops. 
Kollar Chocolates in the V Marketplace in Yountville is brand new, sexy, and owned and operated by a wonderful local chocolatier. The elegance and the style of these creations match their rich and creative flavors. 
Woodhouse Chocolate in St. Helena is known for their seasonal creations, ranging from full-sized, airbrushed chocolate turkeys to chocolate Christmas trees and polar bears. They also make custom chocolates, like sassy high-heeled shoes with your stylish lady's name, or favorite designer, on the insole.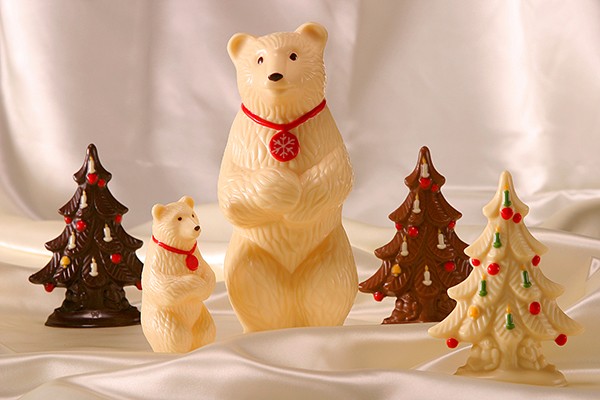 Image courtesy of Woodhouse Chocolate