What, like meat on a stick? This is sometimes the quizzical response I get when I talk to people about street food. While some may like it and talk about it too much, many others just don't quite get it. This idea that you can pick up gourmet food on the same busy street corner like you pick up a newspaper or some cheap flowers.
These people aren't quite the "street food junkie" like I could be characterized as, after eating from nearly 75 street food vendors last summer in San Francisco. However, what has long been a part of many other cultures, has only recently started trending in U.S. cities in the last couple years.
While many cities have somewhat of a cult following behind its gourmet food trucks and pushcarts, the upward trend has been a result of necessity more than anything. A suffering economy over the last few years has put many restaurants out of business in the face of high utility bills, property taxes, and rent.
However, operating a food truck can have significantly lower costs and allow owners to dabble into the restaurant business before opening their own storefront. In Seattle, there's Marination Mobile, which is known for their Hawaiian-Korean tacos and sliders, but now has a storefront in Capitol Hill that just celebrated its one-year anniversary.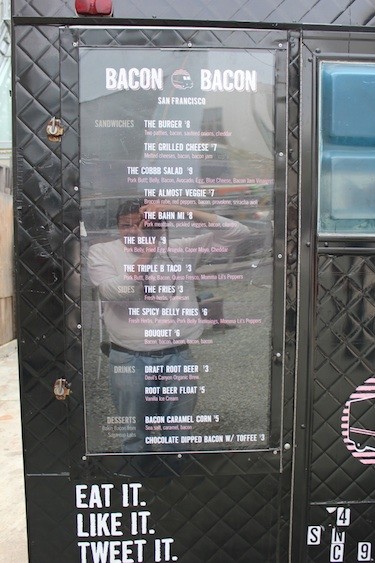 Necessity aside, there's a certain trendiness to gourmet food trucks in America, thanks in part to social media. Adam Richman of The Travel Channel spoke to this fact in an interview in which I asked him about the growing popularity of food trucks in America. It's almost like food trucks have a groupie following, or as Richman put it, "Because it's a moving truck, there's something about knowing where it is that makes you in. It's like you have the password to the speakeasy."
And then there's Portland, which has double or triple the number of food trucks as cities twice its size. However, unique to Portland are the street food pods spread throughout the city, some of which include covered seating, heaters, bathrooms, and ATMs. 
Here in San Francisco, we're doing our part to not just tolerate the popularity, and sometimes over-hyped culture of street food, but help support it. The challenge of street food to the everyday consumer is when and where to find it, but it's a challenge that Off the Grid has met.
Off the Grid markets take place daily during lunch and dinner hours at neighborhoods around the Bay Area, including the Upper Haight, Civic Center, St. Mary's Square, 5th and Minna, Berkeley, and Larkspur, with the biggest event happening on Friday nights at Fort Mason with live music and beer and cocktails. These street food markets organize food trucks and pushcarts in one central location, with anywhere from a few vendors during lunch events to over 30 on Friday nights at Fort Mason.
Over-hyped or not, gourmet street food is no longer just a fad. Those street foodies among us will continue to order with pleasure our staples like Korean BBQ tacos and Nutella strawberry crème brulee, while checking into places that aren't stationary places at all.