Sunday, October 14, will mark the 10th anniversary of CUESA's Sunday
Supper, a gala dinner that will bring together local food lovers, winemakers,
brew masters, bartenders and 30 of the Bay Area's brightest chefs at the historic Ferry Building. The Supper showcases not only the talent and ingenuity of chefs like Staffan Terje of Perbacco and Craig Stoll of Delfina, but it also celebrates the season's best locally grown fruits, vegetables and humanely raised meats from the farmers at the Ferry Plaza Farmers Market.

The evening will kick off with hors d'oeuvres, oysters, champagne and artisan
cocktails, as well as a behind-the-scenes look at the event kitchen. You'll get
an up-close view of chefs like Melissa Perello of Frances, Ryan Farr of 4505
Meats and David Bazirgan of Fifth Floor in action, working side by side with
their chef teams to plate and execute one of six unique four-course menus. All
dishes will be paired with Napa wines and local craft beers selected by master sommelier Michael Pierce of Maverick in collaboration with Napa Valley Vintners.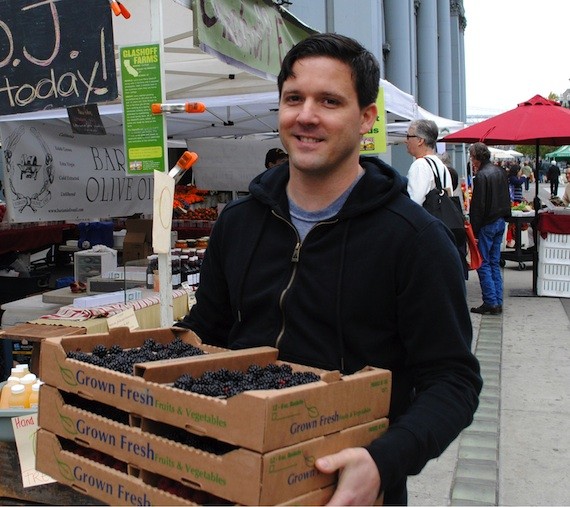 William Werner

Pastry chef William Werner of Craftsman & Wolves will provide a sweet finish
to the menu created by his team, which includes Brett Emerson of Contigo,
Chris L'Hommedieu of Prospect and Mark Sullivan of Spruce. His dessert will
be a riff on the traditional lemon tart, with lemon custard, yogurt sorbet, crispy
praline topping, candied lemon peel and a violet meringue.

When I asked William why he volunteers his time to participate in this important CUESA fundraiser he told me, "I love to do the Sunday Supper because I get to hang out with all my colleagues in the industry that I don't get to work with on a regular basis and meet new chefs that I only know from shopping at the market. It's nice to get a chance to cook with all of them, and it's inspiring to see what the other chefs are doing."

Come see what amazing feasts these talented chefs are cooking up at Sunday Supper on October 14. Your tax-deductible donation will benefit CUESA's educational programs, such as free market cooking demonstrations, scholarships to help farmers make their businesses more sustainable, and Schoolyard to Market. There's also knockout list of live auction items, such as an exclusive farmers market shopping trip and dinner with Michael Tusk of Quince.

For a complete list of participating chefs, wineries and breweries, visit CUESA
website and get your tickets today.