By
Previously known only as a sleepy suburb and home to the University of California Santa Barbara, Goleta is finally out on its own. Aside from a few longstanding reasons to visit this college town (like the Mercury Lounge, a kitschy local bar and popular live music venue, or the seasonal monarch butterfly migration), new craft breweries and an organic farm growing rare domestic coffee are quickly becoming tourist destinations in their own right.


BEER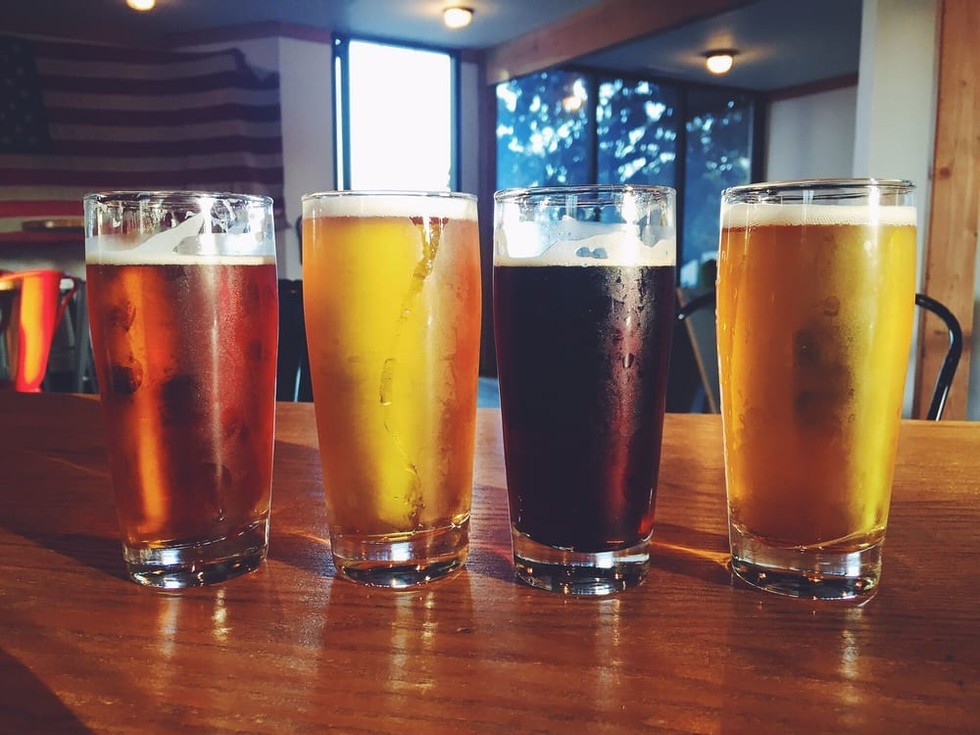 Beer on tap at Draughtsmen Aleworks(via Yelp)
Draughtsmen Aleworks, which opened this spring, is an archetype of a locally built, brewed, owned and operated endeavor. Five friends, each with a skill to contribute, from marketing to engineering, shared a collective dream. All of their beers are produced and served in a former commercial office building in North Goleta. It is at once modern (split-level warehouse space, crisp white subway tiles) but also homey (wood wraparound bar, cheerful signage). Most popular is the Severance IPA as well as the Crimson & Clover Irish Red Ale. A rotating calendar of visiting food vendors, live music (a full brass band was recently there to celebrate Oktoberfest) and the crowlers, 32-ounce fresh-filled cans, make this a very popular place to be. // 53 Santa Felicia (Goleta), draughtsmenaleworks.com
Less than a mile away from Draughtsman is another new beer hotspot, M. Special Brewing Company. And similarly, it was formed a year ago when good pals joined forces to create a meeting place for good beer. Lager is the "special" part of M. Special, a beer that you don't often see on a typical craft-beer lineup due to its association with the cheap canned stuff you drank in high school. The truth is that, while the ingredients (rice or corn) to make American lagers may be inexpensive, the beer requires a much longer ferment and settle time than more malty ales, taking up prime real estate in the brewery. This is why small production brewers tend to skip it. But the M. Special lager is crisp, sparkly and balanced, a good representation of how a well-made lager should taste. Other popular brews include the spicy Belgian All Time Special Farmhouse Saison and the hoppy Lazy Eye Special Double IPA. The office-park location provides plenty of space for local food trucks and bands. Jack Johnson has been known to perform an impromptu acoustic show. // 6860 Cortona Drive Suite C (Goleta), mspecialbrewco.com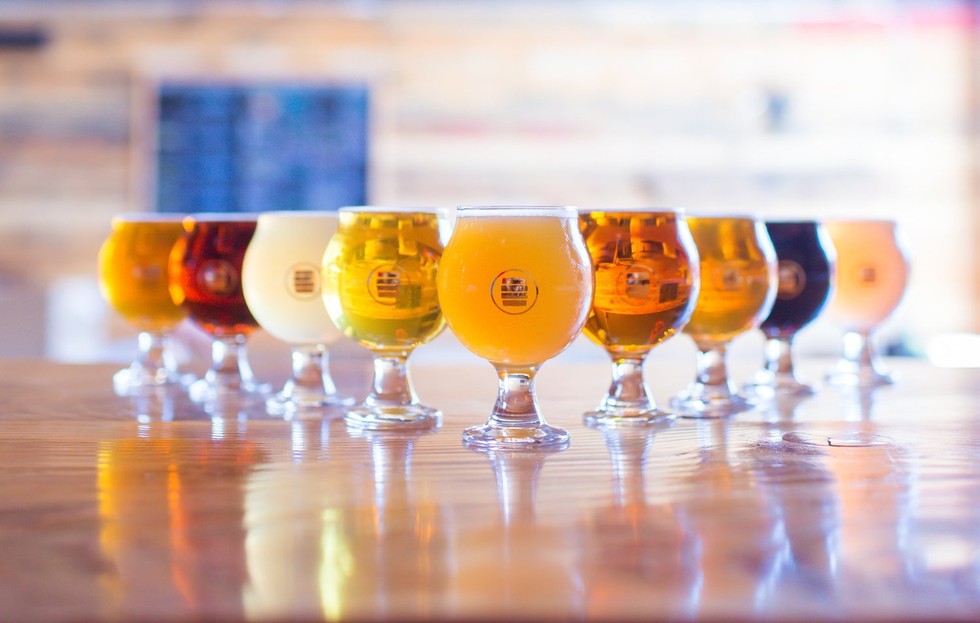 The selectiona at Captain Fatty's Craft Brewery(Courtesy of Captain Fatty's Craft Brewery)
At Captain Fatty's Craft Brewery, you will find more ingredient-driven beers, such as the Raspberry Rye Sour and the Stonehouse Ale Apricot Saison made with local, seasonal apricots. A crew of four friends, who met at UCSB, opened this spot in 2014 with very limited hours and a small production. After closing for a year to expand from a one-barrel brewing system to a 15-barrel system, they're back in action with a fresh yet rustic look. That means you'll see a lot of wooden barrels used as furniture, knotty pine plank walls, picnic tables in the sunny yard and a handcrafted bar. Don't forget to ask for a "Campfire" marshmallow if you order their Walk the Plank Milk Stout. // 6483 Calle Real, Suite D (Goleta), captainfattys.com

A short walk from the first two breweries is Hollister Brewing Company, less industrial in its strip-mall location but still required for any beer tour of Goleta. The father-son team, Santa Barbara natives, who own and operate Hollister strive to bring folks together by providing a lively gathering place. They have a full restaurant, serving items such as duck-fat french fries, the Ploughman's platter (cheese, charcuterie and housemade pickles) and a local favorite, McConnell's ice cream. But the real reason you're here is for the 15 beers on tap, many of which are session styles under 6 percent ABV, meaning they won't get you tanked after two. Try the clean Beachside Blonde Kolsh or the tart and salty Tiny Bubbles wheat ale. They also come up with seasonal specials, such as the Orange Blossom, made with the peels of 25 pounds of oranges and 6 pounds of local orange blossom honey. // 6980 Marketplace Drive (Goleta), hollisterbrewco.com
COFFEE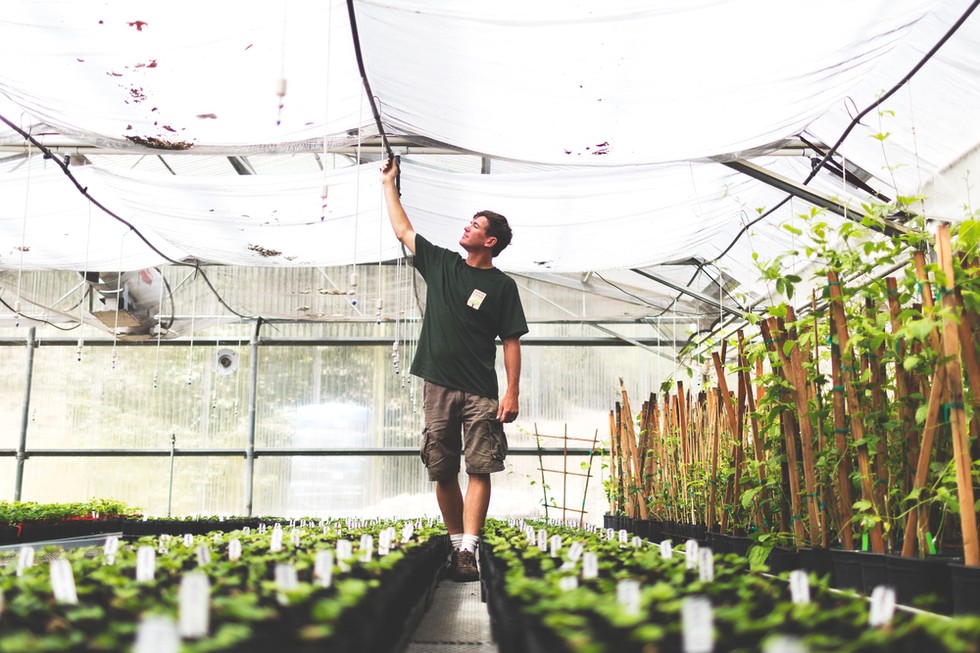 Good Land Organics(Michelle Nunes)
In 2010 Jay Ruskey was named Small Farmer of the Year by the University of California Cooperative Extension. His farm, Good Land Organics, nestled in the sloping foothills above Goleta, has created quite a buzz in sustainable agriculture for the unconventional and experimental crops he grows—dragon fruit, caviar limes, cherimoya, passion fruit, and coffee. Yes, coffee. In California. It is a hugely labor-intensive project, but with help from UC's Division of Agriculture and Natural Resources, a large network of UC scientists, educators and researchers spanning every county in California, coffee growing has been successful. More than 1,500 coffee bushes grow under the avocado trees, which help alleviate irrigation demands and provide the shade that coffee needs, along with frost-free winters and mild summer mornings. Luckily, we can order the rare US crop online, in bean form, roasted or green. If you are in the area, book a tour of the farm and coffee production during harvest season, May through September. Or if you can't get to the actual farm, time your visit with the downtown Santa Barbara farmer's market on Tuesdays and Saturdays to buy beans or a fresh cup. // Condor Ridge Ranch, Farren Road (Goleta), goodlandorganics.com
Another Goleta coffee business is Green Star Coffee, which may not be using California-grown beans but has a strong commitment to sustainable practices and organic, high-quality sourcing. This roastery provides many of the area's best restaurants, cafes, and grocers with beans. And while their single storefront is in Santa Barbara's Public Market, it is easy to find a cup of their brew at other local locations as well. A great spot to sample Green Star is at Goodland Kitchen and Market, a commercial kitchen space for many small-food producers. // 231 South Magnolia Avenue (Old Town Goleta), goodlandkitchen.com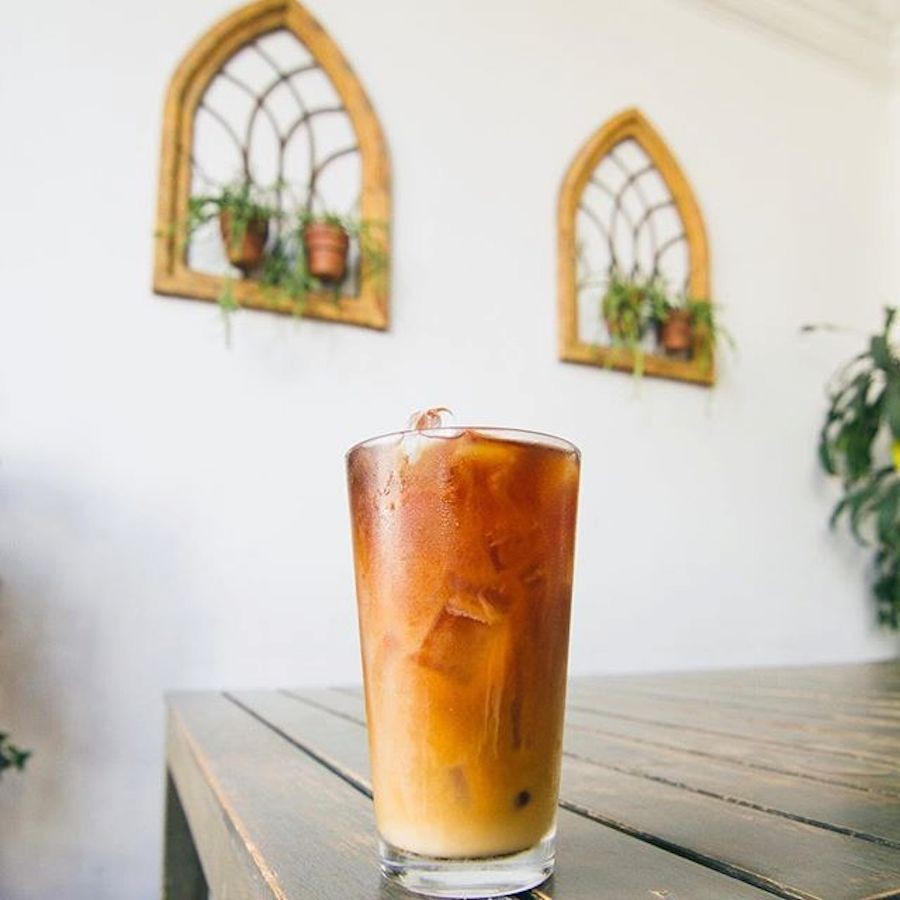 Iced coffee at The French Press. (Courtesy of The French Press)
When you start looking into the Third Wave coffee scene (ie, the post-Starbucks artisanal-coffee phenomenon), you'll quickly see that it's a pretty small world. The young couple behind The French Press in Santa Barbara initially sourced beans from Verve in Santa Cruz (and now in LA and Japan) when they opened in 2009. The French Press bloomed into a roasting company called Castle Coffee Roasters and a bakeshop, which turns out seasonal, from-scratch pastries and special occasion cakes. The newest French Press location just opened in Goleta. // 250 1-A Storke Road (Goleta), thefrenchpress.com
STAY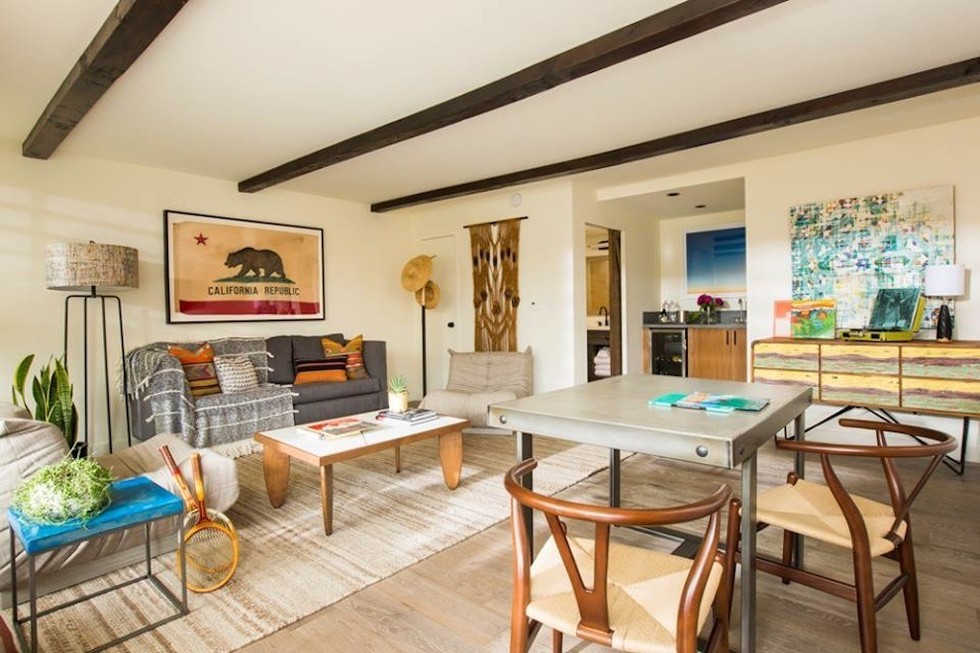 The Goodland Hotel(Courtesy of The Goodland)
Until recently, overnight options in Goleta were few and far between. Luckily, the Kimpton group changed that with The Goodland Hotel, a hip spot of affordable, well-designed rooms appointed with woolly textiles, dark-wood accents and vintage Crosley vinyl players. Amenities include an in-house record concierge, complimentary bike tours, a restaurant called Outpost where you can order West Coast oysters, street tacos and various Bao-Buns. A fun drinking hole named Good Bar has a huge assortment of agave spirits for your poolside margarita pleasure. // 5650 Calle Real (Goleta), thegoodland.com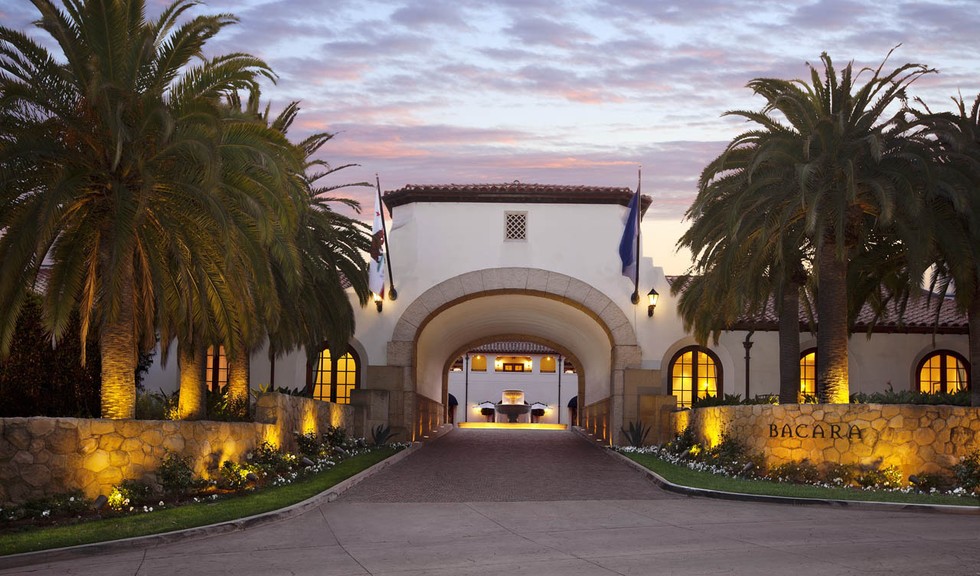 Bacara Resort & Spa (Courtesy of Bacara)
Bacara Resort & Spa is a splurge-worthy hotel where movie stars get married (Fergie and Josh Duhamel in 2009, among others). If you manage to make it out of your super-luxe room, there's a private beach, three saline pools, and five restaurants to enjoy. We like Angel Oak, the resort's steakhouse, for its 12,000-bottle wine cellar and striking blue-quartz bar. // 8301 Hollister Avenue (Goleta), meritagecollection.com/bacararesort
DON'T MISS A BAY AREA BEAT! SUBSCRIBE TO OUR NEWSLETTER.