By
Sun and seafood shacks are what coastal dreams are made of. There's nothing better than biting into a soft abalone taco or slurping hot, creamy clam chowder when your stomach is growling after a day on the road. If you're thinking of hitting Highway 1, here are five of our favorite stops for seafood lovers between San Francisco to Los Angeles.
Sam's Chowder House in Half Moon Bay
If hunger strikes only 30 minutes after you've left SF, Sam's Chowder House in Half Moon Bay is your must-hit pit-stop. Don't be put off by the number of the cars in the parking lot—yes, it will be packed, so steer for the cashier and order takeout to chow at the nearby beach overlooking the harbour. Our favorites: the smooth and hearty clam chowder with lots of mussels; Old Bay fries; and the famous lobster roll (you've never have so much lobster in a sandwich). In a hurry? Keep an eye out for the red Chowdermobile in the parking lot.   //  Sam's Chowder House, 4210 N Cabrillo Hwy (Half Moon Bay), 650-712-0245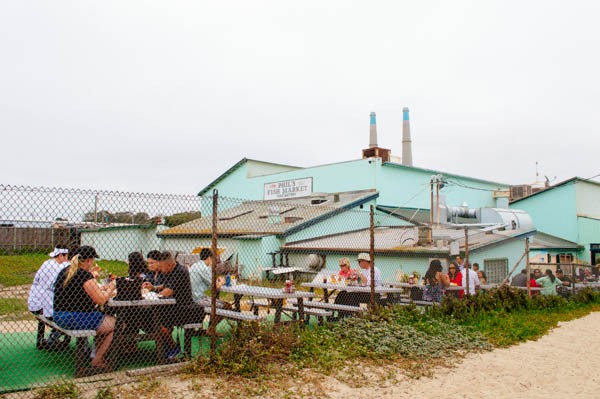 Phil's Fish Market in Moss Landing
Even Google Maps doesn't know about this hidden yet super popular seafood market/restaurant in Moss Landing. Tucked away in an industrial area north of Castroville, Phil's is the real deal. Order the cioppino, and sop up every last drop with rustic garlic bread. Portions are huge, so you might consider sharing a main dish and an appetizer (may we reccomend the oh-so-good fire-roasted artichoke?). // Phil's Fish Market, 7600 Sandholdt Rd (Moss Landing), 831-633-2152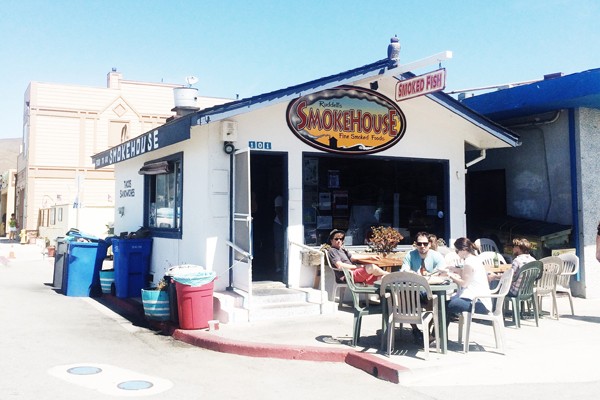 Ruddell's Smokehouse in Cayucos
Three words: smoked albacore taco. Almost everything is smoked in this small taco place, but we fell in love with the perfect albacore tuna. Wrapped in wheat tortillas and topped withcelery, lettuce, green onions and apple, this small treat is freshly assembled. Ruddell's only has two tables outside, but there's a whole beach waiting just across the street.  //  Ruddell's Smokehouse, 101 D St (Cayucos), 805-995-5028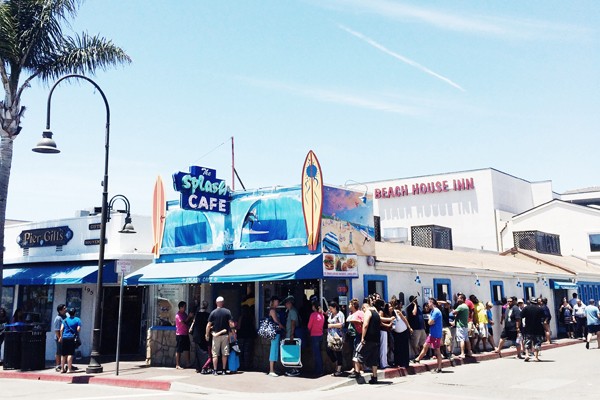 There's something to be said about a restaurant that serves over 30,000 gallons of clam chowder every year. Whether we're hungry or not as we pass by Pismo Beach, we always stop at Splash Café. At the small corner store, seafood lovers will want for nothing more. The fish & chips? Yum. Fried calamari? Yum, yum. Clam chowder? Award-winning yum. The lines can get a bit long, but the flavors, affordable prices, and the California sun make it worth the wait. // Splash Cafe, 197 Pomeroy Ave (Pismo Beach), 805-773-4653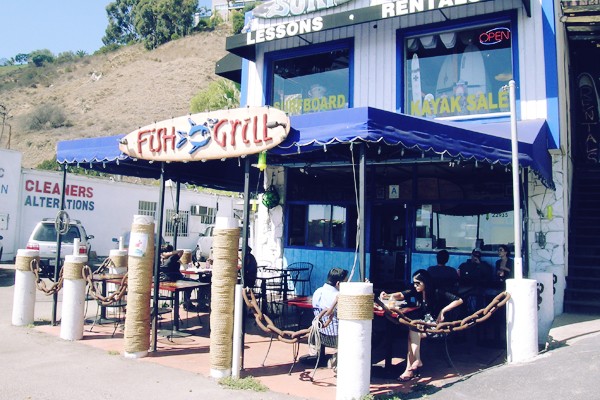 (Photo courtesy of Fish Grill)
Sitting directly on Highway 1, with a view of passing surfboard-laden trucks and a salty breeze drifting in from the beach, this is a storybook seafood shack. Fish Grill is famous for mesquite-grilled specialties—a nice change from the standard fried seafood fare. We like the Ahi tuna with a side of baked potato and coleslaw. // Fish Grill, 22935 Pacific Coast Hwy (Malibu), 310-456-8585
DON'T MISS A BAY AREA BEAT! SUBSCRIBE TO OUR NEWSLETTER.