I've eaten at Petit Crenn twice over the past month, and both experiences shocked me. But here's the catch: it wasn't the food that left me in awe. While still delicious, the second restaurant from famed chef Dominique Crenn offers a cuisine far more approachable than the gastronomic wonders you'll find proudly waltzed out to your table at Atelier Crenn. Claiming Crenn's native Brittany and grandmother as inspiration for its relaxed dishes and simplified (read: not quite simple) preparations, the fare at Petit Crenn is quiet, subtle, and may not blow you out of your chair, but will strike a nostalgic chord deep in your heart strings, even if you've never stepped foot in France.
---
In fact, the shock came from the fact that, on both occasions (one lunch, one dinner), there were so many empty seats. Where is everybody? Has no one heard that, despite reservations for the five-course prix-fixe menu booking out weeks in advance, the bar—perhaps one of San Francisco's coziest and most beloved (it was formerly Bar Jules'), with a toasty, front row seat to the open kitchen—is available for a la carte walk-ins? Or that both breakfast and lunch have indeed launched, and are providing the delicate French fare previously only found with such authenticity and care across the pond? Have the descriptions of supple grilled octopus, fragrant roasted carrots, and trout-topped tartines not hit the newswire? I think not, and to readers I urge...you're late for the party; get here already!
For someone who prefers their meals with a heaping portion of atmosphere, I was left slightly wanting without a packed house, though it made ogling the breezy white interior all the easier. The space recalls the home of an impossibly chic friend with minimalist inclinations yet an eye for comfort—and the unusual. Sexy curved white chairs sit opposite warm walnut tables and one long, casual booth lined with multicolored neutral linen pillows of varying sizes, much like the patrons that plop into them. Monochromatic glazed plaques with script musings like, "c'est moi chérie" and "de temps en temps" dress the walls, while thick knotted ropes—recalling Brittany's nautical history—with spare globe pendants hang overhead. Vintage silverware adds richness and character along sleek porcelain dishes for a mismatch so thoughtful it appears seamless. It's all subtly intoxicating, deceptively simple—just like that which comes out on each gorgeous plate.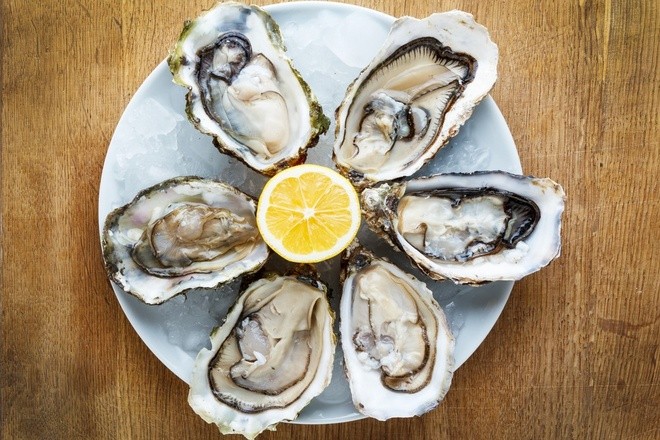 (Photo via Sosh) 
Seafood gets heralded in all forms here: Raw oysters topped with candied fennel sit like jewels atop a bed of seaweed. Hunks of octopus are flanked by tiger eye beans, fingerling potatoes, and a delicate broth that hug them all close. But the current showpiece is the whole fire roasted trout, served blistered with a blanket of frothy cider sabayon draped on top that reveals a fish cooked to perfection underneath. In proper French form, the salad course comes last here, and its refreshing bite is as welcome as the airy far breton aux pommes—a pudding cake studded with apples—that follows it. All are expertly paired with wines of the lighter variety (mostly natural French Champagne, white, and rosé), as well as unique bottles (ever heard of Sumoll?), by GM and wine director Courtney Humiston. 
As one can expect from Crenn, it's a singular experience that deserves to be shared. Allons-y, ma petite. // Petit Crenn, 609 Hayes St. (Hayes Valley)