Enjoy These Festive Eggnog Cocktails Around Town
By
It's eggnog o'clock at these SF bars. 
Oro's Bar Manager Randy Mariani is bringing a festive twist to the restaurant's already esteemed fare. His Cinnamon Girl eggnog is a tasty libation made with brandy, bourbon, cinnamon, apple shrub, and cream. Cheers. // 8 Mint Plaza; orosf.com
If the "egg" part of eggnog freaks you out a little, you may want to try the Goat Island Nog (an homage to the original name of Yerba Buena Island)—created by bartender Rhachel Shaw—who has swapped out the egg for goat cheese. It also comes with Maker's Mark bourbon, cold brew coffee, milk, heavy cream, sugar, cinnamon, Angostura bitters, and nutmeg in the mix. // 1 Ferry Bld. 11A; hogislandoysters.com
Venture into the back room of Dalva in the Mission for one of the city's tastiest eggnogs. It's made with bourbon, Campari, maple, egg, allspice, cream, and coffee bitters. // 3121 16th St; dalvasf.com
Don't miss this handcrafted and three-month-aged eggnog (it's a perfect pit stop in the midst of your holiday shopping). // 221 Powell St; kuletos.com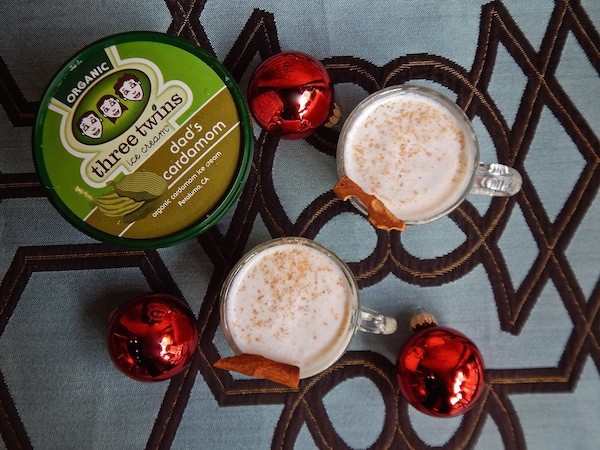 Jon Gasparini of Rye has concocted a doozy of an eggnog, which features (locally made!) Three Twins Dad's Cardamom Ice Cream, plus Appleton Estate Signature Blend Jamaica Rum, organic whole milk, egg, rosewater, and a little nutmeg and cardamom dust for garnish. // 688 Geary Blvd; ryesf.com
Holiday Nog by Milkman
An egg-free version you can try at home is the vegan Holiday Nog by Milkman. This holiday drink includes an assortment of spices, fresh-cracked coconut, organic cloves and vanilla, pink himalayan sea salt, and almond milk. It's fantastic on its own, but even better with some holiday cookies on the side. Available via delivery by Milkman. // milkmansf.com
DON'T MISS A BAY AREA BEAT! SUBSCRIBE TO OUR NEWSLETTER.