November brings with it a flurry of holiday traditions as well as a stack of spanking-new cookbooks published by some of the city's best chefs and authors. In this series, we put two and two together and created the ultimate Thanksgiving dinner. The only things you're in charge of are the turkey and the stuffing. Today, we feature a dessert and wine suggestions.
Crostata di Zucca Pumpkin Tart
This delicate and untraditional Italian tart has been the finale at cookbook author Carol Field's Thanksgiving dinners for many years. Though you can use a pâte sucrée (sweet pastry dough) recipe of your choice, Field uses a traditional Italian pasta frolla. Makes one 10-inch tart.
¼ cup unsalted butter, at room temperature
¼ cup sugar
3 large eggs, separated, at room temperature
2 cups homemade or canned pumpkin puree
Scant ½ cup milk
1 tablespoon potato starch or all-purpose flour
Grated zest of 1 lemon
¼ cup rum or cognac
10-inch partially baked pâte sucrée or pasta frolla tart shell
• Cream the butter and sugar by hand with a wooden paddle or spoon or by electric mixer until light and fluffy.
• Add the egg yolks, one at a time, beating thoroughly after each addition.
• Stir in the pumpkin, milk, flour, lemon zest, and rum.
• In another bowl, beat the egg whites until the peaks are stiff. Fold a quarter of the egg whites into the pumpkin mixture, and then gently fold in the remaining whites.
• Pour the filling into the tart shell up to ¼-inch of the top. (You can pour the remaining filling into buttered ramekins and bake them without a crust.)
• Preheat the oven to 375 degrees. Bake until the filling is set, about 50 minutes for the tart. Cool completely on a rack.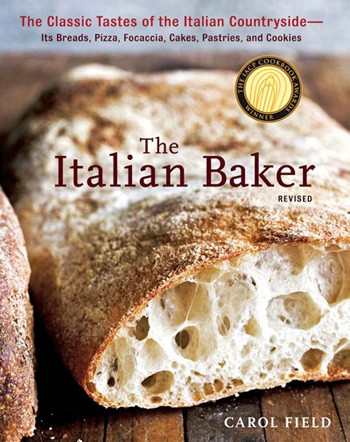 Adapted from The Italian Baker revised by Carol Field (Ten Speed Press, 2011)
What to Pour
Gerald Asher, the prolific wine writer and author of many books, including his recent release A Vineyard in My Glass (University of California Press), tells us what to drink with dinner.
Bernardus Griva Vineyard Arroyo Seco Monterey County Sauvignon Blanc 2010 ($20)
"This white could serve as either an aperitif or a dinner wine."
Marimar Estate Don Miguel Vineyard Russian River Valley Pinot Noir La Masia 2007 ($39) 
"Fragrant and structured, this Pinot Noir is still light enough to go with Thanksgiving's many distinct dishes."
Bonny Doon Beeswax Vineyard Arroyo Seco Vinferno 2008 ($20) 
"Rich but not cloying, this is the perfect pairing with a pumpkin tart and a delicious close to dinner."
Click here for past Thanksgiving recipes!