November brings with it a flurry of holiday traditions as well as a stack of spanking-new cookbooks published by some of the city's best chefs and authors. In this series, we put two and two together and created the ultimate Thanksgiving dinner. The only things you're in charge of are the turkey and the stuffing. Today, we feature a couple of savory sides.
Roasted Brussels Sprouts with Bacon and Lemon
Chef Erik Cosselmon of the Greek-themed Kokkari in Jackson Square uses Nueske's bacon from Wisconsin, thickly slicing it off a slab and roasting the sprouts in the restaurant's wood-burning oven. Serves 4
1 pound Brussels sprouts, havled
Sea salt
2-3 thick slices applewood-smoked bacon
1 large lemon, halved lengthwise
2 tablespoons cold unsalted butter
1 tablespoon extra-virgin olive oil
Freshly ground pepper
 In a large pot of salted boiling water, cook the sprouts until tender, about 5 minutes. Drain and spread them out on a baking sheet in a single layer. Taste and sprinkle with salt if necessary.
Preheat the oven to 450 degrees. Cut the bacon in half lengthwise. Then cut crosswise into ½-inch chunks. Cut the lemon in half again lengthwise. Then cut crosswise ⅓-inch thick. Cut the butter into 8 slices. 
Scatter the bacon over the Brussels sprouts. Then scatter the lemon and butter on top. Drizzle with the olive oil, and grind a little pepper over it all.
Roast on the oven's top rack until the sprouts are browned in spots, about 15 minutes. Using a metal spatula, turn the entire mixture over to help it cook evenly, and return the sprouts to the oven until they are well-browned, about 15 minutes longer. Serve immediately.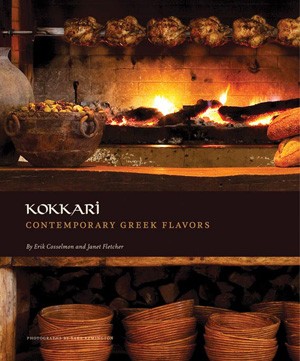 Excerpted from Kokkari: Contemporary Greek Flavors by Erik Cosselmon and Janet Fletcher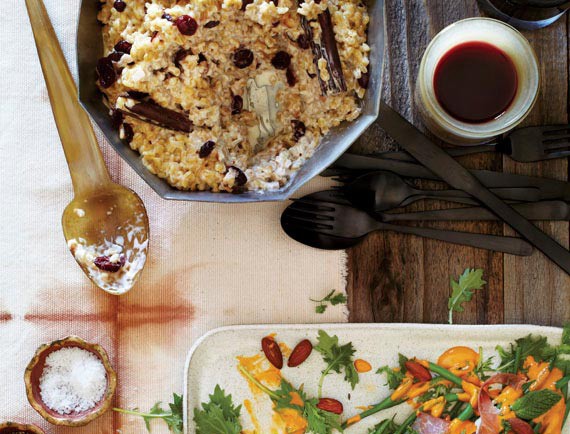 Barley with Balsamic Cranberries
This is Aziza chef Mourad Lahlou's savory take on the Moroccan breakfast porridge herbel, which is made by cooking barley with milk and cinnamon and then adding butter and honey or sugar. Though this recipe calls for lamb juice, we suggest chicken or turkey stock. Lahlou's original recipe also called for Parmesan cheese, which we eliminated to keep it lighter.
Serves 6 
2 ½ cups barley
¼ cup Riesling
¼ cup granulated sugar
One 1 ½-inch cinnamon stick
1 ½ teaspoons kosher salt, plus more to taste
¼ cup grapeseed or canola oil
¾ cup diced red onion
2 cups heavy cream
¾ cup low-sodium chicken or turkey stock
1 cup Balsamic Cranberries (recipe below), strained
1 tablespoon lemon juice
1 ½ tablespoons minced chives
 Put the barley in a large bowl with enough cold water to cover. Soak for 2 minutes, drain, and repeat.
Put the barley, 6 cups water, wine, sugar, cinnamon, and salt in a large saucepan, bring to a simmer, and cook for about 20 minutes or until the barley is tender but not mushy. Drain and set aside.
Heat the oil in a large saucepan over medium heat. Add the onion, and cook gently for 5–7 minutes, until tender and slightly caramelized. Add the barley, and stir to combine. Pour in the cream, stir, and cook over medium-high heat for about 10 minutes to reduce the cream and coat the barley. Stir in the stock and the strained cranberries. Simmer for 6–8 minutes, stirring often, to reduce and thicken the liquid enough to coat the barley. 
Fold in the lemon juice and the chives. Season to taste with salt and additional lemon juice if needed. 
Balsamic Cranberries
Makes about 1 ½ cups 
1 cup dried cranberries
2 cups balsamic vinegar
1 cup granulated sugar
 Put the cranberries in a bowl. Put the vinegar and sugar in a saucepan, and bring to a simmer, stirring to dissolve the sugar. Pour over the cranberries until covered, and let cool to room temperature. 
Let stand in an airtight container at room temperature for at least a week before using.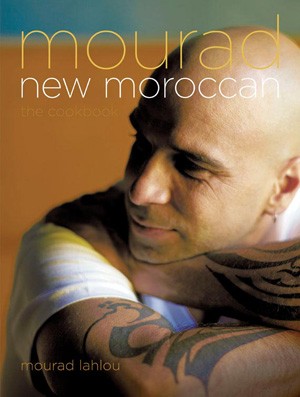 Excerpted from Mourad: New Moroccan by Mourad Lahlou
Check back next week for another fresh batch of Thanksgiving recipes from Bay Area chefs.