November brings with it a flurry of holiday traditions as well as a stack of spanking-new cookbooks published by some of the city's best chefs and authors. In this series, we put two and two together and created the ultimate Thanksgiving dinner. The only things you're in charge of are the turkey and the stuffing. Today, we feature more savory sides.
Haricots Verts and Serrano Ham with Harissa Vinaigrette
In this recipe, Town Hall chef Mitchell Rosenthal brings together his version of the spicy African condiment harissa, which is used as the basis for a vinaigrette to bear on a salad of snappy green beans, Serrano ham, and spiced almonds. Any variety of green beans will do. Serves 6
½ teaspoon coriander seeds
½ teaspoon cumin seeds
½ teaspoon fennel seeds
1 cup whole natural almonds
1 tablespoon olive oil
1 teaspoon salt
1 pound haricots verts, trimmed
5 ounces spicy, small-leaved greens 
such as mizuna or arugula
1 bunch chervil, stems removed
1 bunch tarragon, stems removed
1 bunch mint, stems removed
3 ounces thinly sliced Serrano ham or prosciutto, each slice torn into 2 or 3 pieces
Freshly ground pepper
Harissa Vinaigrette
To prepare the almonds, preheat the oven to 375 degrees. In a small, dry frying pan, toast the coriander, cumin, and fennel seeds over medium heat, shaking the pan to avoid scorching, for about a minute or until fragrant and just turning color. Let cool. Then grind in a spice grinder or in a mortar with a pestle to a medium-fine grind.
Put the almonds in a bowl, drizzle with the oil, sprinkle with salt, and toss to coat evenly. Add the spice mixture, and toss again to distribute evenly.
Spread the nuts in a single layer on a sheet pan.Place the pan in the oven, and toast the nuts for 7–10 minutes or until they appear toasted and are fragrant. Shake the pan once at the halfway point. Let cool completely, and then coarsely chop and set aside.
To ready the haricots verts, first prepare an ice bath. Then bring a large pot filled with water to a rolling boil. Add the haricots verts, and cook for about 4 minutes or until tender. They should still have a slight crunch. Drain the beans, and immediately submerge them in the ice bath for a minute or two to halt the cooking. Drain well again, and spread on a kitchen towel to dry.
Refrigerate until needed.
To assemble the salad, in a large salad bowl, place the haricots verts, greens, all of the herbs, ham, and almonds. Drizzle the vinaigrette (recipe at right) to taste over the top, and toss to coat evenly. Season with salt and pepper, and toss again. Serve right away.
Harissa Vinaigrette
Makes about 1 ¼ cups
Scant ½ teaspoon coriander seeds
Scant ½ teaspoon cumin seeds
Scant ½ teaspoon fennel seeds
1 red bell pepper
1 small jalapeño chile
Olive oil, for drizzling
1 clove garlic, chopped
3 tablespoons sherry vinegar
1 teaspoons kosher salt
¼ cup canola oil
¼ cup extra-virgin olive oil
In a small frying pan, toast the coriander, cumin, and fennel seeds over medium heat, shaking the pan often to avoid scorching for 2–3 minutes or until fragrant and just turning color. Let cool completely. Then grind in a spice grinder or in a mortar with a pestle to a medium-fine grind.
Place the bell pepper and jalapeño on a small sheet pan, drizzle with a little olive oil, and toss to coat lightly. Place in a 350-degree oven, and roast for 30–40 minutes or until the skins blacken and blister and the flesh softens. Transfer to a bowl, cover with plastic wrap, and let stand for 10 minutes. Remove from the bowl and let cool to room temperature. Peel the pepper and jalapeño, discard the seeds, and coarsely chop.
In a blender, combine the chopped pepper and jalapeño, garlic, vinegar, spice mixture, and salt, and process until smooth. With the blender on low speed, add the canola oil and then the olive oil in a slow, steady stream, processing until emulsified. Set aside until ready to toss the salad.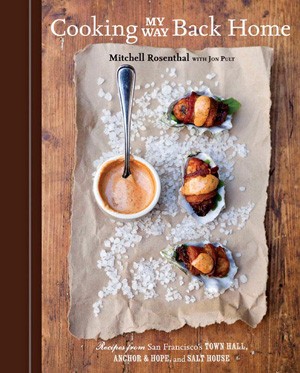 Excerpted from Cooking My Way Back Home: Recipes From San Francisco's Town Hall, Anchor & Hope, and Salt House by Mitchell Rosenthal (Ten Speed Press, 2011)
Butternut Squash and 
Potato Gratin With Fresh Sage
This gratin from Bi-Rite Market scales up easily and reheats wonderfully. It's the perfect make-ahead side dish. Serves 4 to 6
2 tablespoons unsalted butter, plus more for the pan
1 large shallot, minced
1 ¼ cups heavy cream
5 large sprigs fresh thyme, leaves chopped
12 large sage leaves
Kosher salt and freshly ground black pepper
3 medium russet or Yukon gold potatoes (about 1 ½ 
pounds), peeled and sliced into ⅛-inch thick rounds
¼ small butternut squash (preferably from the stem end), peeled and sliced ⅛-inch thick
1 cup grated Parmigiano-Reggiano cheese
• Position a rack in the center of the oven and heat to 350°F.
• Melt the butter in a small saucepan over medium heat. Add the shallot and cook, stirring, until it softens and becomes translucent, about 30 seconds. Add the cream, thyme, 5 of the sage leaves, 2 teaspoons salt, and a few grinds of pepper, and bring to a boil. Remove from the heat, and let the sage infuse in the cream for 10 minutes. Then discard the sage leaves.
• Generously butter an 8-by-8-inch baking dish and arrange one-third of the potatoes and one-third of the squash across the bottom, overlapping them slightly to make a relatively even layer. Pour one-third of the cream mixture over the potatoes and sprinkle with one-third of the cheese. Build two more layers the same way. On the last layer, add the remaining potatoes and cream. Then arrange the remaining sage leaves decoratively over the top. Finally, sprinkle on the remaining cheese.
• Cover the dish with foil, and bake for 30 minutes. Then remove the foil, and continue baking until the top is golden and a skewer goes into the potatoes with no resistance, about 30 minutes longer.
• Let rest for about 10 minutes before serving.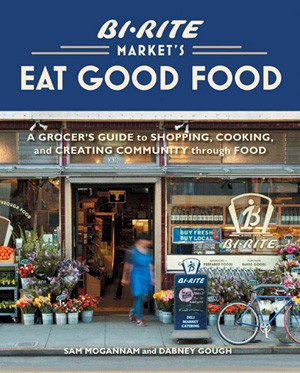 Excerpted from Bi-Rite Market's Eat Good Food by Sam Mogannam and Dabney Gough (Ten Speed Press, 2011)
Check back next week for a sumptuous essert recipe and tips on tablescapes and wine.