Roughly three-and-a-half-hours south of San Francisco on the 101 is Paso Robles, an appellation that is becoming known for both its diversity of wines and the reputation of its growers and winemakers to take chances on unusual blends and lesser-known varieties. There is an excitement about wine and winemaking here that, while certainly not lost in places like Napa and Sonoma, often lies beneath a more corporate-driven surface.
Towards the south end of the region is Santa Margarita: a 14,000-acre ranch that is accompanied by a small town of the same name. Established in 1774 by Franciscan missionaries, the ranch boasts the longest continually operating cattle ranch in California, which, if you like a well-marbled flank steak, is exciting enough, but it is also home to an incredible array of plants and wildlife — from pack rats (yes, they exist!) and Valley Oaks to white-tailed deer and native perennial grasses — and, over the last 20 years, has been planted to what is now 900 acres of vitis vinifera grapevines. The ranch, which has long been a playground for geologists thanks to its diversity of soil types, is now becoming a playground for visitors as well.
Karl Wittstrom, one of the ranch's owners and founder of Ancient Peaks winery, has spent years exploring the property and has evidently decided that the best way to do so is by zipline. The adventure begins high above the ranch, where you get awesome views of the Santa Lucia mountain range and the wild landscape spotted with well-manicured vineyards. Four different descents, between which you have the opportunity to catch your breath and admire the view, send you flying over, and sometimes between, hundred-year-old oak trees. It's a bit of an adrenaline rush, of course, but more importantly, it's a great way to get a feel for this very special place.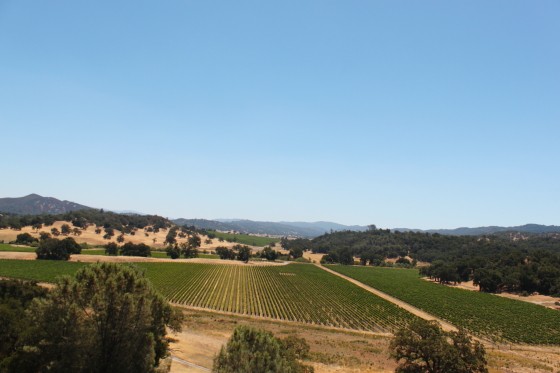 Along the drive back to town (and the tasting room), we highly suggest you ask to visit Oyster Ridge, a Cabernet Sauvignon vineyard that is planted on an ancient sea bed. Between the rows of vines, and piled elsewhere, are hunks of petrified oyster shells that have pushed their way to the surface over the past hundreds of years. It's an amazing thing to see and will make the wine-tasting experience that much richer.
Wines to taste:
2011 Sauvignon Blanc. A dry, mineral-driven wine that tastes of sand, sea air and lemon custard.
2010 Renegade. A testament to the region's refusal to obey tradition, the Renegade is a proprietary blend of Syrah, Malbec and Petit Verdot. Boasting lush dark fruit with a hint of smokiness and good acidity, we recommend pairing it with barbeque — how about Santa Maria-style?
2009 Oyster Ridge Cabernet Sauvignon. Even if you hadn't just spent time examining petrified oyster shells from this wine's source of origin, you would still think it's delicious. Well-structured, this wine has you thinking again about the flanks of those grass-fed and corn-finished cattle.

Ancient Peaks Winery and Margarita Adventures, 22720 El Camino Real, Suite B 
Santa Margarita, CA 93453, 805-365-7045