Faced with yet another new Italian restaurant, San Franciscans might rebuff in their best Joe Pesci: "Madonn', another pizzeria?" And justifiably so, considering our mounting options. But every now and then, something truly special comes along. At Farina Pizzeria & Cucina Italiana, you'll taste the difference.
Manned by fifth-generation pizzaiolo Gennaro Langella from Naples, under the watchful eye of his father Antonio, Farina Pizzeria—like its sister restaurant, Farina—follows a credo of authenticity and quality. With nary an overloaded Cal-Italian number in sight, the menu's 11 pizza options are simple and molto napoletano, with tender dough under bright tomato sauce, made from prized La Fiammante tomatoes that you won't find elsewhere in the U.S. You're also unlikely to come upon an oven that rivals Langella's: Custom-built by Antonio himself, the 5,732-pound oven uses sand from Mt. Vesuvius and shimmers with an exterior of black mosaic tiles. The gas-fired beast cooks pies evenly in 45 seconds (perfect for those who dislike the char of wood-fired ovens). For your first visit, try the Bufalina, a margherita upgraded with buffalo mozzarella.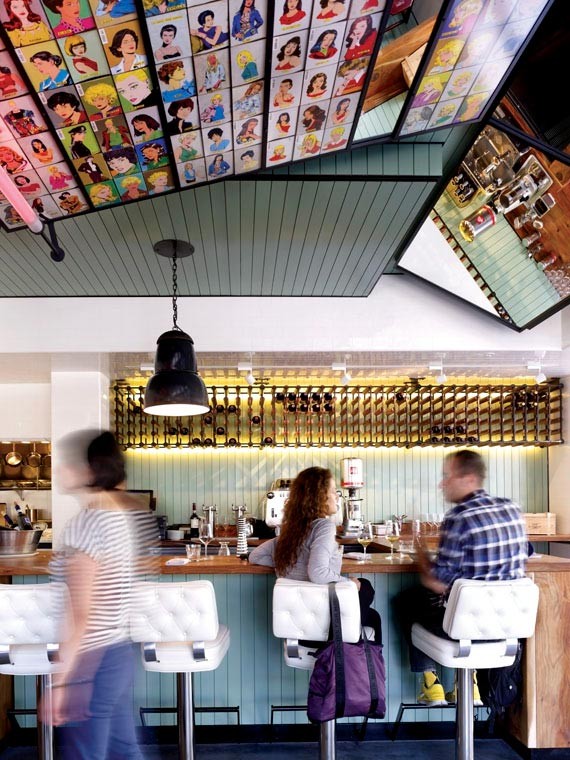 Seeking pause from pizza? Genovese chef Paolo Laboa has a way with pastas, evident in a special of manifredi: long, rippling noodles coated in a rich Maine lobster sauce with San Marzano tomatoes. Cast aside woes of carb overload, and go for the Frittura all'Italiana, a basket of creamy croquettes and arancini; or the montanara, a puffed-up ball of dough fried in olive oil and dressed with cherry tomatoes, basil, and fior di latte mozzarella. These bites are built for a list of wines exclusively from San Marino, a republic neighboring Tuscany. You'll also find some Italian craft beers, like the Oro di Milano Doppio Malto from Lombardy, which pairs beautifully with the pizza Contadina. For those deterred by the prices at Farina, the pizzeria is more approachable.
Diners are already drawn to the stylish space, which also multitasks as a coffee and wine bar. Here, large windows look onto Valencia Street, where, enabled by overhead heaters, diners enjoy year-round al fresco eating. (Should you prefer your pies to-go, the adjacent takeout window doles them out in sleek red boxes until 11pm).
In a refreshing departure from the rustic stylings typical of pizza joints, architect Brett Terpulek took a mod spin with white tufted swivel chairs along an open kitchen counter and punches of color in '60s-era Diabolik comics portraits on the ceiling. Smooth, black acacia wood counters and communal tables feel as good as they look, and upbeat Italian house music enlivens the already boisterous place. All the while, the feisty (mostly) Italian staff smiles over the noise and loudly asks for your order. No one ever accused an Italian of being quiet.
This article was published in 7x7's November issue. Click here to subscribe.