By
Taste cuisines from around the world and satisfy your wildest foodie dreams with these savory festivals around the Bay Area featuring garlic, seafood, zucchini, tomatoes, and everything in between. Make this summer one for the books and hit up every single one of these mouth-watering festivals. You won't regret it.
Garlic Festival
One of the world's largest summer food festivals is dedicated to garlic—and you'll love every moment. The buttery richness of garlic is mixed into pretty much everything (try the ice cream!), and there are competitions, live demonstrations, and tastings to keep you entertained. Partake in all the garlicky goodness as you enjoy arts & crafts, live music, lip-smacking deliciousness and the Miss Gilroy Garlic Festival Queen pageant. // Friday, July 29th –Sunday, July 31st, 10am – 7pm at Christmas Hill Park, 7050 Miller Ave. (Gilroy), gilroygarlicfestival.com
Zucchini Festival
Ever heard of zuke fries? Well the Zucchini Festival in Hayward has them by truckloads. Discover the versatile use of this hearty vegetable in desserts such as cakes and cookies as well as snacks and main dishes. Don't hesitate to join in the festivities at the Bay Area's only zucchini festival! // Saturday, August 20th –Sunday, August 21st, 10am – 8pm at Kennedy Park, 19501 Hesperian Blvd. (Hayward), zucchinifest.org
Fairfield Tomato Festival
In the mood for a juicy red tomato? There's no shortage of them at the Fairfield Tomato Festival. The versatile fruit can be eaten alone, sundried, fried, stuffed and mixed into a variety of dishes. Try all the heavenly bites prepared with tomatoes at this festival in the heart of Fairfield. // Saturday, August 20th –Sunday, August 21st, 11am-5pm, at 950 West Texas St. (Fairfield), fairfieldtomatofestival.com
Art + Soul Oakland
Spend two glorious days in the heart of Oakland's City Center vibing to music, taking in art, and feeding your soul with food. If you can only stay for one event, don't miss the BBQ Throwdown competition featuring some of the Bay Area's pit masters. Yum! // Saturday, August 20th –Sunday, August 21st, 12pm- 6pm at Oakland City Center, 14th Street and Broadway (Oakland), artandsouloakland.com
Eat Drink SF
A four day exquisite dining extravaganza, this festival is the premier event for food, wine and spirits celebrating world class chefs from around the Bay Area. Each day offers carefully crafted food for an unforgettable dining experience. Be sure to check out one of the four Grand Tasting Events featuring food from over 160 chefs and 35 different restaurants—it's one of the most sought after events of the weekend. // Thursday, August 25th –Sunday, August 28th at Fort Mason, 2 Marin Blvd. (Presidio), eatdrink-sf.com
Ghiradelli Chocolate Festival
Calling all chocolate lovers to the annual Ghiradelli Chocolate Festival. What better way to celebrate chocolate than attending this festival where 100% of the profits are donated to local non-profit Project Open Hands? Ghiradelli pairs chocolate with wine, ice cream and a whole lot of flavor and fun. Make sure you delve into this chocolate lovers dream filled with tons of desserts, culinary demos and history of the cocoa bean. // Saturday, September 10th-Sunday, September 11th, 12pm- 5pm at Ghiradelli Square, 900 North Point St., ghirardelli.com/events/chocolate-festival
Seafood & Music Festival
Picture this: you're on the marina, drink in hand, basking in the sun and muching on succulent seafood. Add music to the mix and you have the 32nd Annual Seafood & Music Festival held in Pittsburgh. Take part in all the fun with rock wall climbing, jet ski races, bath tub races, beer and wine pavilion as well tons of delicious seafood. // Saturday, September 10th 10am – 7pm and Sunday, September 11th, 10am – 6pm at Pittsburgh Marina, 200 Marina Blvd. (Pittsburgh), pittsburgseafoodandmusicfestival.com
A Taste of Greece
Be Greek for a day—or maybe the whole weekend—at the annual Greek Festival. Taste your way through Greece's rich culture through history, food, and dance exhibitions. Hold the baklava, stuffed grape leaves, kouabiedes, spanakopita in your mouth and feel free to drop your dishes for San Francisco's Big Fat Greek Festival—opa! // Friday, September 16th -Sunday, September 18th at Annunciation Cathedral, 245 Valencia St. (Mission), facebook.com/SFGreekFestival/timeline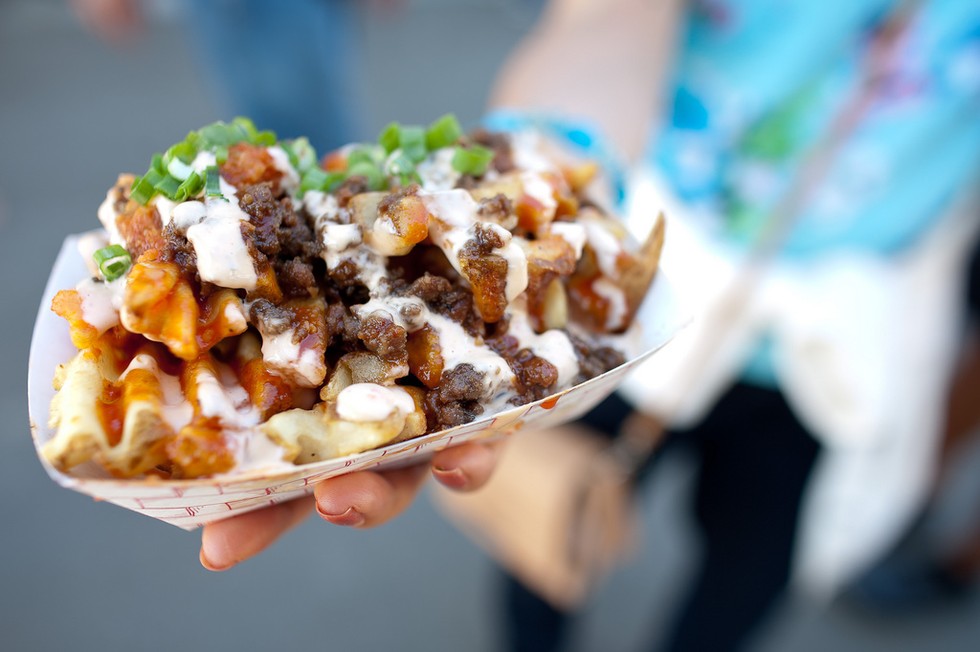 (photo via Eat Real Festival)
Eat Real Festival
Think state fair meets block party mixed with a street festival, all in the name of food, and you have the Eat Real Festival in Oakland! This food-filled fest focuses on the artisan craft of street food, craft beers, local wines and cocktails utilizing sustainable local ingredients. The budget-friendly event will have you enjoying the beautiful views of Jack London Square all while indulging in some of the best food in the East Bay. // Friday, September 23rd, 1pm-9pm – Sunday, September 25th, 10:30am-5pm, at Jack London Square (Oakland), eatrealfest.com
Vegan Soul Fest
Take your taste buds to new levels at this festival filled with succulent, soulful vegan food. Dive into the flavorful dishes while expanding your mind with thought-provoking talks on hip-hop, nutrition, and intersectional activism as well as workshops, lively music and free health screenings. The Vegan Soul Fest will leave you with your soul and mind well fed! // Saturday, September 24th, 11am – 3:30pm, at Laney College, 900 Fallon St. (Oakland), eventbrite.com/e/vegan-soul-fest
Farm to Fork Festival
Farm to Fork Festival is just a short drive to Sacramento away, and you'll learn straight from the farmers about peak season picks, local flavors, and the agriculture powerhouse. Worth the drive, this festival is home to scrumptious food where you can truly taste the freshness. // Saturday, September 24th, 11am- 6pm, 455 Capitol Mall (Sacramento), farmtofork.com/events/farm-to-fork-festival
DON'T MISS A BAY AREA BEAT! SUBSCRIBE TO OUR NEWSLETTER.