Like to eat and drink wine? Then get out the calendar and cross off some days for a getaway to Sonoma County, because spring is in full force, the sun is shining and festival season is about to kick into high gear.
Bodega Bay Fisherman's Festival, April 27th - 28th
Expect forty years of fish tales, and a little something for everyone this year at the Bodega Bay Fisherman's Festival. Think all the good festival stuff like craft booths, music and food, done Sonoma County fisherman-style. That means goodies like barbequed oysters, fish and chips and clam chowder. A wine tasting booth will feature more than 25 Sonoma County wines. Saturday's highlights include a three-hour wooden boat challenge, and the Parade of Pets and Llamas. Yes, llamas.
Sunday morning, boats will head out into the harbor for the Blessing of the Fishing Fleet, a tradition that goes back more than 50 years. Download the schedule for the weekend and you won't miss a thing. Leashed pets are welcome. Admission $12, seniors (65+) $10, kids under 12 free.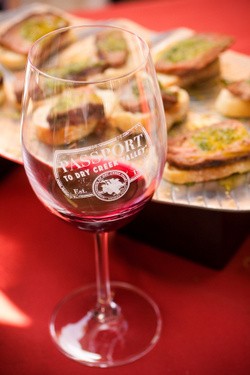 Passport to Dry Creek Valley, (c) 2012, Charlie Geseli Photography

Passport to Dry Creek Valley, April 27th -28th
The first Passport to Dry Creek Valley event was held in 1990 with 19 wineries. This year more than 50 wineries are in on the action. Held the last full weekend of April every year, the event is designed to showcase the wineries and growers in the Dry Creek Valley. Along with pouring some fabulous wine, there will be food and entertainment both days, select wineries are offering vineyard tours. Print out the Passport to Dry Creek winery map before you head out the door. Passport tickets are limited to six thousand for the weekend. A two-day Passport costs $120. Sunday only tickets are $70. If you go to the website to buy tickets, you'll read the unfortunate news that the event is sold out. Don't give up, give them a call at 707-433-3031 and you've got a good chance at scoring tickets.
Taste Alexander Valley, May 18th -19th
In May, the festivities move to Sonoma County's Alexander Valley for the 16th Annual Taste Alexander Valley. Thirty wineries, many of which you'll know by name, will offer wine and food pairings, live entertainment and wine discounts. Get your tickets online and you'll save a little cash. There are a multitude of ticket choices, including nice options for designated drivers. A Weekend Pass costs $65 in advance, $75 at the door. Designated drivers pay just $20 in advance for a Weekend Pass, $30 at the door. A Sunday only pass is $45 in advance, $55 at the door. Designated drivers pay just $15 in advance for Sunday, $25 at the door. There's also and weekend kickoff celebration Friday evening at Trione Vineyards & Winery in Geyserville.
Do you have a favorite festival? Leave a comment below.
Dana can be found on Twitter @drebmann