Let's get right into it.
Ceci n'est pas une Galerie, at Project One
If not a gallery, what is it? Taking cue from René Magritte's at once obvious and jarring declaration, "this is not a pipe," Project One transforms from a space where art is hung into something altogether different -- a bizarre, transfixing window into the mind's unconscious landscapes.

The cause for celebration is – you guessed it – surrealism, and the frequently misunderstood genre's rich and ongoing impact on contemporary art. The works on view include deconstructed landscapes, sculptural oddities and many-sided interpretations of femininity. With the addition of DJ sets, this Thursday's opening promises to be an immersive experience that should do Breton and his contemporary descendents proud.

Ceci n'est pas une Galerie runs May 3 through June 2 at Project One Gallery, 251 Rhode Island Street. Opening Reception: Thursday, May 3, 7pm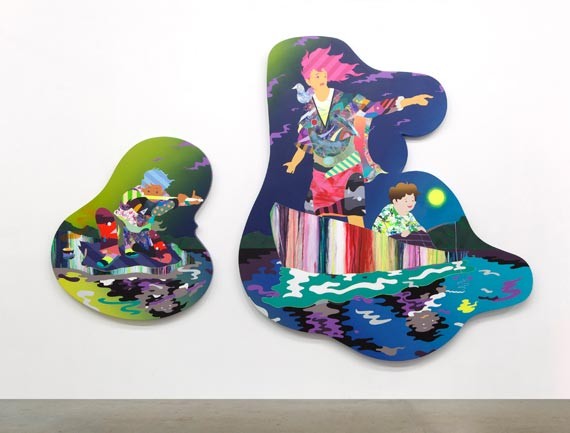 Tomokazu Matsuyama; Mother Ship, 2012; acrylic and mixed media on canvas; 72.5 x 62.5/ 184 x 159 cm( larger piece), 41 x 36 in/ 104 x 91 cm (smaller piece)

Tomokazu Matsuyama: The Future Is Always Bright, at Frey Norris
An exhibition title like "The Future Is Always Bright" signals an artist given to either commonplace irony, or rare optimism. One look at Tomokazu Matsuyama's dynamic, delectably colorful paintings will clear up this question: the artist sees glasses that are not just half full, but positively overflowing; sparkling forms slosh over so many rims.

Matsuyama, or "Matsu" as the gallerists at Frey Norris call him, weaves together the disparate cultural symbols that clash, cram together and coexist in the global milieu of New York City, where he resides. The artist's infectious, wonder-struck approach has already caught the attention of cultural heavy hitters like Nike, which commissioned him to help design a pair of sneakers, and Vegas' Cosmopolitan Hotel. The Future Is Always Bright is SF's chance to check out the rising artist's work.

The Future Is Always Bright runs May 3 through June 30 at Frey Norris Contemporary & Modern, 161 Jessie Street. Opening Reception: Thursday, May 3, 5pm – 8pm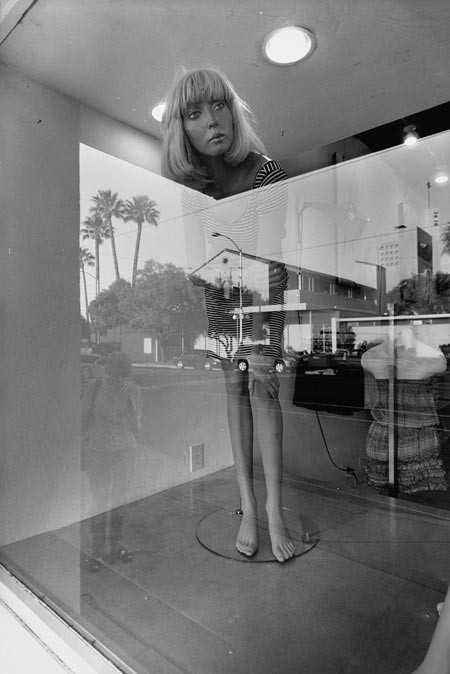 Lee Friedlander, Tucson, 2011; gelatin-silver print; 18-3/8 x 12-1/4 inches (image); 20 x 16 inches (sheet); © Lee Friedlander, courtesy Fraenkel Gallery, San Francisco
Lee Friedlander: Mannequin, at Fraenkel Gallery
It's amazing just how normal it is to find a human-esque figure, frozen in formidable pose, peering out at passersby from behind glass. Mannequins, in addition to their role in consumerism, are a ubiquitous presence in city life. They also make for a wonderful artistic subject in that, the more you think about them, the weirder they become.

Veteran documentary photographer Lee Friedlander has been unfurling a fascination with mannequins for over four decades. This major artist formed a large part of the Museum of Modern Art's famed sixties exhibition, New Documents, and his new, never before exhibited photographs at Fraenkel Gallery have a clear connection to this early work.

For this collection, Friedlander roamed the sidewalks of New York City, Los Angeles and San Francisco, capturing a fascinating cohort of the well-dressed dummies, encased behind reflective panes. Go see them, and let the bizarre nature of the subject matter take hold.

Mannequin runs May 3 through June 23 at Fraenkel Gallery, 49 Geary Street. Opening Reception: Saturday, May 5, 2pm – 4pm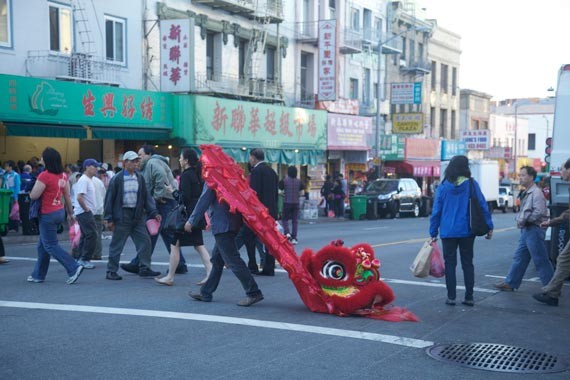 Lin Yilin, Golden Town, 2011, Courtesy of the artist
Lin Yilin: Golden Journey, at Walter and McBean Galleries @ SFAI
Maybe you weren't camped out on Market Street this Fall, but as urban dwellers we are all occupiers of space, and there's an inherent politics to that. Lin Yilin, a leading figure of the contemporary Chinese avant-garde, explores the politics of urban space through his provocative "interventions" – publically enacted works of performance art.

In conjunction with SF's inaugural Asian Contemporary Art Week (May 12 – 19), the SF Art Institute will exhibit a number of Yilin's documented performances. The May 3rd opening reception for the artist is not to be missed, as Yilin will be performing an installation piece on site as well. While the gallery is keeping most of the details under wraps, curator Hou Hanru has revealed that the piece  "turns dragon dance into a force of breaking through the constraints of urban boundaries and monetary powers," and that the organizers are busy building a cinderblock wall inside the gallery …

Golden Journey runs May 4 through July 28 at Walter and McBean Galleries @ San Francisco Art Institute, 800 Chestnut Street. Opening Reception: Thursday, May 3, 5:30pm – 7:30pm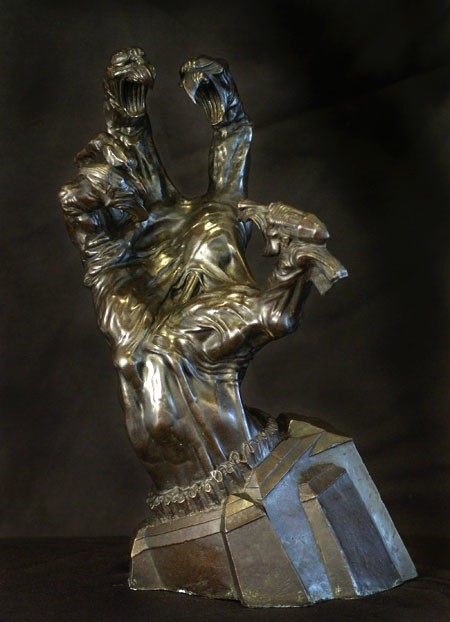 Stanislaw Szukalski, Struggle, 1917; Bronze, #7/9, 10"x9"x19"

Szukalski, at Varnish Fine Art
Stanisław Szukalski is one of the most interesting artists you've probably never heard of. The Polish-born sculptor and painter was claimed by his mother country as its "Greatest Living Artist" before his life's work was destroyed during the Nazi invasion of Warsaw, after which he relocated to Southern California and fell into total obscurity.

During this time, he developed his theory of Zermatism, which posits mankind as existing in an eternal struggle with the sons of Yeti creatures, in 42 volumes. That sheds only a sliver more light on the man.

Needless to say, Varnish Fine Art's exhibition of Szukalski's work is an exceedingly rare treat. The show will include the artist's signature bronze sculptures, inspired by early twentieth century futurism and pre-Christian paganism alike, as well as a number of never before exhibited conté and pen and ink drawings. If Szukalski's work is any bit as interesting as his biography, the show should be thoroughly unforgettable.

Szukalski runs May 5 through June 2 at Varnish Fine Art, 16 Jessie Street #C120. Opening Reception: Saturday, May 5, 5pm – 7pm