Originally published on California Home + Design
It's a busy month with Napa Valley's first festival devoted to Cab, Patz & Hall's new home in Sonoma, a must-see photography exhibit at Mumm Napa, and more happening in Wine Country in February.
VinOlivo Weekend in Sonoma Valley
Explore Sonoma Valley food and wine during the 9th annual VinOlivo weekend Feb. 14 - 17 with a Grand Tasting, vintner open houses and winemaker dinner at Ram's Gate Winery. The Grand Tasting ($75 advance) encompassing over 60 wineries and 25 restaurants, takes place Sat., February 14 at The Lodge at Sonoma from 7-10 p.m., including the Bubble Room complete with local sparkling wines and plenty of crisp frites. 1325 Broadway, Sonoma.
The weekend continues with over 40 vintner open houses Feb. 15-17. Single-day or 3-day open house pass $25-50 pp, VIP ticket for early-entry Grand Tasting and 3-day open house pass $130 pp. Various locations in Sonoma Valley. 
On February 15 from 6 - 8:30 p.m., savor a five-course wine dinner at the stunning Howard Backen-designed Ram's Gate Winery prepared by Executive Chef Taylr Behnam. Cost is $150 pp including winery tour and barrel tasting. 28700 Arnold Dr., Sonoma.
For complete details for VinOlivo weekend and to buy tickets, check the event website.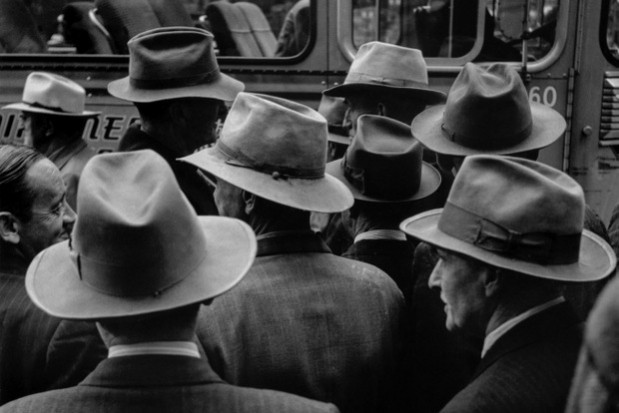 Hats by William Heick 1951. Photo courtesy Smith Anderson North
New Exhibit Honors Photography at California School of Fine Arts
Prior to 1961, the San Francisco Art Institute was called the California School of Fine Arts. In 1945, Ansel Adams established the photography department here, the first academic program of its kind in the country. In a new exhibit at Mumm Napa "The Golden Decade: Photography at the California School of Fine Arts, 1945-1955" (Feb. 15-July 13), photographs from over 20 artists emerging from the department during its first decade eloquently captures - through the lens of fine art – the dawn of American life post-WWII.
Meet some of the artists at the exhibit opening and sparkling wine reception on Saturday February 15 from 6:30-8:30 p.m. Reserve in advance to (707) 967-7740. All works are represented by Smith Anderson North. The exhibit will be open to the public daily from 10 a.m. to 5 p.m. in the Fine Art Photography Gallery at Mumm Napa. 8445 Silverado Trail, Rutherford.
Click here to read about all of the Wine Country events in February!