"I've never been off the strip in Vegas." This comes from not one, but multiple people I've talked with recently about Las Vegas. Is that not the same as visiting San Francisco and never leaving the Marina? Well maybe not quite, but nonetheless, half the fun of travel is discovering a part of a place that is relatively unexplored by the traveler. While the Las Vegas Strip is no doubt where the action takes place in Sin City, there is so much more to Vegas that I spotlight today with five things to do off the strip.

Red Rock Canyon. No, I'm not talking about the casino, but the actual canyon. If you really need a break from Las Vegas, head outdoors for an escape from the city life, while still being with a bird's-eye view. Not even a half-hour from Las Vegas, Red Rock Canyon is one of Nevada's best natural attractions. The state park is known for its dramatic red rock formations, some of which have walls as tall as 3,000 feet. The highest point is La Madre Mountain, which stands at just over 8,000 feet tall. As you might imagine, it's a popular spot among climbing and hiking enthusiasts. Some of the higher elevations offer views looking down onto the Las Vegas strip. There's a nominal fee of $6 per vehicle to enter the park.

Dig This. Or as I like to call it, the "sandbox for adults." You remember when you played in the sandbox as a little kid, pretending you were behind the wheels of bulldozers and excavators? Well now your childhood dreams can come true at Dig This. For 90 minutes and a couple hundred dollars you can get behind the controls of a bulldozer or excavator and relive your childhood in this heavy equipment playground. However, don't come here immediately after pounding some shots, as you'll have to take a breathalyzer before getting behind the controls.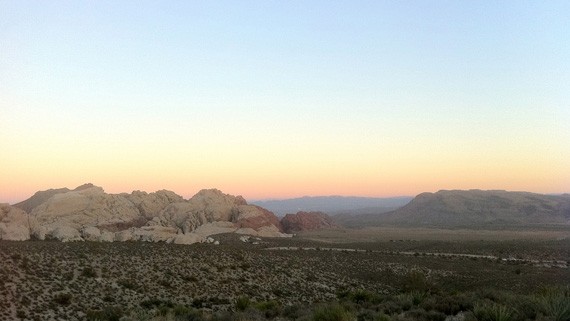 Marché Bacchus. When you think of Vegas you probably don't exactly think of French cafes and wine shops, unless maybe while you're in the Paris Hotel. Nonetheless, a visit to Marché Bacchus may just bring those serene French memories to mind that are needed to break away from the hustle and bustle of the Vegas Strip. Marché Bacchus is part French bistro and part wine merchant with wine at store prices for bottles that you can then enjoy in the restaurant for a small corkage fee. On a warm, clear night, enjoy a bottle of wine and a meal at one of the tables overlooking the adjacent lake.

National Atomic Museum. Las Vegas doesn't exactly bring to mind museums when you're planning a visit, yet this can be a good way to break up your day and step away from the yard drinks and wafting cigarette smoke. There's a different smoke at play here at the National Atomic Museum, which highlights the history of nuclear testing in the Las Vegas area. The museum features different exhibits, such as a B53 nuclear bomb and the Ground Zero Theater, which simulates an atmospheric bomb blast. Don't miss the newest exhibit, Area 51. Yes, that Area 51.

Neon Museum Boneyard. One of the many iconic images of Vegas are the neon signs that most people are so used to seeing in the movies and then expecting when arriving to the city. But what happens to the signs when those establishments are no longer? They go to the Neon Museum Boneyard in downtown Las Vegas. Part graveyard and part celebration of the past, the Neon Museum Boneyard helps the legacy of Vegas' famous neon signs live on. To plan your visit, you'll have to request a tour ahead of time on their website.
Where do you like to go off the strip in Vegas?