By
San Francisco's gallery scene leaps headlong into the Fall season this weekend – we count upwards of twenty five openings, by conservative measure. We see you're swooning already, so we put together a more manageable itinerary: Just four promising exhibitions, ranging from the big (Hosfelt inaugurates its new 8,900 square foot space) to the truly intimate.  

509, at RES IPSA Gallery

In The Poetics of Space, Gaston Bachelard describes the house as one's "corner of the world." First houses are particularly meaningful – "Over and above our memories, the house we were born in is physically inscribed in us."

Photographer Pamela Pecchio has long been drawn to the idiosyncratic world that is the inhabited home. Taken with her work, music industry veteran Jefferson Holt (notably, he managed R.E.M.) invited the artist to capture his childhood house in North Carolina. In the resulting series of photographs, little details – midcentury appliances, peeling paint, shelves of souvenirs – each give way to narratives, some real, some imagined.
509 runs from September 7 through October 18 at RES IPSA Gallery, 455 17th Street, Suite 301. Opening Reception: Friday, September 7 from 6 – 9pm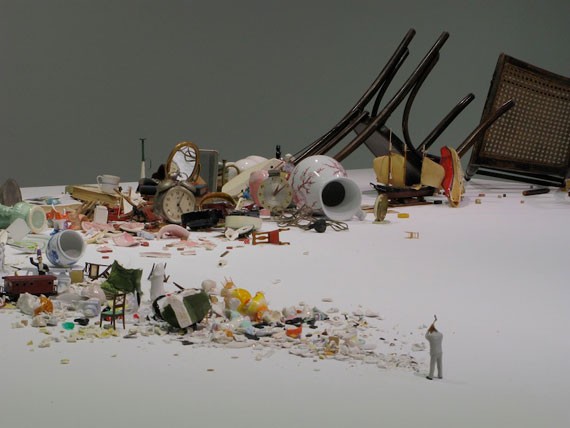 Liliana Porter, Man with Axe, 2011, Wooden platform with objects, 25 x 144 x 152 inches
Look Both Ways, at Hosfelt Gallery

In its fifteen years as a gallery, Hosfelt established itself as one of San Francisco's most respected spaces for contemporary art. For the past several months they've been in the process of moving, and now they're ready to inaugurate their new Design District space – all 8,900 square feet of it.

The celebratory exhibition, Look Both Ways, will feature twenty artists alive and dead, commemorating the 219 shows in the gallery's history (they have a New York City location too, if you're wondering about those numbers) and promising a foretaste of what's to come. Always thoughtful, challenging and foreward-looking, Hosfelt's future programming is something to keep an eye on.

Look Both Ways runs from September 8 through October 6 at Hosfelt Gallery, 260 Utah Street. Opening Reception: Saturday, September 8 from 1 – 6pm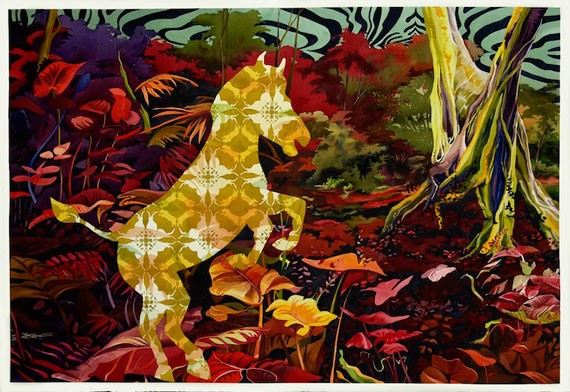 Chris Doyle, Zebra, 2011, Watercolor on paper, 46 x 68 inches unframed, 49 x 71 inches framed. Image courtesy of Catharine Clark Gallery, San Francisco
Idyllwild, at Catharine Clark Gallery

In the 1830s, landscape painter Thomas Cole produced a series called The Course of the Empire, depicting the rise and fall of civilization. Brooklyn-based artist Chris Doyle felt the project warranted a contemporary reprise.

In three stunning animations (which you can view on Catharine Clark's website), Doyle tells the story of natural/social decay in reverse order, beginning with a state of digitized, post-industrial ruin and regressing to a place of primordial, pristine plenty. Light boxes, projected video and large-scale watercolor paintings riff of these themes to create an immersive exhibition – a sprawling, distinctly 21st century update on a universal theme.

Idyllwild runs from September 8 through October 28 at Catharine Clark Gallery, 150 Minna Street. Opening Reception: Saturday, September 8 from 4 – 6pm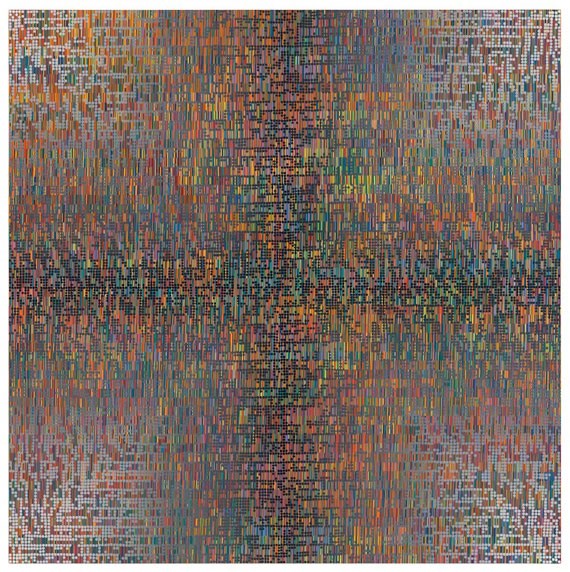 Laura Paulini; Untitled (Radiant Grid 20126060), 2012; acrylic on panel; 60 x 60
SHIMMER, at Eleanor Harwood Gallery

Laura Paulini creates what she refers to as "radiant grids." These large-scale works, sometimes as much as 9 months in the making, involve the meticulous hand application of colored lines and dots on various layers of panel. Taken as a whole, the impressive works seem to vibrate – the result of changes in the hue and value of the marks across several picture planes.

"These paintings are a continuation of my decade long exploration of the tension between movement and stillness, growth and decay, harmony and chaos," Paulini explains. Digital representations will certainly not do justice here, so plan to visit.

SHIMMER runs from September 8 through October 13 at Eleanor Harwood Gallery, 1295 Alabama Street
DON'T MISS A BAY AREA BEAT! SUBSCRIBE TO OUR NEWSLETTER.