Every bride I've seen on their big day radiates beauty. While utter joy and romance is probably one of the reasons, having personalized makeup and hair helps–especially when cameras are involved. Here are four local artists that range in style and discipline. They are also available for makeup and hair for the rest of the bridal party and non-wedding occasions. Don't worry, you'll look beautiful! 
Sarah started her own artist agency, sHe artists, so she could satisfy more clients by sending out her best team members who all have a high standard for beauty and customer service. She specializes in makeup for photography and can't refuse a Chanel lip gloss.
What is your signature makeup style? Signature hair style?
Above all else, I focus on the skin. I do a lot of highlighting and contouring to brighten and sculpt the face. I like the skin to glow. My style is clean and natural, yet glamourous. Not overly done. I also love a strong lash line. I like hair styles that don't look sprayed or stiff. Today's styles are less contrived.
What are your recommended makeup looks for brides? Recommended hair looks?
Makeup looks for photography are more defined and contoured, thanks to the advancement of technology and photoshop high definition. It is easier to look fantastic in photos but really, you want to look great in person. For hair, I recommend simple, elegant styles. I love chignons because they're timeless; they also keep brides free of worry about curls falling out or hair frizzing. I like hair up, down, wavy, straight — it all depends on the person and the style of the dress. Creative yet natural. Trends are important, but timelessness is key. I want people to look back and say "Beautiful," rather than "What was I thinking?!"
What brands do you use?
Laura Mercier foundations are moist and sheer, yet they cover. You can build on them. The brightening powder is the best. Makeup Forever HD (high definition) is great for photos and has a matte finish, it doesn't always need to be set with powder which is nice and it lasts just as long as airbrush. I will always love Chanel; their new long lasting glosses are fabulous. Eve Pearlman's brow razor is amazing. MAC of course, and Christian Dior concealer that comes in a tube."
What is a current beauty trend you're obsessed with?
I am obsessed with the pursuit of happiness and good self care. My goal is to have our clients look at themselves and feel beautiful and happy with what they see. Look good, feel good. But the reverse is true: Feel good, look good!
What are some of your tricks of the trade?
Making the skin glow, highlighting and sculpting the skin, knowing where to highlight and contour. Good brows. Defined lash lines.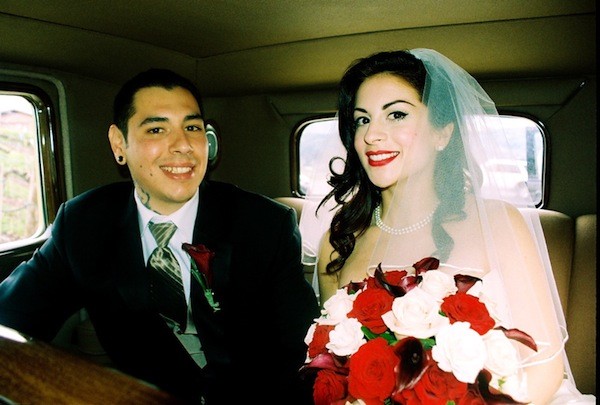 (Photo: Greg Wright)
Bay area-born Katie not only shares some makeup must-haves below, but offers some additional wedding beautification tips: "Skin care is number one for a bride. I would suggest buying a package of facials prior to a wedding. No waxing the day before the wedding — try four days before. Drink tons of water, the more water you drink, the hotter you will look. Stay away from too much booze the night before the wedding because there is a tendency for brides to get red."
What is your signature makeup style? Signature hair style?
The fresh faced "Cover Girl" look and the Old Hollywood glam look (think Marilyn Monroe and Elizabeth Taylor). For hair, I love loose curls, updos and bohemian hair.
What are your recommended makeup looks for brides? Recommended hair looks?
Super clean makeup, beautiful and fresh. Nothing overdone and too period-y. Make one bold statement, like lush lashes or red lips (which can be messy after the big first smooches) but it is beautiful. A nice glow on the face, above the cheekbones, up over the eyebrows, above the cupids bow of the lips. A classic eyeliner. A gorgeous complexion. I don't like anything "done" and when people ask for a super done hairdo for a wedding I try to show my clients a more modern approach. Fun braids, top knots, amazing waves.
What brands do you use?
Shu Uemura, Giorgio Armani, Paula Dorf, MAC, Smashbox, and Nars. From my experience doing national artistry, I learned about all of the lines and the key items one should have in their kit. Here are my favorites: Giorgio Armani foundations, Smashbox primer and all their different highlighting powers and liquids, Makeup Forever eye shadows and their waterproof liners. Yves Saint Laurent's Touche Eclate (under eye highlighter) and liquid liner are the most used item in my kit. MAC lipsticks and glosses are epic choices for color and always stay on long. My newest mascara is one by Clinique called High Impact. I always have Rosebud Salve on me and tell brides to lube up their lips the week before and also use a mild exfoliation on their lips called the Daily Microfoliant® by Dermologica. NARS for blush.
What is a current beauty trend you're obsessed with?
Lashes, especially for a wedding. Lashes can really take you to another place in the photos and you can keep the makeup pretty and perfect without being too much.
What are some of your tricks of the trade?
I always contour my bride's faces. Contouring is the most magical thing you can do because it gives a special effect to the photos. Highlighting, always with soft glimmer or special liquids that make the face look like its under the lights of a fashion shoot. I like to line lips and do a perfect coat of lipstick and some gloss, sometimes stained lips for a more casual look.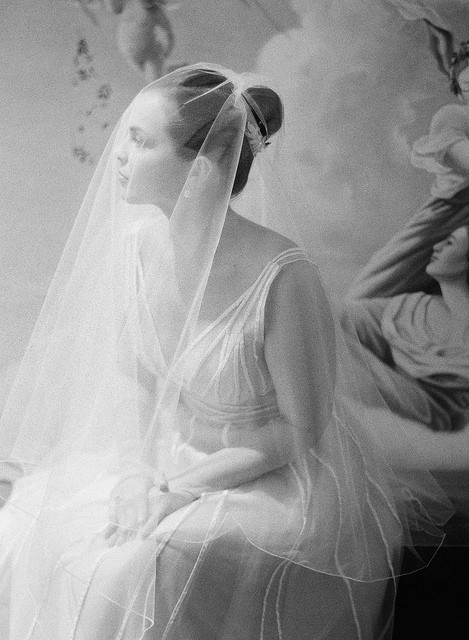 (Photo: Elisabeth Messina)
Jim is a makeup and hair veteran as well as a stylist. He recommends women of all ages go with an underdone rather than overdone look. Jim is most proud of allowing the bride to have "bed ready" hair on her wedding night by removing the pins and fingering the hair out. When it comes to brands, Jim doesn't discriminate — he agrees that some drugstore products rule.
What is your signature makeup style? Signature hair style?
Hair and makeup is designed for the individual, for where they are going and what they are wearing. My makeup is designed to last eight hours. I prefer hair swept up, dramatic, and soft.
What are your recommended makeup looks for brides? Recommended hair looks?
I prefer makeup to look natural. Men do not like seeing goo and shiny faces, they like seeing soft, glowing, touchable skin. The same with hair, it should look like something you would wear, not the latest trend or some picture from the red carpet. I give drama to the eyes, clean blended skin and neutral lips — I do not want red lipstick all over the grooms face. I prefer hair up for a few reasons. The bride is presenting herself on that day as a woman getting married. She should not look like a girl. There is a delicate balance of drama and confidence.
What brands do you use?
I use all kinds. I pick and choose products that will last. Jane Iredale makes great long lasting eye shadows and powder foundation. I love Neutrogena Healthy Skin Enhancer; it has a wonderful glow–it has Retinol SPF 20 and a sheer tint.
What is a current beauty trend you're obsessed with?
I love dark eyes with half lashes at the ends. Smokey, large, sexy. Tousled hair that looks like it will fall down, but it won't. Not many people know how to technically and architecturally design and build a foundation to support a hairdo that needs to last 8 to 10 hours. I do!
What are some of your tricks of the trade?
Shiseido makes a flesh colored pencil that you can use under or over makeup, or put it in the center of any crevice or line on the face and it will disappear. You can clean up uneven lip lines or even create a lip line before you use a colored liner. Hair wise, my secret is to start every updo with a pony tail; if the pins fall out and the curls fall down the pony tail will not.
Jim's blog: http://jimavilaweddings.blogspot.com/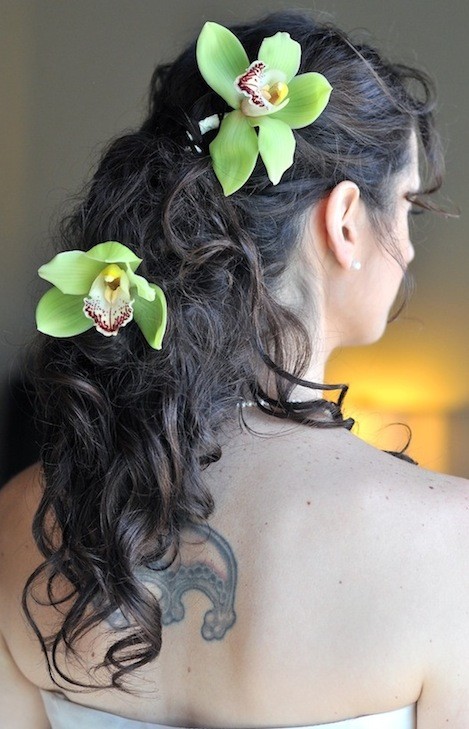 (Photo: Hasain Rasheed)
Eryn owns a salon in Oakland called Calm, A Salon, where she mixes her own line of mineral-based makeup called Calm Cosmetics. She is a true romantic who states "I'm always inspired by my brides. They're so in love with life and always in the moment."
What is your signature makeup style? Signature hair style?
Sexy and soft makeup. Nothing too hard or over styled. With the right setting, hair is usually in some sort of outdoor garden style. Like you did it yourself, but better.
What are your recommended make-up looks for brides? Recommended hair looks?
Classic beauty is always the underlying goal. The one common factor has always been the same: Make him recognize me and make him never forget me. For hair, I recommend something swept up. After a long day of events, a simple updo lasts through out.
What brands do you use?
Kerastase, Shu Uemura, and Rene Furterer styling products. Touchable hold and natural control. I use my brand of mineral-based makeup, Calm Cosmetics, to create a look that's light and dewy.
What is a current beauty trend you're obsessed with?
Trends come and go. The main ingredient in a good wedding makeup application is that I understand who the bride is. If the connection isn't there from the first consultation to the Big Day, the look will never come across. From low maintenance to the fashionista, whatever the bride is, I have to be able to portray who they are based on a feeling and understanding.
What are some of your tricks of the trade?
It is important to stay calm. I assure the bride that this is her day and that it is important that she is happy. It will not hurt my feelings if she wants to change something I've created. I always try to anticipate her every need.
Samantha Durbin (sami.7x7@gmail.com) is a California lifestyle writer who honed her blogging skills as Editor of FabSugar.com. Samantha graduated from The Fashion Institute of Technology, and also writes for 7x7 Magazine and Gilt City.