By
Before next week's fairs throw the SF gallery scene into a veritable art blizzard, take this weekend to catch some incredible exhibitions on the usual, somewhat more relaxed, terms. From a unique video-only exhibition to a feast of tenacious conceptual art, there will be more than enough to keep you busy.
Kounter Pärt, at Guerrero Gallery
The tremendous power in Kevin E. Taylor's paintings is difficult to explain, but the following line from Kounter Pärt's curatorial statement nails it pretty well: "the works beg to be more deeply understood."

These strange works wed a detailed realism to the visually irreconcilable.  Animals assume violent poses, suspended in space by bizarre architectural wire structures. "Physically impossible" is an understatement, in the best possible way. Other works seem to introduce a mirroring effect, splitting the view into perspectives whose relation remains just out of the viewer's reach. Captivating and surreal, these multifaceted compositions are really something to take in.

Kounter Pärt runs through June 2 at Guerrero Gallery, 2700 19th Street. Opening Reception: Saturday, May 12, 7 – 11pm

Pia Maria Martin; Zum Appell, 2005; 16 mm Film/Sound triple screen
projection, 5.27 min
STILL: Solo Exhibition Featuring Pia Maria Martin, at The McLoughlin Gallery
It is fairly typical, nowadays, for a gallery to adjoin its white cube to a black box – a space for video installations to accompany the exhibition at large. It is not at all typical for a gallery to unveil a solo exhibition consisting entirely of video work. McLoughlin Gallery takes this bold step with celebrated German artist Pia Maria Martin, and the art community is thrilled at the prospect.

A videographer and animator, Martin uses stop motion to bring the inanimate objects of her home to life. Quirky and enthusiastically surreal, the films make for storytelling of a fantastic variety. A prime example: you can look forward to seeing a soup hen, plucked and quartered, resurrect itself and sew its severed limbs back onto its body to escape the pot -- just one of many such delightful tales, due to hit the gallery's walls.

STILL runs through May 26 at The McLoughlin Gallery, 49 Geary St. Opening Reception: Thursday, May 10, 5 – 9pm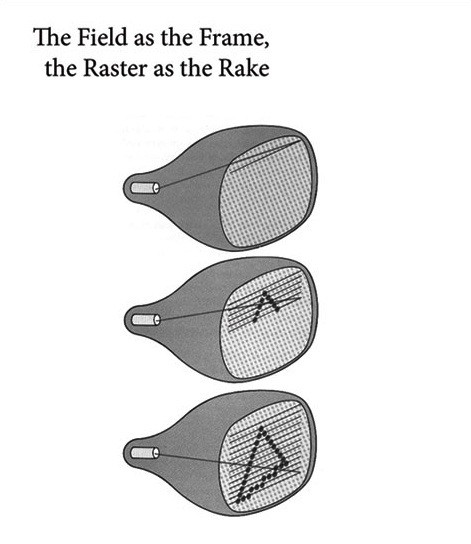 The Field as the Frame, the Raster as the Rake, at Alter Space
"The field as the frame, the raster as the rake" – it sounds like a chant, something the seven young artists assembled for this show have vowed to repeat until, at some level, they believe it.

For this conceptual and intriguing exhibition at the newly founded Alter Space, guest curator Matthew Endler brings together an ensemble that grew up amidst the ubiquitous screen of the personal computer. Gen Y-ers know what raster means; it's the grid of pixels that forms a digital image. The origin of the word, however, has become but an obscure trivia question. Answer: a rastrum is a rake that people used to till fields (the kind you walk on and grow things in) into grids. Pixel-like, sort of.

Through installation, sculpture, animation, painting and photography, the artists in this exhibition raise the analogy from trivia to conceptual art, exploring the questions of embodiment, objecthood and meaning posed by that unavoidable presence – the rasterized screen.

The Field as the Frame, the Raster as the Rake runs through June 2, at Alter Space, 1158 Howard Street. Opening Reception: Friday, May 11, 7 – 10pm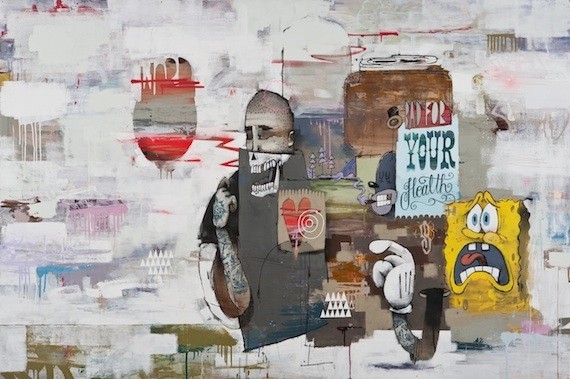 Word to Your Mother, "Bad for Your Health"

Can't Afford to Be Broke, at White Walls Gallery
Hear, hear. There has been a wealth of great art to come out of direct, thoughtful engagement with the Great Recession and its resulting attitudes. Most of it reaches a conclusion similar to this one: we can't afford to be broke – financially, physically or emotionally.

English artist Word to Your Mother expresses the sentiment through an arresting array of mixed media works on wood. In a signature assemblage approach, the artist conjoins dissimilar, but mutually revealing images of the grim, the pop culture-derived, and the typographic. This exhibition at White Walls promises what is arguably Word to Your Mother's strongest work to date.

Can't Afford to Be Broke runs through June 2, at White Walls Gallery, 835 Larkin St. Opening Reception: Saturday, May 12, 7 – 11pm
DON'T MISS A BAY AREA BEAT! SUBSCRIBE TO OUR NEWSLETTER.