Our foodie friends were among the fieriest bunch in October's Hot 30 issue, enticing you with full pages of their culinary glory: among them, Sarah and Evan Rich of Rich Table and Yigit Pura of Tout Sweet Pâtisserie. With all our admiration for them, they decided to return the favor with recipes of some of their most sought-after dishes. If you can stand the heat, get in the kitchen.
Rich Table's Plancha Bread
Serves 8
Dough:
1 1/2 cups warm water
2 1/4 teaspoons dry yeast
1 teaspoon honey
2 1/2 cups whole wheat flour (packed tightly)
1 cup bread flour (packed tightly)
2 tablespoons olive oil
1 3/4 teaspoons salt
1. Mix the warm water, dry yeast, and honey in a stand mixer bowl and let sit for 10 minutes.
2. Add 1 1/2 cups whole wheat flour (reserving the rest for later) and the rest of the ingredients and mix well with stand mixer and a dough hook. The dough will be sticky, but you will need to add a bit more flour to keep it from being too sticky (about ½ to 1 cup).
3. Cover with plastic wrap and hold in a warm place for about 2 hours to let it rise and rest. 
4. Separate dough into 8 portions (each about the size of a golf ball) and roll out with a rolling pin until about 1/4-inch thick.  
5. Cook in a hot cast iron pan seasoned with a little olive oil on medium-high heat, about 1 minute per side.
Prepare garnishes:
Kabocha squash
2 cups kabocha squash
1/2 medium onion
2 tablespoons butter
1 teaspoon salt (to taste)
1/4 cup water
1. Saute squash on medium heat in a saucepan with onion, butter, salt, and water until the squash is soft and the cooking liquid is reduced.  
2. Puree in a blender until smooth and adjust seasoning to taste.
Delicata squash
16 slices delicata squash sliced into rings (skin on) 1/4-inch thick
1 tablespoon olive oil
Salt to taste
1. Caramelize squash in a cast iron pan on medium-high heat with olive oil and salt, until tender.
Butternut squash
2 cups butternut squash, diced into medium cubes
1 tablespoon honey
Salt to taste
1/2 lemon, juiced 
1. Sauté squash with honey and salt in a sauté pan medium-high heat until tender.
2. Finish in the pan with lemon juice and remove from heat.
Pickled butternut squash
1 cup butternut squash, thinly sliced
1/4 cup champagne vinegar
Salt to taste
1. Heat vinegar and salt in a small sauce pan until it reaches a boil.
2. Pour over squash and let sit at room temp for 1 hour.
Sunflower seeds
8 tablespoons sunflower seeds, lightly toasted
1 tablespoon olive oil
Salt to taste
1. Preheat oven to 350 degrees.
2. Toss sunflower seeds, olive oil, and salt together in a bowl.
3. Spread out on med baking sheet and roast for 10 min or until golden. Watch carefully so they don't burn.
Sunflower Sprouts
10 per plate 
Garnish
1. Cook the plancha bread.  
2. Spread the kabocha squash puree evenly across the bread.  
3. Top evenly with all of the various cooked and pickled squashes, then seeds, and finally the sprouts throughout the entire plancha bread so that each bite has a little bit of everything.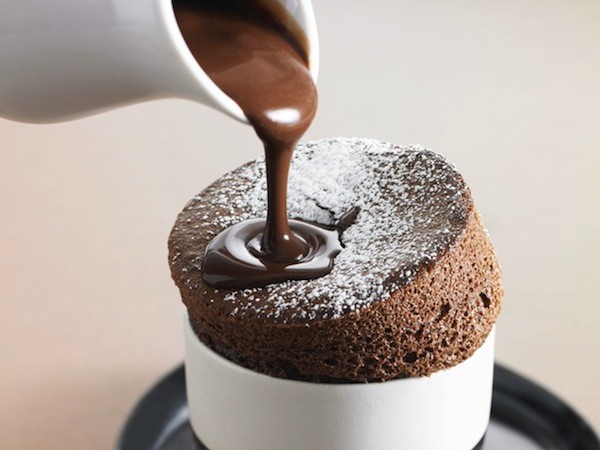 Yigit Pura's Dark Chocolate Soufflee
Serves 8-10
14 ounces 70% dark chocolate (preferably Valrhona)
1 1/2 ounces of unsalted butter
2 egg yolks
11 egg whites
A few drops of lemon juice
3/4 cups of sugar
Additional butter and salt for ramekins
1. Preheat the oven to 375 degrees.
2. Separate the egg whites and egg yolks 30 to 45 minutes ahead of time and set on the countertop to come to room temperature.
3. Coat the ramekins with a thin layer of butter, then pour a tablespoon of sugar into the butter-coated ramekin and swirl to coat the entire dish with sugar. Discard any excess sugar.
4. Bring a pot of water to a boil and then turn down to a simmer. Place a non-reactive metal or glass bowl over the pot to create a double boiler. Put the chocolate into the bowl and melt the chocolate, stirring occasionally. Set aside and keep warm.
5. Use a stand mixer with a whisk attachment to combine the room temperature egg whites, lemon juice, and sugar.  
6. Whisk the egg white-sugar mixture to shiny peaks (French meringue).  
7. While the meringue is being whisked, pour the egg yolks into the warm melted chocolate and mix evenly. The chocolate will be likely to firm, so keep it warm over the double boiler.
8. As soon as the French meringue is whipped, fold one third into the chocolate mixture to lighten it up. Gently put the rest of the French meringue into the chocolate mixture using a rubber spatula to fold them together. Be delicate and gently fold the batter to avoid deflating it. 
9. Use a soup spoon to gently transfer the soufflé batter into the prepared sugar-coated ramekins until each one is filled to 1/4-inch below the rim.
10. Place the ramekins on a baking sheet and place in the oven. Immediately close the oven door to avoid dropping the heat.  
11. Bake the soufflés for 7 to 10 minutes, or until they have risen about 1 1/2 inches from the top of the ramekins. Be sure to keep the oven door closed while they're cooking. Remove from the oven.
12. Poke soufflés using a spoon and twist 90 degrees to make a generous opening. Pour in Brandied Chocolate Sauce (see below). Serve immediately.
Sweet Note:  The great thing about soufflés is that the batter can be prepared up to 3 hours in advance, put into the ramekins and held in a cool area (not the refrigerator) until ready to bake just before service.
3-Minute Brandied Chocolate Sauce
3 ounces 70% dark chocolate, chopped
6 ounces heavy cream
1/2 ounces brandy
1. Put chocolate in a heat-resistant mixing bowl.
2. Heat up cream in a saucepan until it comes to a boil.
3. Pour over chopped chocolate and whisk together until evenly mixed.  
4. Whisk in brandy.
5. Serve warm.