It is safe to say that a slang word becomes a thing when you throw it out there and everybody gets it—see "staycation." Like "fashionista" and "upcycling" before it, "glamping" has arrived, as they say in Hollywood, darlings.
Launched in April, Shelter Co. is the silver-spoon baby of Kelsey and Mike Sheofosky, a husband-wife team who have a very urbane take on a dirty pastime. We believe you call it "camping."
Kelsey, also the creative director of SF-based Alison Events, is a hostess with the mostess with the heels to navigate the most fabulous of fetes. With Shelter, she and her hubby, a furniture créateur and construction maestro—along with their coterie—offer pop-up lodging in the form of luxury canvas tents (very European!) in any destination you fancy.
Each abode is dressed with full beds, cowhide rugs, lounge chairs, throw pillows, and bedside tables topped with lamps ($750 for two nights). And as any glamper would expect, you may find a welcome present on your bed, kitted out with magazines (Kinfolk, Rolling Stone), sunscreen for protecting your delicate skin, bug spray (pretend it's French perfume), a bottle of Pinot Noir, and a little headlamp should you feel compelled to wander about in the dark. Civilized glampers might retire to an Adirondack 
chair by the fire for a morsel of chocolate and toasty meringue on a biscuit—how do you say, s'mores?
While glamping, dinner may be prepared on a petite barbecue and served upon bamboo plates with all the utensils and accoutrements you could ever need. (Yes, a wine opener is included.) Artisan linens may top your dining table, while candles and lanterns light your way—unless you spring for a generator. And who wouldn't?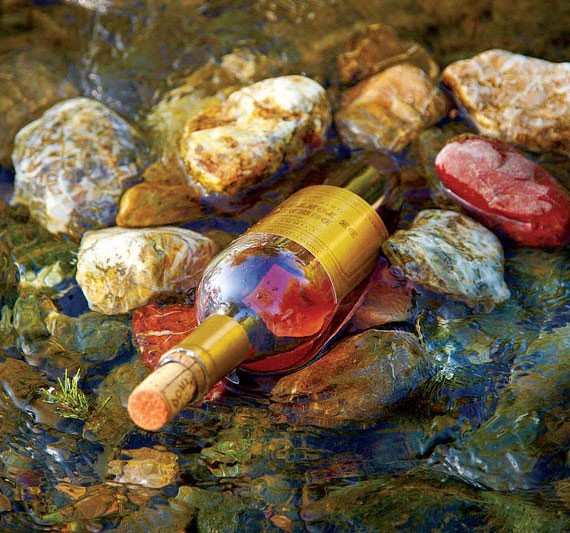 Rosé on the rocks
Morning coffee is French press, but you'll need to bring your own Four Barrel beans. Hardcore glampazons, however, will summon the camping butler to fetch everything for them. Jeeves, we'll call him, can be at the ready as your personal chef, bartender, fire-starter, and housekeeper—he even offers turndown service.
When it comes time to freshen up, a portable toilette, sink, and solar shower await. That is, unless you are glamping first class, in which case you could find a flush toilet and heated running water inside your luxury restroom trailer. True divas may go one step further with a decked-out beauty station.
Should you get bored out there in nature—Shelter's partner locations include Scribe Winery and Barndiva Farm—ask Jeeves to join you for a game of croquet or Scrabble, or cue up a film on a private outdoor movie theater. Intellectuals might enjoy a nice piece of Russian literature in the library. Or a private yoga class. What better way to get back to the land! And, of course, no glampathon would be complete without man's best friend. Here, the little pooch may check into his own canvas suite.
Naturally, the amenities do add up, but this is a trés, trés fab way to celebrate a wedding, family reunion, or even a cozy weekend for two. Embrace your inner earth god or goddess, and pony up for the tab. 
This article was published in 7x7's July/August issue. Click here to subscribe.