Whether you're too busy to notice it or swimming in too many invitations to see the forest for the trees, an invisible war for your attention (and cash) is being waged in theaters, art spaces and non-profits around the Bay; the fall film festival season has officially begun. Save a real war, few things could be less rewarding or more dangerous to head into blind than a film festival. Here's a primer on some of September's strong contenders so you don't get caught in an ambush.
Cine+Mas SF Latino Film Festival
After a few troubled years, it seems like the Latino Film Festival finally has a little bounce in it's step. It's a great place to see Central and South American films that, for the most part, don't reach us most of the time in the states.
Picks: The Inca, The Silly Girl & The Son of a Thief has been making its rounds at festivals around the US on the strength of its complex, character-driven narrative. SF Nativists will want to check out Sin Padre, the tale of a 17 year-old cutty living in the Mission and searching for his past. Plays Sept 18-30 at venues in San Francisco.

3rd i San Francisco International South Asian Film Festival
With its strong identity focus and excellent community support, you might be tempted to write 3rd i off as a "not for you" if your family doesn't hail from the world's most people-rich zone. Don't. Despite its small size, 3rd i consistently offers a healthy spate of films that paint a picture of South Asian life outside of Bollywood–and of course, at least one every year from the inside!
Picks: The great Raj Kapoor stars in Jagte Raho, one of the those certain kind of classics that often escapes larger audiences blinded by the great mound of Bollywood laid at their feet. The fact that Decoding Depak is directed by his son, Gotham, can be either frustrating or energizing depending on how you look at it, but it's hard to resist the tantalizing proposition of getting a look behind the guru's saffron robe. Runs September 19-23 at the Castro and Roxie Theatres.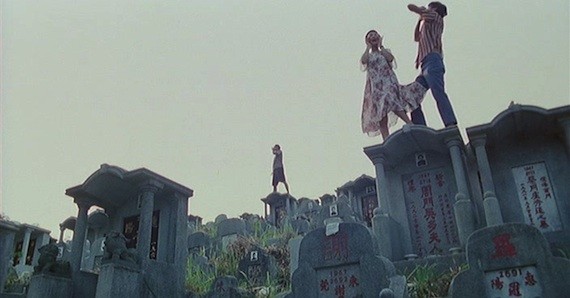 A still from Fruit Chan's Made in Hong Kong

Hong Kong Cinema
The first dispatch from SFFS's mighty fall programming lineup doesn't call itself a festival per sé, but it does have an opening night film… and an opening night party, so consider Film Society's leaving the "festival" off as less of an oversight and more a carefully planned bit of Bay Area identity politics.
Picks: Highly commercial, as is nearly all of Hong Kong's output, the films often do well if you pick by stars: Simon Yam (Nightfall) and Lau Ching Wan (The Longest Nite) have never failed to bring a smile–and when appropriate, a grimace. Fruit Chan's Made in Hong Kong is the rare exception that proves the rule: An acclaimed indie made on the streets on a shoestring budget. Runs September 21-23 at New People Cinema.

Northern California Action Sports Film Festival
Harried filmgoers get a bit of a break on this one–this multi-format fest is all over the Bay during its short, inaugural run. Most events are free, and as sports fans are known to play favorites a number of "action" sports are represented, from skiing all the way to downhill skateboarding.
Picks: Manufacturing Stroke, the festival's centerpiece, is about the rebirth of the surfing industry that's been spurred by grassroots efforts to operate in a more sustainable fashion and is more DocFest than Xtreme games, though it's still got plenty of in-action footage. The festival's opening night party at Mission Cliffs is also a great opportunity for anyone that hasn't visited yet to get a bit tipsy and try their hand at their craggy 50-foot-tall climbing wall. Runs September 28th-30th at venues around Bay Area.