There are a couple of things that we need to know about the forthcoming 29th (and rumored final season) of MTV's The Real World. For one, it's takes place in our fine city of San Francisco. Secondly, it will possibly be the most delightfully scandalous season yet. 
The trailer for the new season of The Real World hit the Interwebs and it is everything you want and don't want. Long gone are the days of when The Real World was socially conscious voice of a generation — such as the first time the popular reality show was shot in San Francisco. Now it is a circus of fist fights, debauchery, petty arguments, needless sobfests, drunken sexcapades, and long-lasting friendships.
But this season is not just any ordinary season. It's not even officially called The Real World: San Francisco Part 2. It's called The Real World: Ex-plosion. Catchy huh? The title isn't just for an edgy effect. Some genius decided that it would be a good idea to throw in a twist to this season: the seven roommates will be forced to live their exes! Yup. It's gonna hit the fan...and it's gonna hit it hard. Check out the trailer below (SPOILER ALERT: There's a pregnancy test involved).

And thanks to Wikipedia, we don't have to wait to meet the roommates. We have a wealth of information right here. Here's a helpful guide in who's who in the house on 1244 Sutter Street.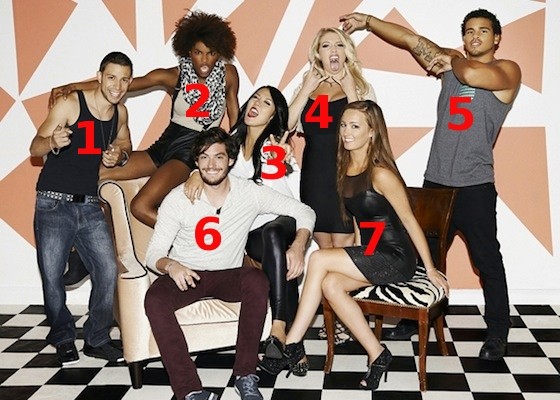 1. Jay Gotti, 26: The eldest of the group so he is probably a sage of wisdom. He's from the Bronx and is a model as well as an MC party host. 
2. Arielle P. Scott, 24: She's a Vallejo native, attended Berkeley, had a start-up, and currently resides in San Francisco. She used to be choreographer and now she is a model.
3. Jamie Larson, 22: Coming to us from Houston, TX, Jamie is an advice columnist for a website and also a model. I'm beginning to see a trend here.
4. Jenny Delich, 23: She's originally from Kansas City, Missouri, but currently lives in Los Angeles where she bartends. When she not pouring shots, she's acting, singing, dancing or...you guessed it modeling.
5. Cory Wharton, 22: From Santa Monica by way of Michigan, Cory is a personal trainer and was football guy. He's not a model...yet.
6. Thomas A. Buell, 21: He seems like he will be the resident down-home Texas frat boy and, right off the bat, he looks like he will get corrupted the most. He also is not a model...yet.

7. Ashley Brooke Mitchell, 24: She's another S.F. local, but is originally from West Virginia. As for her job: she's a model. Of course she is.