If there is an ideal Friday this month to hop across the Bay and explore the thriving Downtown Oakland neighborhoods your friends have been prattling on about, it is this one – always the first one. From 6 – 9pm, a slew of galleries will open their doors for Oakland Art Murmur's monthly art walk. Full of dogged self-starters and no home for the risk-averse, the Oakland gallery scene routinely welcomes work that the more cosmopolitan corners of the SF circuit are prone to overlook. Here are four picks from the East Bay's ever-growing frontier.
Out of the Blue
Blue somehow achieves a power beyond its pigment, carrying a serene glumness, sorrow or anguish in its tone. The blues expressed a more particular anguish – that belonging to African Americans in the Deep South around the turn of the 20th century. The blues also employed a succinct narrative grip and improvisational flare that came to define a century of American music making. It had a dynamism belied by its eponymous, subdued color palette.
In Creative Growth's Out of the Blue, a number of artists take inspiration from blues music's profound moodiness, storytelling and innovativeness, and turn these dynamic qualities back on the world of physical art objects to produce bluesy compositions in wood, drawing, painting and ceramics. The effect promises to be rich, vocal, enlivening – another singular moment in the legacy of a color.
Out of the Blue runs through March 9, at Creative Growth Gallery, 355 24th St., Oakland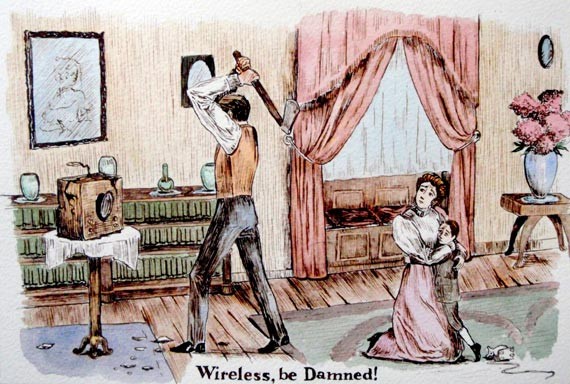 Christina Corfield A Modern Family (detail 3) 26 x 40 inches Ink and watercolor on paper
Follies of the Digital Arcade
As we hurtle onward into the digital age, it may prove enlightening to take a moment to remember how past generations dealt with their own technological revolutions. In Follies of the Digital Arcade, Christina Corfield looks to the early days of electricity and the mystified befuddlement that the technology produced – hilarious from our viewpoint, but a point of great anxiety and wonder for those who watched the bulbs first turn on.
The exhibition centers around "The Body Electric," a two-channel video installation presenting the story of Lucille, a (fictional) telegraph operator who goes blind and develops a peculiar relationship with electricity, or rather, a strange, vividly visualized idea of the phenomenon.
Corfield accompanies the installation with an array of absurd (in hindsight) illustrations depicting the sensational and utterly inaccurate myths about Edison's invention that proliferated around the turn of the century – for example, that the new electric glow produced listlessness in men and turned the female constitution into a "conduit for rogue energy discharges." By that view, one shudders to imagine the perils of Facebook.
Follies of the Digital Arcade runs through March 17, at Johansson Projects, 2300 Telegraph Avenue, Oakland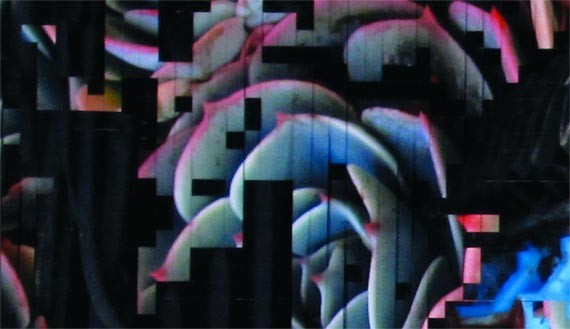 Blue Engine  woven photographs, by Christy Kovacs (2012)
Woven Through Time
Much as today's art lovers like to think of the art world as existing on an elevated plane somewhere between revolutionary activism and intellectual repose, certain realities remain in between. For one, the notion of "woman's work," as opposed to men's, has neither disappeared nor resolved. In fact, it could use some clarification, the artists in Woven Through Time believe.
Christy Kovacs' evocative tapestries of woven photographs, Liz Koerner's modular sculptures and Shed Kept's delicate embroideries, among others, address head on the issue of gender specificity in art. Exploring artistic subjects and methods traditionally dominated by men, while operating with an eye to the more confining definitions of women's craft, the artists trace an intriguing narrative of the development of "women's work" through time.
Woven Through Time runs through March 31 at Vessel Gallery, 471 25th Street, Oakland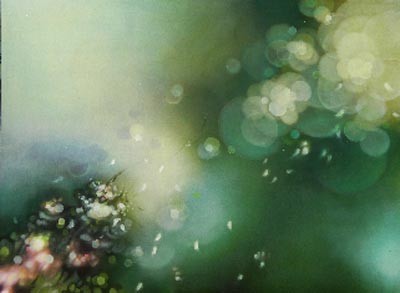 Jenn Shifflet; Wishing on the Wind, 2011; 18 x 24 inches; acrylic and oil on panel
Verdant Refuge
How to depict an inner world? Van Gogh famously looked outward to the texture of the earth. In Verdant Refuge, Shifflet adopts a similar approach, though with an ethereal fragility far removed from the impressionist's tangible strokes.
Her world is a dreamlike, atmospheric refuge in organic forms sourced from her studio garden, or memories of childhood play in imagined forests. Consisting of photo-based underpaintings submerged beneath layer upon layer of acrylic and oil, the works are veritable worlds in and of themselves.
Verdant Refuge runs through March 30 at Chandra Cerrito Contemporary, 480 23rd street, Oakland