Originally published on CaliforniaHomeDesign.com
Formerly a silent repository for precious wines, today's wine caves beckon with sparkling lights, mesmerizing art and the tinkle of wine glasses. Slip away from the summer heat with these cool wine caves you won't want to leave!
Dripping with Style at HALL Rutherford (below)
Only an art collector extraordinaire and former Ambassador to Austria could fathom the possibilities for a jaw-dropping, showcase chandelier for Hall Winery's Rutherford caves. Inspired by Donald Lipski's hanging sculpture in Manhattan's Grand Central Station, Kathryn and Craig Hall commissioned Lipski and Jonquil LeMaster to create "Chilean Red"—an anagram for chandelier. The result is a massive representation of an intricate grapevine root system breaking through the ground above with 1,500 brilliant and multi-faceted Swarovski crystals.

Befitting the grandeur of "Chilean Red" and the sculpture-filled alcoves along the way, the cave was hand-finished by Friedrich Gruber and his team with brick and limestone sourced from noble Austrian castles built between 1804 and 1918. 56 Auberge Road, Rutherford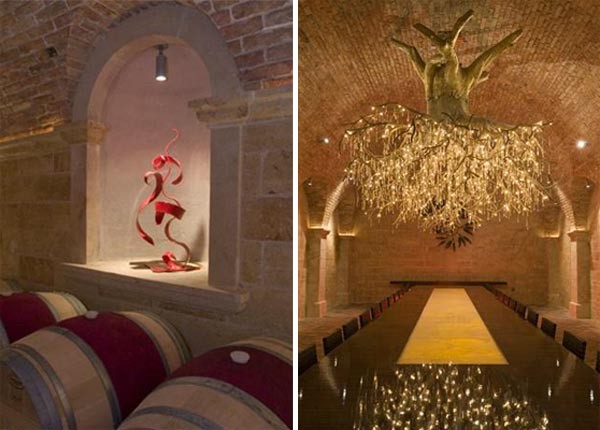 Click here to get the details on three more amazing wine caves!