The West and East Coasts are longtime seafood rivals: Who has the better lobster, the more superior oysters, or the freshest crabs? But there's one thing we Westerners excel at, hands down, and that's wild salmon. Almost all wild king salmon is Pacific, and the ocean water means it's more flavorful, richer in color, and fresher than its East Coast-farmed counterparts. Before the season is over, we're rounding up some of the most delectable wild salmon dishes in the bay. 
AQ's seasonally rotating menu means that it brings diners the freshest ingredients around. Their wild Pacific salmon exudes flavors of late summer and early autumn, and is served with sweet summer melons, truffle, white soy, and young turnips.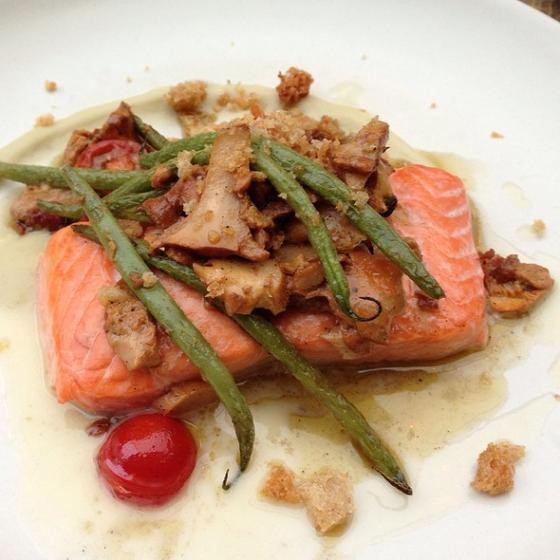 Wild salmon from Foreign Cinema by Foodspotting user Mia
Foreign Cinema combines the cuisine of California with the Mediterranean. To achieve Mediterranean flavors, they cook their king salmon in a fig leaf, and serve it with a fava bean puree, crispy prosciutto, haricots verts, and a Prosecco beurre blanc.
Like AQ, Rich Table's menu relies on local and seasonal ingredients. Here, you'll find wild king salmon is served alongside charred green tomato, corn, fig, and toasted almond. You'll be amazed how well the smoky tomatoes and corn pair with the sweet fig and crunchy almonds.
The small menu at Maven features a few light dishes, meant to pair with a cocktail, wine, or beer. To feature the freshness of the local king salmon, Maven serves it raw. The salmon crudo is prepared with champagne, deviled potato, and a tangy mustard cream.
SPQR's lengthy, Italian-inspired menu makes it hard to choose just a few plates. Enjoy their unique pastas, but don't miss their king salmon. Served with summer squash, cherry tomatoes, agretti, and salsa rossa, it's a light and refreshing dish.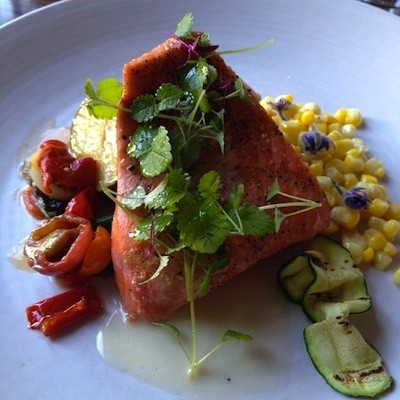 Photo by Foodspotting user Veronica Lujan
For a mouthwatering beer selection and dishes that match perfectly, Abbot's Cellar has you covered. They serve their king salmon with roasted Brentwood corn, braised collard greens, and shiitake mushrooms.