It may have been gold and frogs that first brought Calaveras County fame and fortune, but these days tourism has become the big draw. In a sense, what's old has become new again. Visitors can step back in time in historic gold mining towns like Angels Camp, explore a nearby prehistoric cavern, or hike among thousand year old giants.
Calaveras Big Trees State Park is located three miles north of Arnold off Highway 4. The park is true to its name, home to two groves of Giant Sequoia.
Discovered in 1852 by a hunter tracking a wounded grizzly bear, Calaveras Big Trees State Park is considered the longest continuously operating tourist facility in California. Within a year, the largest tree in the North Grove became a victim of its own popularity. Called the Discovery Tree, it was over 25 feet in diameter at the base and over 280 feet tall. It took five men 22 days of drilling holes (no saw was large enough), but even when the work was finished the tree did not fall for several days. The stump was planed smooth to serve as a dance floor. Start your hike along the North Grove Trail here. Today a set of stairs allow visitors to climb atop the massive stump and walk around.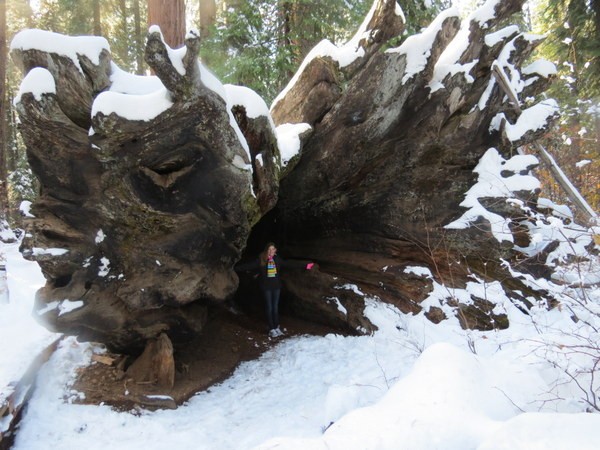 Plan on at least an hour to explore this well-marked 1.7 mile loop. Stop at the Visitor Center before your walk and pick up a copy of the guide to the North Grove Trail. It's just 50 cents and loaded with information you'll appreciate having at your fingertips while you're actually on the trail. This trail is stroller-friendly when dry.
The North Grove Trail is home to about 100 very large Giant Sequoias, some of which are thought to be as old as 2,000 years. It's also where you'll find the walk-through Pioneer Cabin Tree. The shortest route, North Grove is also well-traveled by visitors, but an unexpected fall snow storm left my family with the Grove almost entirely to ourselves. Next trip, we'll take the South Grove Trail, home to the Agassiz Tree, the largest in the park.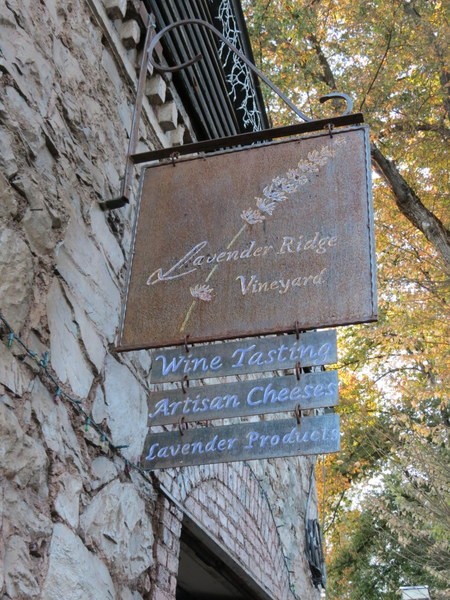 After your hike, all the comforts of home await in Murphys, about a dozen miles south on Highway 4. Founded by brothers John and Dan Murphy in 1848 modern day Murphys is a good place to stroll. Main Street is lined with shops, restaurants and wineries. Cozy tasting rooms like Lavender Ridge, Hovey and almost a dozen others are within easy walking distance of each other. Firewood Restaurant is a favorite with locals and visitors alike for lunch and dinner.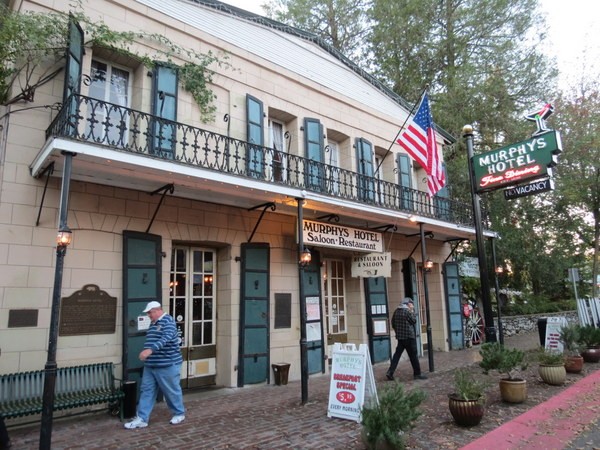 Murphys Historic Hotel opened its door in 1856 and is one of the oldest operating hotels in California. Among the famous who have rested their heads down here are Ulysses S. Grant, Mark Twain, and J.P. Morgan. The historic rooms here don't have televisions or telephones and shared bathrooms and showers are down the hallway. (Two newer hotel wings have modern rooms with these amenities.)
Murphys Suites is a kitschy roadside motel right on Highway 4. Families will appreciate the larger suites with microwaves and refrigerators. Everyone can appreciate the bottomless Oreo cookie jar that spends its days at the front desk.
Dana can be found on twitter @drebmann
Dana was hosted by Murphys Suites, but as always her thoughts and opinions are her own.