Part of a 7x7 editor's job is to live it up in the Bay Area so we can keep you informed and inspired on the new, the tried and true, and what to do. So what did we get up to this week?
Tried Bay Area Bike Share and it worked like a charm! User error added a few minutes to figuring things out (you have to lift the seat slightly to get the bike out once you punch in the code, and you need to give it a really good shove to return it to the corral). One $9 pass gets 24 hours of unlimited 30-minutes rides (grab a new code from the kiosk for each ride). Only drawback - riding without a helmet. - M.P.
Took one last drive over the old Bay Bridge span. Never thought one could feel nostalgic toward countless hours in traffic. - H.B.
Spotted a brand new Clarion Alley mural – a forceful portrait of Mission favorite, the Tamale Lady. - R.G.
Chatted with the very excited, new bar manager at Zoe's on 24th. He's a Coqueta alum with a fabulous new bar and food menu on the way! Keep your eyes out for potato jam. It tastes like sweet french fries – promise it's better than it sounds. - R.G.
Capo's
clams casino - do it. They tasted absolutely divine. Think this is a definite contender for the 2014 Big Eat list.
- M.P
.
Had my weekly gorgefest on carnitas at La Taqueria, followed by a bike ride (to burn it all off) to 9th & Irving's Oriental Art Gallery to keep my jacket pin game on lock. - L.M.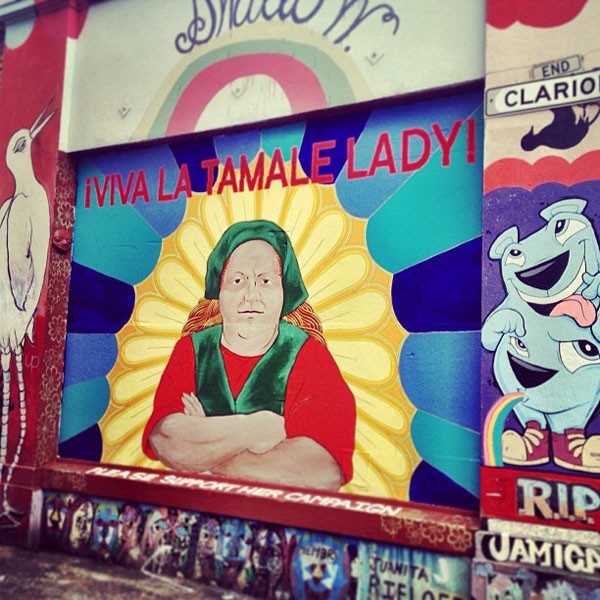 The line was endless outside of the new Cream in Walnut Creek...so I stuffed my face with frozen desserts at San Francisco Creamery. Next time, I'm bringing the whole team to tackle its infamous "Kitchen Sink" - three sliced bananas, eight scoops of ice cream, eight toppings, mounds of whipped cream, toasted almonds, and cherries (for $41.95!). - H.B.
Chinatown is an area I rarely venture to, but because a good friend of mine lives right in the thick of it on Grant Avenue, it was a good excuse to feel like I was in another world entirely for a night. We walked up and down its steep side streets, lit by the glow of divey restaurants, gaudy tourist shops, and locals-only hangout spots. We parked at Lucky Creation Vegetarian Restaurant for massive and delicious (and cheap) plates of Chinese food and a laidback place to catch up with one another. A perfect weeknight journey across town. - L.M.
Ate a progressive Norwegian-themed dinner at under-the-radar Plaj in Hayes Valley. The pine smoked salmon and the butter poached halibut with crayfish and a pork belly chip are melt-in-your-mouth amazing. - M.P.
After weeks of being a barren wasteland, Spreckels Lake in Golden Gate Park is back in business. Saw tons of model boaters enjoying the water this past weekend. - R.G.
In
Rare Device
, I lusted over the new selection of paper goods from Yellow Owl Workshop, Walking Things, and Rifle Paper Co.  Made new life goal: grow up to be Anna Bond. 
- E.H
.
Spent time in sunny-as-hell Oakland taking in a Tambo Rays/Twin Steps show at 1234 Go! Records (and dropped way too much money on cassettes); also explored the sprawling Mountain View Cemetery in the Piedmont hills. It's the perfect place for a photo adventure. - L.M.
Rachel Greenberg, Laura Mason, Hayley Besecker, Elysa Hill, and Mary Polizzotti comprise the 7x7.com online team.