Jardinière chef Traci des Jardins tells Liquor.com today that she's "pleasantly surprised at how food-friendly tequila is." Interesting.
Not convinced? Try out her theory by pairing her Black Mission Fig Salad recipe with mixologist Brian MacGregor's watermelon and tequila cocktail.  Their recipes (below) are perfect for a hot day like today.
Coa Fresca
Contributed by Brian MacGregor

INGREDIENTS:
•    3 Watermelon chunks
•    1.5 oz Blanco tequila
•    .5 oz Martinique sugar cane syrup
•    .75 oz Lime juice
•    Dash Thai Chile Tincture*
•    Glass: Bucket

PREPARATION:
Muddle the watermelon in a shaker. Add the remaining ingredients and fill with ice. Shake, and strain into a bucket glass filled with fresh ice.

*Thai Chile Tincture
Place a handful of hot chile peppers in a mason jar and fill with Wray & Nephew White Overproof Rum. Seal the jar and let stand four days. Strain into a clean bottle.
Black Mission Fig and Padrón Pepper Salad
Contributed by Traci des Jardins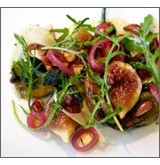 INGREDIENTS:
•    3 tablespoons Sherry vinegar
•    1 tablespoon Dijon mustard
•    .33 cup Extra-virgin olive oil
•    Salt and pepper
•    8 Black Mission figs, halved
•    1 bunch Arugula, washed and de-stemmed
•    8 Mint leaves, torn in half
•    1 bunch Chives, minced
•    24 to 30 Padrón peppers
•    Garnish: .25 cup Chopped toasted almonds

PREPARATION:
Whisk together the sherry and mustard in a bowl and slowly add the olive oil while whisking. Season to taste with salt and pepper. Combine the figs, arugula, mint and chives in a separate large bowl, dress with the vinaigrette and season to taste with salt and pepper. Sauté the peppers in a medium pan over high heat until slightly blistered. Add the peppers to the bowl and toss to combine. Arrange salad on four individual plates and garnish with the chopped almonds.
(Images courtesy of images©2010frankenyimages.com)