By
In 1974, a new watering hole brought a wacky idea to the Financial District. London Wine Bar on Sansome Street (which has since closed) was modeled after the common European tasting room and boldly dubbed itself "America's first wine bar"—a claim that's widely believed to be true among the vino-scenti. Pamela Busch's now defunct Hayes & Vine made a similar statement when it opened in Hayes Valley in 1994. But it wasn't until 10 years later that Hotel Biron, District, Nectar Wine Lounge, and Busch's second wine bar, Cav, galumphed into town like a cork-popping brat pack begging to be followed.
Fast-forward to the present, and there's a wine bar in every neighborhood. Master sommelier and wine educator Evan Goldstein says that the low overhead, food, and labor costs have caused the wine bar to become the "it girl of the moment." But its ubiquity is starting to spawn a new breed of bar. No longer is it enough to serve wine by the ounce. You've got to have an angle.
Take sommelier Chris Tavelli. He opened Yield in Dogpatch in 2006, branding it as the city's first eco-friendly wine bar. At the beginning of 2011, he opened Pause in the former Cav space to offer a pescatarian menu and seasonally changing vintages to match. Meanwhile, the Mission's smash hit Heart Wine Bar, where Mason jars are used instead of wine glasses, has been luring the 20-somethings with rotating art and wine descriptors like "nuttier than Nick Nolte." Deeper in the Mission, the new Saison restaurant offshoot Dcantr allows patrons to partake in the blending process, serving different vintages in lab beakers. Across town at Barbacco, diners are given an iPad with an interactive app in lieu of a sommelier.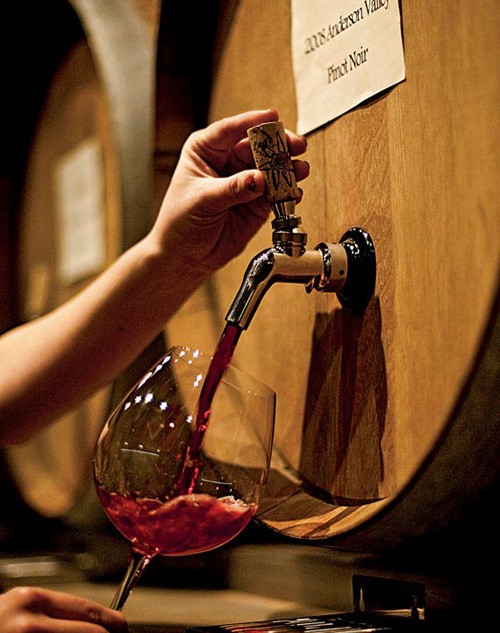 While these concepts differ wildly, they all attempt to rid wine of its pretensions. To this mind, Jackson Square newcomer Barrique offers wine straight from the barrel, eliminating the middleman and the cost of bottling. Because the tap wines are labeled only by their appellation and varietal, the preconceptions that come with labels are missing from the experience entirely. Across the street at Cotogna, every bottle on wine director David Lynch's list is $40. "Now diners can concentrate on the experience rather than worry about how much they're going to spend," he says.
While the wine bars are changing, the drinkers are too. "Millennials are the first generation to grow up with parents who 
really drink wine," says Goldstein. "They're open-minded."
This is what excites Kris Esqueda and sommelier Mark Bright, who recently unleashed a pop-up wine bar called Vinyl in Lower Haight. "We want to catch our patrons as they make the transition from PBR tall boys to ordering nice bottles of wine," says Esqueda. "They want to try new things, and we're ready to capitalize on that."
*Published in the April issue of 7x7 Magazine
DON'T MISS A BAY AREA BEAT! SUBSCRIBE TO OUR NEWSLETTER.