For a few days each winter, high-powered art dealers (Larry Gagosian), museum honchos (Jeffrey Deitch, director of LA's Museum of Contemporary Art), celebrity collectors (P. Diddy and Catherine Zeta-Jones), Damien Hirst disciples, emerging-art enthusiasts, fans of cutting-edge design, and art-curious scenesters break from their hibernation and flock to sun-baked south Florida for the world-renowned contemporary art show Art Basel Miami Beach (ABMB). The 11th annual to-do paints the town, so to speak, Dec. 6–9.
In the who's who of San Francisco art and design circles, "Are you going to Miami this year?" is a rhetorical question, a kind of subliminal gauntlet thrown down during industry chitchat. For ABMB neophytes and art-buffs-in-the-making, Bay Area architect Jennifer Weiss likens the main event at the Miami Beach Convention Center to a "pop-up museum of the world's best art." "Since it's very selective, the show is an extremely efficient way to learn about the art world," she says.
It's an invigorating educational prospect, to say the least. Only after enduring a rigorous vetting process and forking over five figures for a booth can the more than 260 international galleries—this year's hometown contenders include John Berggruen Gallery, Anthony Meier Fine Arts, and Altman Siegel Gallery—load into the convention center to exhibit 20th- and 21st-century works by some 2,000 artists. Blue-chip pieces by such contemporary masters as Andy Warhol and Pablo Picasso comingle with works by rising stars, like Altman Siegel's socio-political multimedia darling Matt Keegan, and more established artists like the U.K.'s Jamie Reid, known for his scandalous 1977 cover art for the Sex Pistols single "God Save the Queen." San Francisco interior designer Eche Martinez still bemoans the more recent Reid print (essentially the "God Save the Queen" cover art enhanced with diamond dust) that got away during Basel 2011. "The last Jamie Reid was acquired five minutes before I could get my hands on it," he says. "If you see something you love, buy it immediately. There's no room for doubt." That is to say, if you can afford it. Works at ABMB fetch anywhere from the tens of thousands to several million dollars, so only big spenders will actually be shopping.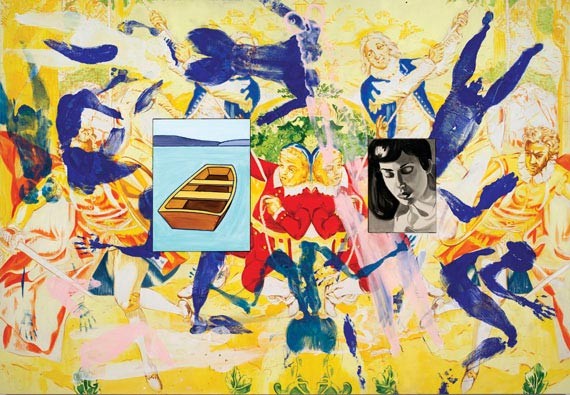 David Salle's Patrick Swimming Alone, 2012
Needless to say, navigating the fair can be, according to SF-based interior designer Martha Angus, "utterly exhilarating and overwhelming" and requires strict adherence to a few rules to ensure maximum enjoyment. For one, bypass the endless admission queues by purchasing your ticket online (a three-day pass is $90). Don attire that's comfortable yet chic (Weiss prefers a black Helmut Lang T-shirt dress and strappy J. Crew wedges). Storm the show when the doors open at noon on Thursday or Friday ("By the weekend, people arrive by the busloads," warns Angus). Hold tight to a venue map to pinpoint your current whereabouts and zero-in on salon lectures and art videos. Lastly, stay hydrated: Champers carts roam the convention center during cocktail hour, after all.
Satellite exhibitions have no official tie to ABMB, but they do bask in its glory and are great destinations for art enthusiasts looking for the next big thing, as well as young collectors whose pockets aren't so deep. Design Miami sets up shop adjacent to the convention center, showcasing high-end imaginative furniture and lighting and objets d'arts from avant-garde galleries the world over—a kind of abridged version of the famed Milan Furniture Fair, and "a super convenient place to unwind after viewing art all day," says Martinez.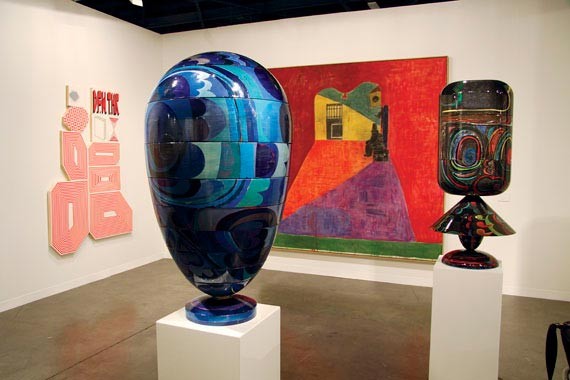 The Cheim & Read Gallery booth at Art Basel Miami 2011
Rumor has it that the Aqua Hotel's one-gallery-per-suite setup for the Aqua Art Miami Show was the inspiration for the annual ArtPadSF art fair at the Phoenix Hotel in San Francisco, where each gallery occupies a different room. The same clever arrangement can be found at other Miami hotels, including the Dorchester, which hosts one of Angus' must-sees: A show dedicated to contemporary works on paper called Ink Miami. Angus also never misses the energetic Pulse Contemporary Art Fair, which highlights emerging talent at the Ice Palace Film Studios.
Editor Katherine Krause regularly attends ABMB to promote her arts-and-culture journal, Dossier, at the New Art Dealers Alliance Show, better known as NADA. The SF resident counts the Rubell Family Collection—one of the largest privately owned ensembles of contemporary art in the world—among her favorite Basel sojourns; Aurel Schmidt's series of drawings Drug Voodoo Dolls at OHWOW Gallery's design district pop-up as one of her most memorable Basel discoveries; and she never misses Tap Tap Haitian Restaurant (819 Fifth St., 305-672-2898) to satisfy Art Basel-induced hunger pains. It was at Tap Tap that Krause and her fiancé once struck up a conversation with the Seattle designers Jamie Iacoli and Brian McAllister. "Four years later, we're all still good friends, and their beautiful geometric lights hang in our apartment," says Krause.
Fortuitous alliances seem to flourish in ABMB's jubilant atmosphere. They can take you from out-of-the-loop status to, say, a private, flash viewing of an Ed Ruscha work stashed in a storage closet, to a VIP party at the Museum of Contemporary Art North Miami, or to an exchange of pleasantries with, oh, Val Kilmer. "If you can be an extrovert for this one special week, you can create your own destiny," says Weiss. "Who doesn't want to do that?"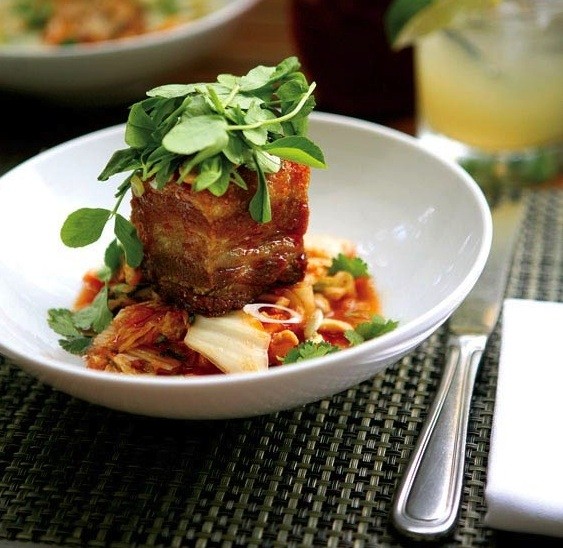 Pork belly with kim chi at Michael's Genuine Food and Drink
STAY
Jennifer Weiss settles in at the Setai on Collins Avenue (aka "the Strip"). Katherine Krause, meanwhile, vouches for 
The Standard Spa Miami Beach, citing its awesome atmosphere and authentic Turkish hammam (sauna) as noteworthy perks. Also high on her list: Tides South Beach, a historic Art Deco hotel revamped in 2008 by celebrity designer Kelly Wearstler.
EAT
Krause enjoys the charming scene at Mediterranean restaurant Casa Tua, located just off the Strip, and the farm-to-table fare at Michael's Genuine Food & Drink. Martha Angus craves the Cuban eats and famous café con leche at David's Cafe.
PARTY
Miami's population of hedonists naturally spikes during ABMB. Find sybarites reveling around the pool at the Raleigh, crashing the Living Room Bar 
at the swanky W South Beach, or mingling late-night at the Soho Beach House, where each floor of the members-only hotel 
is ground zero for exclusive soirees. Take heed: Now that the Delano's legendary pop-up nightclub, Le Baron, is sadly defunct (due to a champagne-fueled fracas at last year's event), you can probably catch the beautiful people getting down instead at FDR, the hotel's new subterranean speakeasy.
This article was published in 7x7's November issue. Click here to subscribe.