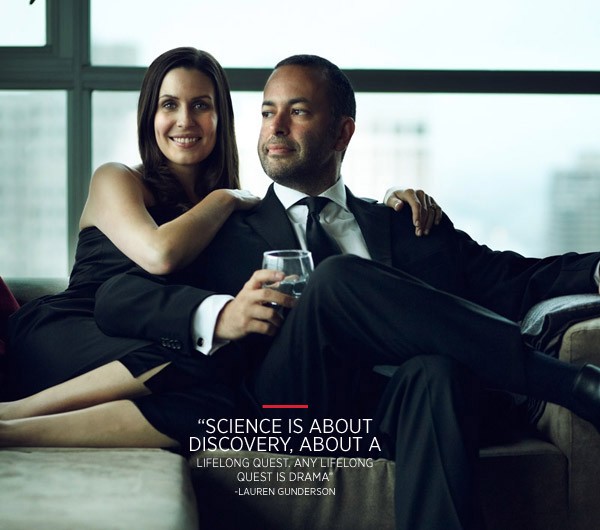 The Power Couple
Lauren Gunderson, 29, playwright and Nathan Wolfe, 41, epidemiologist
Photographed by Alex Farnum in Nob Hill
On their first date last year, Nathan Wolfe held Lauren Gunderson's hands and said, "I think I'm done." This was the same man who was portrayed in a 2009 Men's Journal story as a jungle-living rogue virologist who couldn't be pinned down. Gunderson, on the other hand, was looking to Wolfe as a potential subject for her next film script because of her own passion for science. "I think science is about discovery, about a lifelong quest," she says. "Any lifelong quest is drama." Now engaged to be married, Wolfe and Gunderson share an apartment in Nob Hill. Wolfe, a visiting professor at Stanford, works in SF at the Global Viral Forecasting Initiative, the independent organization he founded 10 years ago to track infectious diseases. He's also consulted on Steven Soderbergh's star-packed film Contagion, which came out last month. Meanwhile, Gunderson, no slouch of her own, has just finished the run of her first SF stage production of Exit, Pursued by a Bear. This fall, her musical, The Amazing Adventures of Dr. Wonderful and Her Dog!, debuts at the Kennedy Center in Washington, D.C., and another commissioned musical with Harry Connick Jr. is forthcoming. Then there's her MTV pilot on science fairs. Though she has yet to traipse around the outback collecting blood samples from monkeys like her fiancé, she was a big help with editing his book The Viral Storm, due out this month. "She was a real collaborator on the project," he says, clearly marveling at his latest, unscientific discovery.