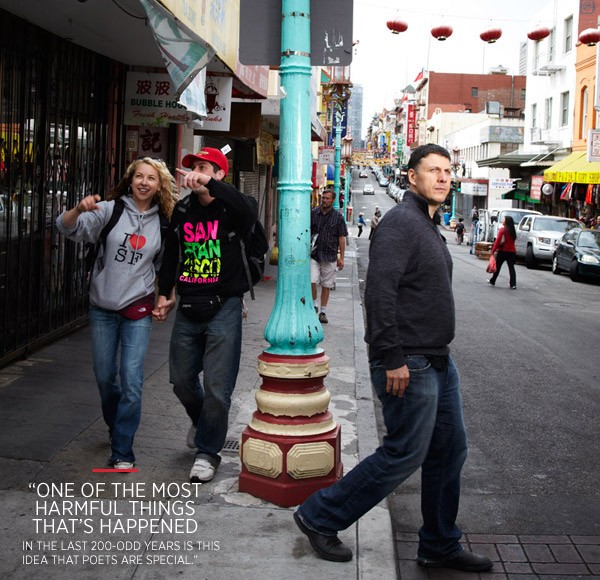 The Mystery Man
Matthew Zapruder, 43
Poet and 2011 Guggenheim fellow
Photographed by Robyn Twomey in Chinatown
Author of three books of poetry, including last year's award-winning Come on All You Ghosts, editor at the poetry press Wave Books, and 2011 Guggenheim fellow, Matthew Zapruder is the kind of person you move to San Francisco in the hopes of meeting at a party. The kind who resides in North Beach on the very street where City Lights cofounder Lawrence Ferlinghetti lived and walks the city gathering impressions so he can translate them into soul-searing free verse that gets touted as the best poetry of the year by Booklist and Publishers Weekly. Conversation with Zapruder is guaranteed to be interesting. What it won't be is esoteric. "One of the most harmful things that's happened in the last 200-odd years is this idea that poets are special," says the Washington, D.C. native, "that they're extra-sensitive creatures who live in a dream world and perceive things others don't. There's nothing further from the truth. I'm exactly like everybody else. That's what gives poems strength, value, and worth." Well, maybe not exactly like everyone else because while we're pounding away on keyboards and analyzing spreadsheets, he's sitting at his kitchen table or his desk at the Writers' Grotto attempting to pin down the ineffable. "All those huge and often contradictory feelings that exist just below our functional selves are very real, and everyone is having them all the time," says Zapruder. "That's the source material of poetry. Every single person is a giant mystery.