Portland, Oregon is a tale of two cities. Divided by the Willamette River, the west side features the historic downtown, verdant hills, and winding streets. This is the Portland visitors see, the side with the hotels. The other Portland is the largely featureless east side—although there are pockets of pretty, its charms are less obvious. It's no wonder, then, that most new Portlanders settle in the west. When my husband and I moved from New York in 2010, we, too, fell for looks. But every time we wanted to eat something delicious (i.e. often), we found ourselves crossing the bridge to the east side. That's where we discovered Lardo's smoked coppa cubano, Salt & Straw's lavender ice cream, Bamboo's eco-obsessed sushi, Le Pigeon's oozy burger, Olympic Provisions' unbeatable saucisson sec, and Tasty N Sons' chilled metal bowl of addictive radicchio. As we fell in love with our 
new home, meal by meal, we became increasingly dismayed by the inexplicable disconnect between the city's heart and its supposed center. We'd come for Brooklyn, but we'd moved to Manhattan.
Luckily, in just two years, Portland's east-side flavors have come to us. Now a trip to Powell's Books on the west side can be paired with Lardo's pork belly–topped burger. Salt & Straw's seasonal ice cream—presently, a series of Valentine's flavors created with local chocolatiers, such as Xocolatl de David and Woodblock Chocolate—is just a streetcar ride away from downtown hotels. While the east side's Bamboo often requires an hour-long wait, the larger west-side space has walk-in availability. Out west, Le Pigeon has been reimagined, as 
if through the looking glass, as the looser, boozier Little Bird.
Restaurant developer Kurt Huffman was among the first to ride the new wave. He opened Chris Israel's Grüner in 2009 in a neighborhood that's now known (mostly by realtors) as the West End. The Alsatian theme may not be an obvious crowd-pleaser, but its comforting dishes, such as braised rabbit and chanterelles on buckwheat spaetzle, found an audience quickly. Now, it's one of the most acclaimed restaurants in town. The other notable early addition is Clyde Common, which opened in 2007. Under the expert direction of bar manager Jeffrey Morgenthaler, it's home to some of the best cocktails in the city. Huffman sees the west side's return to relevance as a natural next step for the city. "It's a sign of the maturation of the Portland food scene," he says. "It's not just chefs looking to find the cheapest rent. Now they're saying, 'Let's go where the people are.' They've developed the confidence to play side-by-side with the big boys—the steakhouses, the PF Chang's, the corporate-sponsored restaurants. That's an intimidating thing to do."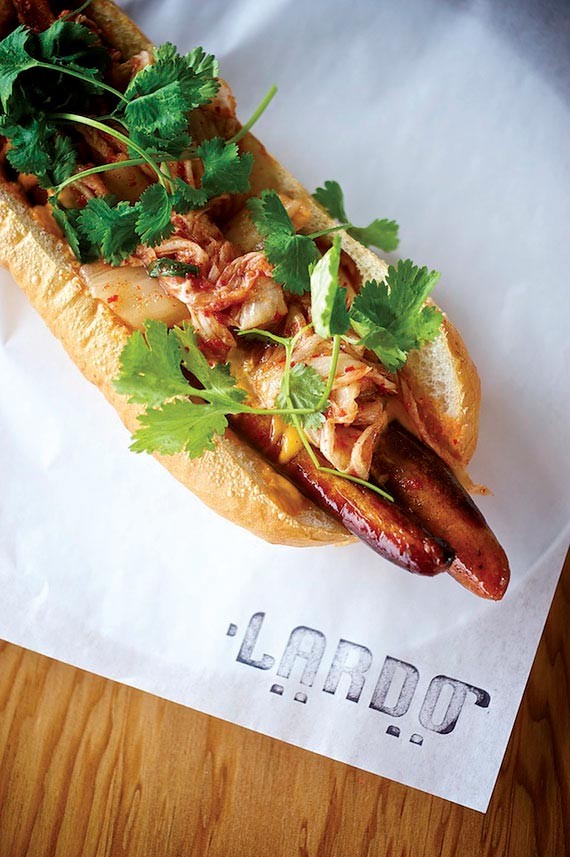 Photo by David Lanthan Reamer
To sweeten the deal, Huffman says, downtown property owners are wooing restaurateurs by cutting their rental rates. It's a smart bet. Portlanders famously put their money where their mouths are, and cultivating great restaurants may be the best way to attract business downtown. Opening on the west side isn't a new idea—there was a burst of groundbreaking restaurants in the '90s—it just hasn't been visited for a while. Dedicated Portlanders, like Kim Malek, are nostalgic for that nascent food scene.
Malek owns the aforementioned Salt & Straw, a wildly popular scoop shop that went from pushcart to two brick-and-mortar locations within a year. "We only opened the second store (on Northwest 23rd Avenue) so fast because the location is really special to me. When I lived in Portland in the mid-'90s, the space was one of the original independent coffee shops," Malek says. "The guys from Italy were making your drinks. All the windows were open. I remember sitting out on the sidewalk. Everyone was there. We thought it would be such a nice thing for the neighborhood to have a return to that."
Restaurateurs Kimberly and Vitaly Paley also hope for a social revival. In 1995, the beloved pair—she of the front of house, he of the kitchen—opened Paley's Place in a renovated Victorian on Northwest 21st Avenue. The 50-seat upscale bistro, a Portland institution with a mean steak tartar, has earned Vitaly a James Beard Award for Best Chef in the Northwest and the couple numerous admirers. Kimberly recently mused, over a selection of Vitaly's house-made charcuterie, "Shouldn't we be having more fun downtown?" She sees the scarcity of late-night dining as a real drag. That's why the Paleys' new venture, Portland Penny Diner, is open until 1 am on Friday and Saturday. Lunch counter by day (think: falafel on fry bread, chili cheese dog, egg-on-a-really-good-roll), the menu hits its greasy note at night with fried cheese curds. It also serves diner-inspired cocktails, such as the Portland Egg Cream (fernet branca, chocolate syrup, cream, and soda).
Tucked beneath the Hotel Lucia, the diner is the counterpoint to next-door 
Imperial, which showcases Vitaly's (and executive chef Ben Bettinger's) powers of invention. Just when you thought you couldn't eat another beet, here ruby slices are unexpectedly dotted with smoked mussels and topped with grilled-lemon relish. Sweet spice is perfected in a Potlatch pilaf-stuffed poblano pepper topped with walnut cream, a dice of butternut squash, and a drizzle of crème fraîche.
This spring, John Gorham, the chef behind Tasty N Sons, will open Tasty N Alder, named for its location on Southwest 12th and Alder streets. Early word is that it's to be a laidback restaurant, inspired by Gorham's German ancestry, serving the signature east-side brunch in addition to what he teases as "steaks, chops, and meats." Even Naomi Pomeroy, of Portland's marquee destination restaurant, Beast, has entertained the possibility of relocating downtown from her Northeast neighborhood location. Rumors like these are great for Portland. As the city offers more competitive opportunities to its chefs, it is less likely to lose them to more developed food towns. (I will not name names, San Francisco.)
Of course, just as visiting Manhattan without checking out Brooklyn won't give a visitor a complete understanding of New York, it's hardly a trip to Portland without seeing the east side. The city, much like its food, is best consumed in full.
This article was published in 7x7's February issue. Click here to subscribe.