Rich Higgins is more than a little into beer. After spending eight years as a professional brewer in San Francisco (at the San Francisco Brewery, Gordon Biersch, and Thirsty Bear)and working as the opening brewmaster at Social Kitchen + Brewery, Higgins upped the ante on his beer-love even more by becoming a certified cicerone. Oh, and then he became one of seven Master cicerones in the country, kicking off a career as a bonafide beer consultant.
"The program showcased everything I cared about," Higgins says of the cicerone certification topics. "It's about understanding the context for every beer, and knowing how to showcase that beer best."

The step was a natural one for Higgins, whose passion for beer has long been complemented by his love of cooking and travel. Now, his day-to-day involves designing beer programs for restaurants (currently, Delarosa; previously, Starbelly and Lolinda), consulting shops and distributors on market-friendly beers (Plumpjack), and training restaurant and beer professionals alike on the intricacies of beer pairing and brewing.

Sound like your dream job? Higgins has some tips on how to approach the ciceronecertification test, which requires extensive knowledge of a nineteen-page syllabus of topics.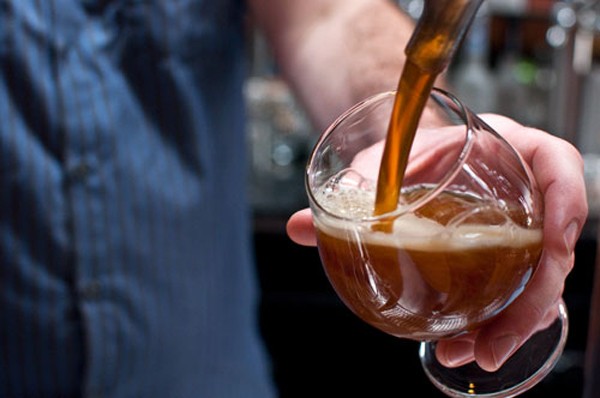 Photo byBrian Stechschulte viaBay Area Craft Beer
If you're up for the challenge, here's Higgins's six-step process for becoming a certified cicerone.
1. Familiarize yourself with the program. "There are some hoops to jump through," Higgins notes, but acknowledges that much of the requirements are self-explanatory. "Read the website, and read the instructions," he advises. Make sure you meet the minimum requirements: you need three industry recommendations to take the test, and at least twelve months working in the beer industry.
2. Homebrew. A lot. "It's easy and it's challenging; it's easy to make a good beer and very hard to make a fantastic beer," Higgins says. "Plus, it's fun!" Higgins strongly recommends professional brewing experience, as well, but finds that homebrewing is a great way to experiment and learn more about the processes involved in a decidedly hands-on way.
3. Taste, read, repeat. Refining your palate is a must for an aspiring cicerone. "Go to Toronado with a book, taste a few beers while reading what other people have written about them," Higgins suggests. "Don't make it a social thing! Or, go to Healthy Spirits, buy ten to twenty beers. Evaluate them, study them, get into the minds of a brewer. Higgins notes that it's probably not the best move to finish all of the beers you're sampling… at least while you're studying.
4. Break stuff, and fix it again. Get friendly with draft systems… really friendly. "Go to a bar or brew pub and have them break things for you," Higgins says. "Then fix them. Every bar has foamy beer and doesn't know why… you need to figure it out."
5. Eat and drink, science experiment-style. "Once you understand how cooking processes change flavors — different application of heat, acid, etc — you can figure out how it pairs with beer," Higgins explains. "Try plain white bread, lightly toasted bread, and burnt. Then try each with different beers. Pick the one you think will be best with the food and the one you think will be the worst, and try both."
6. Study, a lot. "I did some cramming before the test," Higgins admits. "But I'd been training for 15 years! You have to know a lot about beer."
What about becoming a Master? "It's a whole other level of magnitude," Higgins acknowledges.
Okay, okay. one step at a time.
Interested in the cicerone program? Get details on curriculum and the 2014 test dates here.