The countdown to BottleRock Napa Valley 2013 is on. 
Where is BottleRock?
BottleRock is held at the Napa Valley Expo. It's just a couple blocks from downtown Napa, on the other side of the river.
Getting there
You don't have to drive if you don't want to. The folks at BottleRock have set up BottleBuses that will pick up and drop off from outside of Napa. For $29 roundtrip, you can jump on a bus at 10 am, get dropped at BottleRock and then jump back on after the 11 pm show, or catch the 1 am bus for a ride home. There are half a dozen pick-up and drop-off locations to choose from. With two in San Francisco, and one in Oakland, Concord, San Rafael and Sacramento, they're covering plenty of ground.
Staying there
If you're thinking staying in town is a better way to go, get a reservation sooner to make your life easier. BottleRock has a good list of hotel partners. The Napa Valley Welcome Center and the Downtown Napa Association can also help you find a spot to rest your head. You're not limited to hotels. Downtown Napa has more than two dozen bed-and-breakfasts, most within BottleRock walking distance.
Parking
Lots of music lovers means lots of cars. If you're staying in town, park your car at your hotel and forget about it. If you're driving in for the day, use  BottleRock's shuttles running from more than 12-thousand parking spaces. If you want to save $10 and guarantee a spot, you can pre-pay $20 for parking. Free shuttles will take folks the two miles or so to BottleRock.
Getting Around
Once the music starts playing, walking is most likely going to be the fastest and easiest way to get around. 
Uber is another option for shorter trips around town whether you're heading to the music, to an after party downtown, or back to your bed when the day is done. You can request a ride using the app for iPhone/Android or through the mobile site. The pricing will be comparable to that in SF.
For those before and after show stretches, think about heading into Downtown Napa. Stretch your legs and make the short walk. What's waiting might surprise you.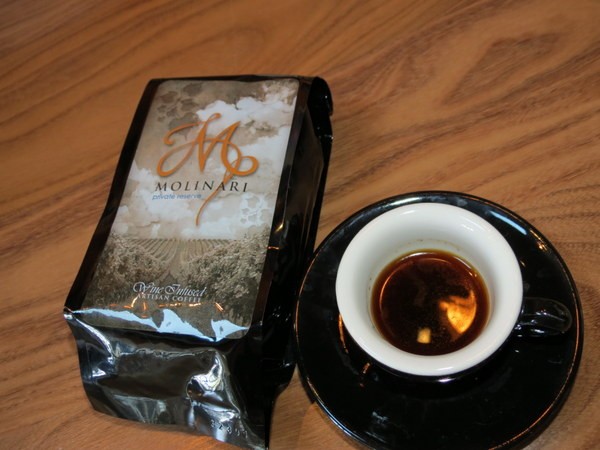 Molinari Wine Infused Coffee, Photo by Dana Rebmann
Caffeine Rush
Molinari Caffe has a nice selection of panini, salads and pastries to choose from, but these days it's the wine infused artisan coffee that's attracting caffeine lovers' attention. 815 Main Street
Sugar Rush
There are other things on the menu, but Frati Gelato Café is the place to go if you like authentic, artisan gelato. Made daily by their Master Gelato Maker, available flavors are posted daily on their blog. 670 Main Street, on the riverside of the building.
If you're more in the mood for chocolate, Anette's Chocolates won't disappoint, with offerings like mimosa truffles and super-sized peanut butter cups. 1321 1st Street or Oxbow Public Market.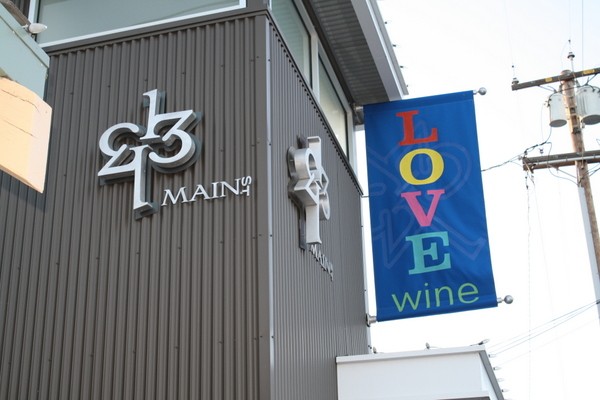 1313 Main, Photo by Dana Rebmann
Sipping Spots
A good glass of wine and Napa go hand in hand. 1313 Main is a fun place to start sipping. Contemporary yet comfortable, the tasting lounge is popular with visitors, locals and winemakers. 1313 Main, just like the name.
Just steps away, Vintner's Collective was the first tasting room to open its doors in Downtown Napa. Specializing in small-production wines, Vintner's Collective's selection will wow you. The building Vintner's Collective calls home is worth checking out as well. It's the oldest stone building in Napa, built in 1875. Originally a brewery, it's also served time as a saloon, Chinese laundry and well into the 1950s a bordello. 1245 Main Street
Eat Well
There'll be amazing eats at BottleRock, but if hunger strikes when you're downtown, you've got plenty of tasty options. Grace's Table Global Kitchen serves up an incredible iron skillet cornbread, Southwest tamales, and an assortment of salads whose prime ingredients are so fresh, in many cases they've only been out of the ground for mere hours. 1400 Second Street
Carpe Diem Wine Bar is known for things like its truffled popcorn with marcona almonds, black truffle salt and white truffle oil, and the Chef's Selection of Tacos. The tacos' main ingredients change constantly, but just to give you an idea–how does filet mignon and dungeness crab with a touch of hollandaise sauce sound? 1001 2nd Street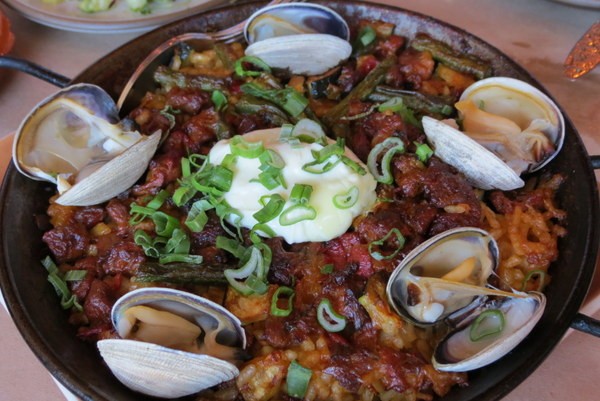 Paella at ZuZu, Photo by Dana Rebmann
ZuZu serves up tapas and amazing paella. The owner took his chefs to Spain, and you can taste the experience in the food. 829 Main Street
Can't find what you're looking for? Just head to the Visit Napa Valley Welcome Center at 600 Main Street. Folks there can answer all your questions and provide some inspiration too.
Dana can be found on Twitter @drebmann
Dana's trip was organized by Downtown Napa, but as always her thoughts and opinions are her own.