Brunch always sounds like a good idea: Sleeping in, meeting up with friends, good food, and drinking before 2 pm.
That is, until you realize that your brunch plans include waiting around for two hours to snatch a table in a crowded restaurant, and how are you possibly going to get a table for 6 anywhere in the Mission, anyway? Then, once you're seated, hungry onlookers eye your food as if they're ready to pounce. Lucky for us, the weather is brightening, and parks in every neighborhood make it possible for us to create our very own brunch picnics. Based on neighborhood, I've rounded up a list of pastry shops and markets to stock up goodies for your picnic. Make sure to bring a blanket, mimosa fixings, any maybe even a frisbee. You'll never find yourself waiting hours for a table again.
DOLORES PARK
The obvious choices, such as Tartine and Bi-Rite, are always reliable places to get your brunch picnic on. Or, you can always snag a breakfast burrito and fruit and granola from Dolores Park Café across the street. Newcomer Mission Picnic will open March 30th for brunch and lunch items, which you can call ahead for and have packed up for your picnic. The menu hasn't been announced yet, but seems to be primarily sandwiches with an Asian flair. 
For sweets, stop in at Mission Minis at 22nd between Mission and Capp for a variety of mini cupcakes to share with your group. If you're feeling more lunch-inclined, Arizmendi Bakery on Valencia features a different unique pizza daily or offers breakfast sourdough rolls, raspberry snails, scones, challah, and focaccia. 
ALAMO SQUARE PARK

Toast and cappuccino by Instagram user Sonya Yu
Divisadero has recently undergone some major changes that will enhance the picnicking scene for Alamo Square Park. Newly opened The Mill is the perfect place to grab some coffee and pastries to tote along to the park. The coffee is provided by Four Barrel and the breads are courtesy of Josey Baker Bread.  Order their thickly sliced toast with butter, cinnamon, and sugar, or peanut butter and honey. Simple and satisfying, it's the perfect, comforting meal for a breezy day at the park. And Bi-Rite's newest location is just steps away from The Mill. Stop in here for your fruit and bottles of wine, craft beer, or Prosecco for mimosas. Pick up some ice cream on your way out for dessert, and you've got more than a breakfast of champions.
WASHINGTON SQUARE PARK
North Beach has no shortage of amazing Italian pastry and coffee shops to choose from. Stella Pastry has a large variety of pastries, with a practically perfect Italian cannoli. Hit up Molinari Delicatessen for a huge selection of Italian imports. Their sandwich bar uses delicious, cured meats and salty cheeses, and the antipasti bar features all kinds of marinated peppers, olives, calamari salad, potato salad, and pasta salads. Pick out a nice bottle of Chianti to have yourself an Italian picnic right in San Francisco. 
CRISSY FIELD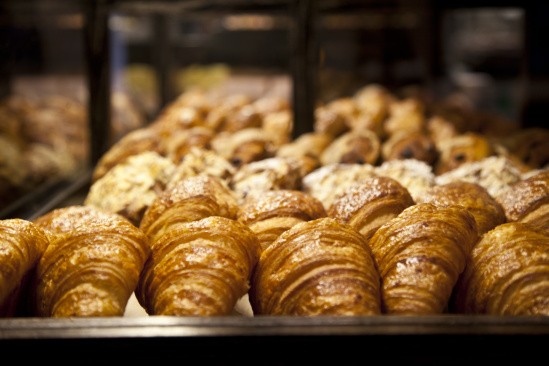 Croissants from La Boulange by dcinternationalist
Crissy Field is a bit tricky to get to, so be sure to pack a picnic before leaving the Marina. La Boulange on Union has a nice selection of pastries, tarts, granola, and quiches. For dessert treats, the Chestnut Bakery serves a wide array of cakes, cupcakes, brownies, and cookies. Don't forget to buy your wine or beer at a liquor store or Real Food Company before heading out to the beach. Once there, you can pick up unique donuts from the Dynamo Donuts kiosk. There's also the Beach Hut Café for snacks, sandwiches, and smoothies. 
BUENA VISTA PARK
Located high above the city, Buena Vista Park is an ideal picnicking spot. It's a bit of a hike to the top, but once there, you'll enjoy gorgeous views of San Francisco. Bring a tennis racket to play a post-brunch game on one of the courts with your friends. Depending on which part of the city you're coming from, there are many delis to choose from. Alamo Square Market and Deli makes great sandwiches and sells other snacks, juices, and booze. For brunch they offer egg, cheese, and bacon sandwiches, or bagels and pastries. On Castro and Market, A.G. Ferrari Foods offers an excellent selection of cheeses, olives, marinated veggies, and cured meats to create your own spread. You can pick up a bottle of bubbly along with the array of Italian goodies for your picnic.
GOLDEN GATE PARK
Golden Gate Park stretches a great length of the city, so it's the perfect park to bike to your chosen location. Make sure you attach your bike basket so you can transport goodies from either the Richmond or the Sunset. If you're coming from the Outer Richmond, John Campbell's Irish Bakery offers various scones and soda breads. They also make "pasties," which are puff pastry dough filled with meats, gravy sauce, and veggies. Or, for a Dim Sum picnic, stop by Lung Fung Bakery to pick up pork buns, ham and egg buns, egg tarts, and chicken pie. If you're in a Russian mood, Moscow & Tbilisi Bakery Store offers piroshkis, pastries, borscht, and dolmas. From the Outer Sunset, head by Devil's Teeth Baking Company for breakfast sandwiches, apricot scones, cinnamon rolls, and Blue Bottle Coffee.