Originally published on CaliforniaHomeDesign.com
It seems appropriate that the Klutz Press building in Palo Alto was originally home to a Coca-Cola bottling plant. The 43 people who work here today make something that kids love just as much as soda: A special line of creative children's books that have sold 45 million copies worldwide and counting. Come along with us on a special tour of Klutz's idea factory.
Fourteen bicycles (seen above) hang from the ceiling along an airborne path, making it look like the bikes are in flight. They're secured by nearly invisible wires, which are designed to keep the bikes aloft in an earthquake.

The flying bicycles were the brainchild of Klutz co-founder John Cassidy, who often biked to work from his home in Palo Alto. He tasked Klutz employees with finding the bicycles, with one condition: They had to cost $5 or less.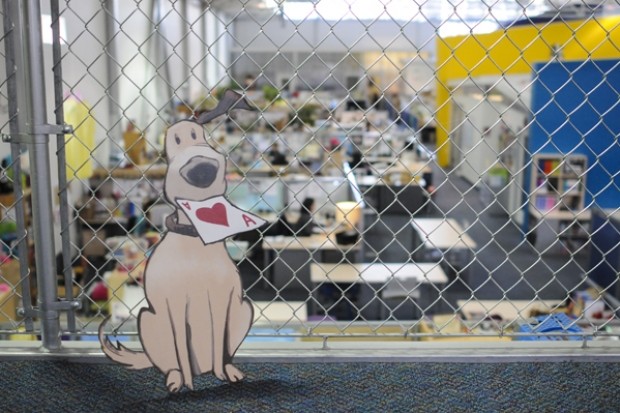 They designed the building with the help of the architects at Cody Anderson Wasney, who have designed four office spaces for Klutz over the past 20 years—a small house in Palo Alto's College Terrace neighborhood, a 5,000-square-foot warehouse space, a 12,000-square-foot office, and Klutz's current office.

The building had changed hands several times, and most recently housed an auto parts warehouse. When Klutz moved in, they inherited an empty shell, giving them complete design flexibility. The architectural style reflects the building's industrial roots, with metal staircases, fixtures, exposed beams, air vents and portholes.
Click here to see more cool photos of the Klutz offices!