By
The majority of Kauai, the oldest of the Hawaiian islands, is comprised of lush, dense rainforest, accessed by intrepid hikers, kayakers, and helicopters flying over. It's a place to relax on unspoiled beaches, and no trip would be complete without some of that, but it's also a respite for the restless nature enthusiast. If you're staying on the south shore, where the majority of the larger hotels are located, make the recently opened Koa Kea resort your base camp. The sea-inspired rooms all have patios that overlook the landscaped grounds, and from there you can walk the full length of the white beaches, including Poipu Beach, a fine spot for snorkeling on calm days.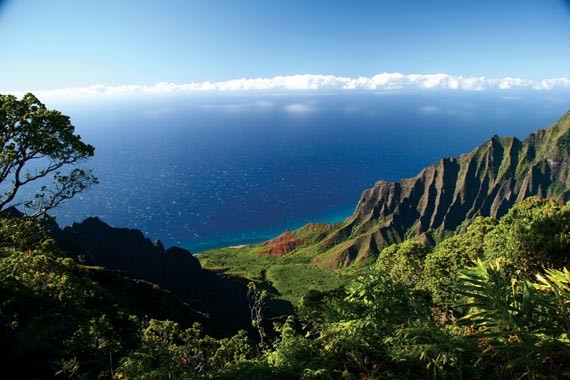 From the hotel, it's a short drive to Outfitters Kauai, where all manner of guided trips depart—they offer ziplining, kayaking (both ocean and river), and mountain biking through spectacular Waimea Canyon. For an easy morning outing, book a kayak trip up the Wailua River, followed by a short hike to waterfalls. The guides will point out flora and fauna and share island legends as you paddle your way downstream through calm waters. You'll be back on dry land by noon, and your best bet for lunch is Living Foods Market, a grocery started by former San Francisco chef Jim Moffat of Slow Club and the now defunct 42 Degrees. Here you can pick up sandwiches and picnic supplies to take with you back to the beach for the rest of the afternoon. Come dinnertime, remember that dining in Kauai can be painfully expensive for mediocre options, so rather than go white tablecloth, head west to the Shrimp Station, a roadside picnic table spot that serves fresh Kauai-raised shrimp in all preparations—with garlic butter, coconut-fried, and in tacos.
For the rest of your trip, the rugged north shore is quieter and even more pristine. With a population around 400, charming Hanalei is one of the larger of the small towns. You can drive on Highway 560 until the road ends at Ke'e beach, where you'll find the start of Kalalau Trail, a rugged, uphill path that hugs cliffs, takes you through waterfalls and the secluded Hanakapiai Beach, and offers astounding views the entire way. Afterward, head to the town of Kilauea for lunch at the Kilauea Bakery, where the salads are made with locally grown greens. For dessert, pay a visit to Banana Joe's, a roadside stand between Kilauea and Princeville that makes fruit smoothies—frozen pineapple and banana pushed through a Champion juicer results in an icy mousse that you'll dream about later. The stand also sells vegetables and fruit, a boon to travelers who choose to shack up at the Westin Princeville villas, all with small kitchens (as well as shared gas grills). The resort hosts lots of families, and though between 11 a.m. and 1 p.m., the main pool can be overrun by children, there are two plunge pools for adults to enjoy. Though there's no beach access at the Westin, but a shuttle will take you to the St. Regis Princeville, arguably the toniest resort on the island. Lounge in the beachfront chaises, help yourself to ice-cold cucumber water, and order mai tais from the circulating servers. If you're there in the late afternoon, get a proper cocktail in the hotel lobby bar, snag a seat on the patio, and you'll behold the Bali Hai sunset view (made famous in South Pacific), the perfect conclusion to a stay on this sleepy, unspoiled island.
Photo by Destin Bradwell
DON'T MISS A BAY AREA BEAT! SUBSCRIBE TO OUR NEWSLETTER.