The first time I travelled to Lake Atitlan I was not quite 20-years-old. It was 1973, and up to then, my experience of travel was visiting my grandparents in the prairies of Canada. I was trying to get over a broken heart—an experience that inspired a certain boldness. I took off alone for Mexico, where I met an expatriate couple living in Oaxaca. They invited me to come along on an orchid hunt in Guatemala. It took us two days of rough driving to get there. All the while, a civil war was going on.
Guatemala took me outside the narrow world of my insurmountable sadness. Suddenly, I was in a country and culture with struggles that made my own seem small. And at the same time, the country was so filled with color, life, and natural beauty that it was impossible to be sad there. I had never seen any place greener than the Guatemalan countryside, or awakened to the sound of such varied birdsong, or known a spot where the night sky shone clearer. But what took my breath away was the moment our old Jeep rounded a curve on a mountain road, and I first caught sight of Guatemala's jewel: Lake Atitlan. Roughly 50 square miles in size—deeper and bluer than any other body of water in Central America—the lake is rimmed by three inactive volcanoes, plus a cluster of villages and a couple larger towns around its shoreline.
Even all those years back, I was stunned to see a place of such unspoiled magic. There were no motorboats—just a few fishermen in dugout canoes. There wasn't even a tarred road around the lake. Or any roads at all in some areas, though up in the hills you could see footpaths where the indigenous people cultivated corn. The women still wore traditional woven huipiles (garments worn by native women) and carried firewood on their heads. The men wore pants embroidered with birds and other wild designs and carried sacks of stones on their backs. They had very little but wasted nothing. They noticed every bird and plant. And as much bloodshed as there was here at the time, the people were friendly and welcoming.
And then there was the lake. All my life, I've been a swimmer. Swimming pools never call to me, and the ocean—though I love to see and smell it—is more for jumping in the waves than actually going anyplace. It's lakes that call to me. And none ever more than this one. There is a saying at Lake Atitlan: Once a person swims in these waters, she will return. For me, it was 28 years after that first visit before I descended to the lake again. That was 11 years ago. I was 48 then and had experienced all the things life tends to deliver—love, marriage, babies, work going well, work going badly, friendships formed and ended, homes built and left, parents dead, marriage over, children grown and gone. I was no longer young and had a bad knee that made me wonder if I could still climb the mountain in search of orchids as I once did. Guatemala's war was over. Roads that were once dirt had been paved, and there were a few more tourists now, though still no crowds or large hotels. Two things seemed unchanged: that lake and the culture of the Mayan people who made their lives there.
This time when I came to the lake, I stayed. I rented a little house on the water in San Marcos La Laguna. I lived alone, with no telephone or email. I kept a simple schedule: rising early to have coffee under a papaya tree, looking out to the fishermen in their boats, then working on a novel, with a break every few hours to dive into the lake. In the late afternoons, I'd walk into town for fresh vegetables. Sometimes I took a yoga class, and when musicians were passing through town, I'd go hear music at one of the restaurants. When it was hot enough, I'd dive into the lake again for a swim under the stars.
I made a few friends—travelers passing through and other foreigners who'd left their native countries to sink roots here. No one was wealthy. It's not that kind of town. They lived by teaching yoga, or giving massages and Reiki, or by running one of the half dozen or so 
restaurants in the village where you can buy dinner for less than $10.
Eventually, I had to return to the U.S., but the lake was in me now. Within a year, I'd found a house on its shoreline—a steep acre of hillside leading down to the water, across from one of the volcanoes, in a bay where the fishermen put down their lines. I bought it for $85,000. Over the next decade, I took Spanish classes and hired locals to build stone walls for terracing my gardens. Together, we built up the rich soil for flowers, fruit trees, and a vegetable garden. We built a dock, arbors for hanging vines, a tree house, sauna, pizza oven, outdoor fireplace, and a waterfall. I wasn't close to rich back home, but here in this village, I could dream up projects and give locals jobs. And because I host a writing workshop here every winter, I can inspire other North Americans—who might otherwise suppose that Guatemala is a scary place to travel—to come here and discover for themselves the beauty of the place. A few of them have even bought land here.
It's not all easy though. In the 12 years I've owned my home in San Marcos, two hurricanes have hit, one of which wiped out a part of my hillside. The lake is also rising inexplicably, and it may well reach the ground floor of my house in a few years. If it does, I'll move higher up the hillside. I have experienced a few thefts, just as I have at my home in California, but never any violence.
The children I've met are teenagers now. One, whose education I've helped pay for, is studying trigonometry and dreams of going to the university. When I make my trips to Lake Atitlan, she comes to visit, bringing tortillas and things her mother wove for me. When Rosa was very small, she warned me of what her grandmother had told her: If a person swims in the lake the week before Semana Santa, she will turn into a sirena. A mermaid. And maybe I have. It's not a bad thing, I say. I am more at home at this lake, I tell her, than anywhere on the planet.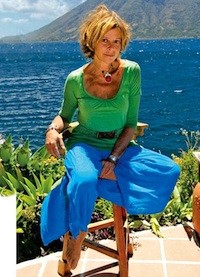 Joyce Maynard is a reporter, best-selling novelist, and writing teacher. She is currently at work on her 13th book.
Check out Joyce Maynard's Guide to Lake Atitlan.
Calling all SF writers: Submit your story for consideration to ledger@7x7.com.
This article was published in 7x7's May issue. Click here to subscribe.