Karlsson's just launched the newest jewel in its vodka crown, Karlsson's Gold Vodka Batch 2009, a limited edition vodka made solely from the 2009 harvest of the Solist potato from the Cape Bjäre region of southern Sweden.
What makes it so tasty? It's a limited edition vodka with terroir, made from the 2009 crop of a single varietal of one of the world's most exclusive new virgin potatoes (the potato's fine skin and delicate taste means that it pairs well with fish and grilled meats), Karlsson's Gold Vodka Batch 2009 will be available at select fine retailers and restaurants in the United States starting this month.
The 2009 crop of Solist potatoes allowed the creation of 1,980 bottles of the vintage, each of which is numbered and signed off on by Master Blender Börje Karlsson. In short, this is quite the coveted bottle of vodka. Each 750 ML bottle of Karlsson's Gold Vodka Batch 2009 will retail for $80 at Cask (and other fine retailers in SF). Get yours while you can!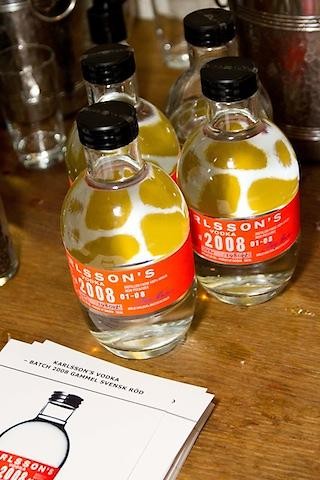 See photos from Karlsson's Vodka tasting event at 54 Mint last week here.