When we get past the pomp and circumstance, pageantry and omnipotence and media ubiquity and 12 million Twitter followers of Katy Perry, when we dig deeper than the 30-second sound bytes and three-minute music videos, when we're confronted with the actual person, rather than the image bestowed, what are we left with? What is this thing underneath the guise of Katy Perryness?
Fourteen thousand or so Bay Area fans turned up at Oracle Arena in Oakland last night to serve witness and pay respects to this modern pop-pentecostal idol. They were of all ages — but mostly of the tween and teenage-dreaming sort — and they were decked out in their finest Sweet Sixteen garb: wigs optional but encouraged, shrill OMG shrieks ready at their disposal, hearts affixed to sleeves. And the all-ages factor was certainly acknowledged by Perry in more than a few ways — she realized that they were out in full force on a "school night," but she also talked of "adult beverages" during a set that had plenty of sexually advanced themes. Parental guidance might have been advised during a gloriously obscene stand-up 69 dance move in "Last Friday Night" and Perry pantomiming fellatio in "I Wanna See Your Peacock."
But Perry makes no apologies for her suggestive content, her tongue instead planted firmly in cheek. She winked her way through an elaborate production spanning her myriad No. 1 singles and two proper albums, pimped out with umpteen costume changes, backup dancers, aerial acrobatics and morphing stage. She even had a satellite stage, a hovering cloud-like perch, take her above the audience for the solo acoustic number "Thinking of You," a salient moment of crowd connection in a set that somehow never felt distant.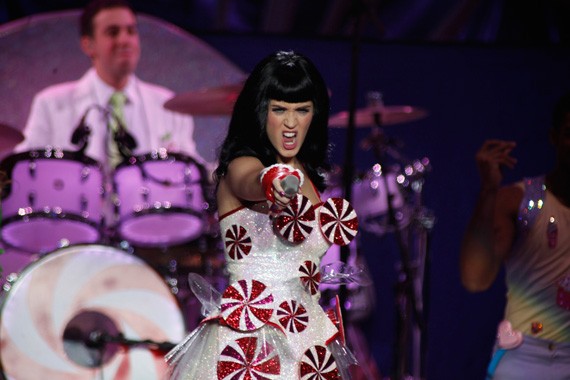 What separates Perry from yesterday's pop stars — and makes her live set feel shockingly intimate — is her playful sense of humor and self-awareness. She poked fun of herself more than a few times, and joked about former would-be lovers and her Facebook stalking habits (as it happens, Perry will test her funny bone when she hosts Saturday Night Live Dec. 10).
To draw comparisons, we'd put her in a Venn diagram with Gwen Stefani and Britney Spears. Stefani might be the kindred-er spirit, with her grrrl power and punk roots sometimes showing underneath the megapop sequins. But like Spears, Perry usually just wants to play dress up and have fun, and if she empowers a generation of girls with her confidence and honesty, well that's just swell.
The feeling that this was a Broadway-ready theatrical event couldn't be ignored. There was even a half-baked narrative involving Perry eating a "Haight Street" brownie to tie the production together (and make time for costume changes), as well as interludes replete with fan interaction and hallucinatory characters. This must have been what "Mamma Mia!" was like... on shrooms.
Perry, perhaps the world's most famous California girl by now, spoke of her various NorCal connections, including her "cholo" roots as an awkward tween growing up in Stockton, playing the Warped Tour in Oakland in front of a few hundred people years back and the friends of hers from Berkeley who inspired "Firework" (her favorite song, for the record).
When time came for the encore call, "California Gurls" was the obvious choice and probably the crowd-favorite of the night in a show that seemed to be one zealous anthem after another.
Before Perry, and before the Top-40 regurgitations of DJ Skeet Skeet, there was Ellie Goulding, who seems market-ready for mass appeal. The Londoner has Britain's Got Talent pipes and a face for showbiz, and an opening slot for Perry should do wonders for her MySpace page. She stuck to major chord pop, but varied enough in her genre-bending to keep things somewhat interesting, skipping from acoustic ditties to synthed-out dance numbers to emo adult contemporary, if there is/should be such a thing.

@ChrisTrenchard