Originally published on California Home + Design
Tourists and locals alike flock to San Francisco's beloved "Painted Ladies," the uber-Instagrammable row of seven Victorian stunners made famous by the opening credits of television's Full House sitcom. As an example of the city's period architecture, you won't find much better, but we posit that a coat of matte black paint can flip the pretty period on its head—transforming the ornate turn-of-the-century style into a fresh aesthetic. 
Check out our gallery of 20 edgy examples of black painted ladies (with a few moody blues, grays and greens thrown in for good measure) to see what you think of the region's darkest trend.
We featured this South Park Edwardian (below, l) back when it went on the market for a cool $7.65M in April of this year. The five-bedroom, four-and-a-half bath surprise with a few jawdropping features, including suspended playground swings in place of dining room chairs, "rollaway" skylights, a backyard and a rooftop terrace (in addition to its matte take on a period paint job). But perhaps the best feature is its super-central location on the leafy charm of South Park: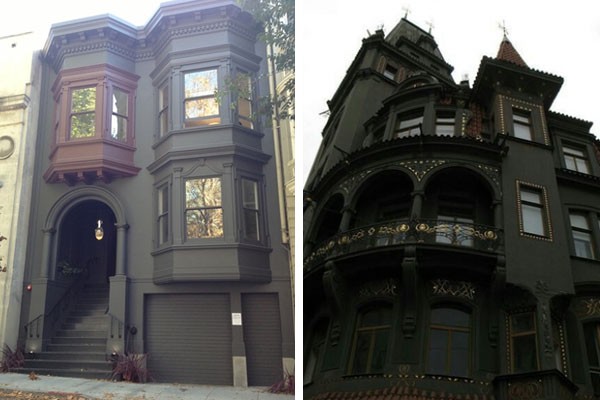 During the Victorian Era the logging industry exploded in Humboldt County (above, r). The lumber barons poured their riches into housing and you can find beautiful Victorian architecture in Eureka and Arcata. This old home done in shades of noir and gold has a decidedly modern outlook.