Kenneth Cole has currency in many things. Shoes, for one. Over the past three decades, the designer has set the paradigm for modern-day fashion crusaders — or, as he jokes, for assisting "the wardrobe impaired and fashion plagued." 
You could stop at that, or look at the man behind the brand, one that has expanded to multiple lines ranging from the high-end Kenneth Cole Collection to the sportier Kenneth Cole Reaction. With his boyish presence and nonstop percolation of ideas, Mr. Cole, 59, is the guiding spirit to his business, long stirring the pot on a social and political level. Yes, the designer will offer a sleek fall/winter wardrobe, but he'll also attempt to outfit your mind, all in the name of change. His Twitter handle, for which there are about twice as many followers as those for the official brand feed, describes the polymath well: "Designer, Aspiring Humanitarian, Frustrated Activist, Social Networker In training." (We would add chairman of amfAR, doting family man, and lover of puns.)
To tell his climb into the pantheon of global powerhouses would require a tome. As it so happens, Rizzoli has just released the coffee-table book, THIS IS A KENNETH COLE PRODUCTION, on the heels of Kenneth Cole's 30th anniversary in the business. 7x7 recently talked shop with the designer in his St. Regis hotel suite, while he was in town for the book's press tour.
You were the first fashion designer to bring public awareness to the AIDS epidemic. Why was this so important to you?
It was the '80s in New York. I was in the fashion business — there was this consciousness that was pervasive — but I wasn't living the lifestyle that others were. Maybe that's why I was comfortable doing what I did, because I wasn't at risk of being stigmatized. But if you think about the ones who did talk about it — it wasn't Rock Hudson, it was Elizabeth Taylor.
Elizabeth Taylor was the founding national chair of amfAR, for which you took over in 2005, expanding the organization to a global level. What did you find most striking about Ms. Taylor?
She always had a great sense of herself, and was dead focused on what she thought was right. She'd go to Washington and senators would stop what they were doing to be in her company, and listen to what she had to say. Nobody wanted to deal with it publicly, but she was the one who got Reagan to ultimately mention the word AIDS for the first time, which wasn't until 40,000 Americans had already died because of it.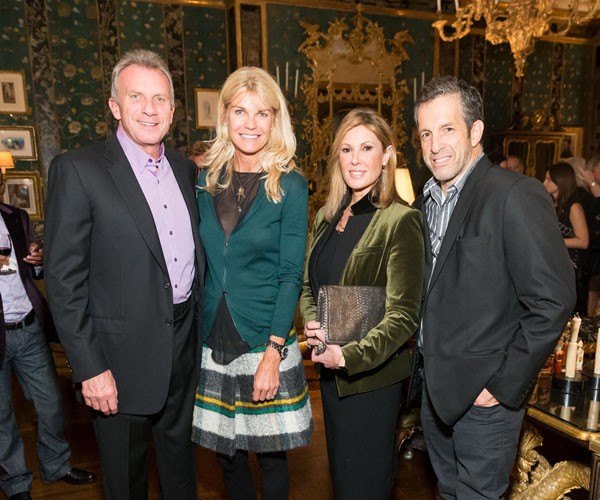 Kenneth Cole at his anniversary event hosted by Anne Getty. Photo by Drew Altizer.
So, the fashion industry! Is it true that you launched your first line of shoes out of a trailer during New York Fashion Week, and in those first two days, you sold 40,000 pairs?
Yes, it's a very interesting story. Did you see Kinky Boots, by the way? It's amazing; you have to go see it. Personally, I loved it, because it's a story of a young man who was driven into the shoe business, since his father had a shoe factory (my father had a shoe factory), and when his father passed away, he willed it to his son. The business was on the verge of failing, and he had to reinvent it and identify a niche business, ultimately making boots for men who dress like women. In the end, it's basically about acceptance and mutual understanding. And, the Kinky Boots x Kenneth Cole collaboration will be on sale this December.
The word "bold" is synonymous with Kenneth Cole. Within your legacy, if you could bring your messaging down to its kernel, what would it be?  
I've always wanted to have a reason to exist. I've always looked to distinguish myself in anything that I've done, and hopefully in positive ways. I think most kids look to do that. And it's interesting now; with all these new social platforms, everyone has become their own unique brand. So, my goal is to create cool clothes and accessories to accessorize your brand. At the same time, I want my brand and story to be very unique, to know that I'm spending all this time and energy into something that is sustainable, that is impactful, and will, hopefully, affect lives in meaningful ways.
As you've said before, the Internet is this big facilitator from the sky now; how has that influenced your eye for design?
Design is no longer proprietary. You can create something that is unique and different, but it often stays unique and different for just 15 minutes. Before a look leaves the runway, it's now already uploaded, downloaded, posted, pinned, liked and disliked, everywhere, by everyone. The people who embrace what we sell are inclined to agree with most of our messages, or at the least, are inclined to respect that we had the courage to put ourselves out there and talk about it.
You recently celebrated a wedding anniversary with your wife, the incredible Maria Cuomo Cole. Any secrets to a long and happy marriage?
Yes, 26 years in a row. I think we have a lot of shared passions, and emotionally we are very aligned on most things in our lives — in the home as well as outside the home — so it makes it easy for us to emotionally connect. But I think it all starts with mutual respect.
If you were describing the cities of New York and San Francisco as shoes — what would they be?
I think San Francisco would be a Birkenstock; New York would be a high-top.