Spring is in full force in Wine Country. Flowers are blooming, vines are growing, temperatures are rising. That means it's the perfect time to start running. If you're looking to shed a few pounds or just simply get outside, committing to running a race through Wine Country can get you motivated. Not to mention, most races have some great perks waiting to congratulate you when you cross the finish line.
Windsor Green Half Marathon, Sunday, May 19th
Not ready to tackle 13.1 miles? The Windsor Green Half Marathon offers three different distances to choose from. The 5K (3.1 mile), 10K (6.2 mile) and 13.1 mile half marathon all start and finish on the Windsor Town Green. Walkers are welcome in the 5K and 10K. Runners are welcomed to the finish line with a hot breakfast made by the Windsor Fire Department. You can check out the course maps so you know what to expect on race day.
Kenwood Footrace, Thursday, July 4th
Kick off your Independence Day celebrations with a good calorie burn. The Kenwood Footrace is the longest running 10K footrace in California. It's challenging and hilly, with a fun atmosphere. The course map includes a topographical map. They also offer a 3K if you're looking for a shorter distance. Runners come from near and far, but locals love this neighborhood event and even those who don't run turn out year after year to walk. Both races start and finish at Kenwood Plaza Park. The race entry fee includes the much sought after Kenwood Footrace Glass and t-shirt along with $5 off the annual Pancake Breakfast at the Kenwood Community Church.
Water to Wine Half Marathon, Sunday, August 11th
The Water To Wine Half Marathon starts at the Lake Sonoma Visitors Center and finishes at Alderbrook Winery in Healdsburg. If the 13.1 mile course isn't what you're looking for, a Three-Mile Fun Run begins at Alderbrook Winery. Walkers are not allowed for the half marathon but are welcome to come out for the fun run.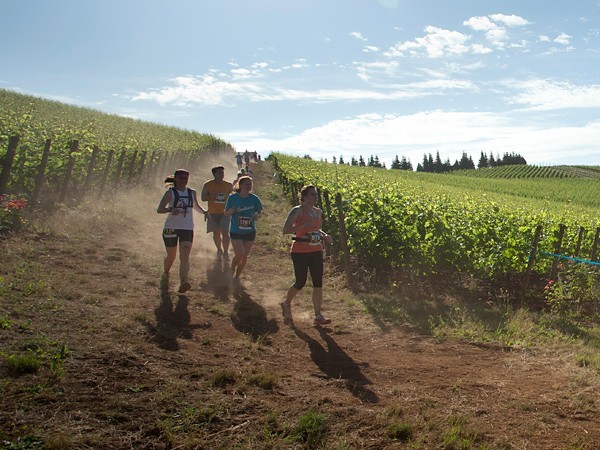 Photo courtesy of opb
Santa Rosa Marathon, Sunday, August 25th
Runners have the choice of a 5K, half marathon or full marathon when they sign up to compete in the Santa Rosa Marathon. All races start in the area surrounding Julliard Park. A good chunk of the marathon and half marathon follow a bike path along the Prince Memorial Greenway. At mile nine, the marathon makes its way to DeLoach Vineyards and actually passes through one of its wine barrel and fermenting rooms. Not sure what to run? Taking a closer look at all three courses might help you decide.
Healdsburg Half Marathon, Sunday, October 20th
The Healdsburg Half Marathon starts and finishes in downtown Healdsburg. The first mile goes through residential Healdsburg before heading outside of town to Dry Creek Valley and Alexander Valley. An Oktoberfest wine and beer tent will be waiting for runners after they cross the finish line. A custom race logo wine glass to enjoy the post-race festivities is included with the race entry fee.
Healdsburg Wine Country Half Marathon, Saturday, October 26th
Didn't get a record time? Less than a week later you can run Healdsburg all over again at the Healdsburg Wine Country Half Marathon. In the spirit of Halloween, best individual and team costumes receive awards. Once you cross the finish line, you get to enjoy the post race Wine and Music Festival. There will be over twenty wineries and local breweries pouring, along with live music.
Dana can be found on Twitter @drebmann