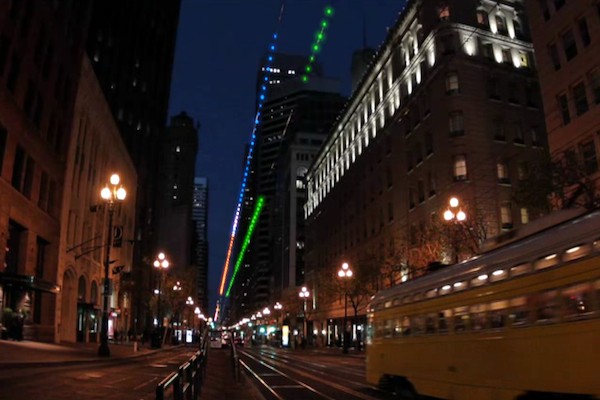 Buried within last week's plea to keep BayLights going—as it should, since a twinkling Bay Bridge is a glorious Bay Bridge—was a nascent project called LightRail. Described as the world's first subway-responsive light sculpture, the art installation would reflect the public transportation madness happening below your feet with so much color and light. It would be, in a word, astounding. We like it. You'll like it. It needs to happen. Here's why:
"Two LED strings in the center of Market Street will stretch two miles from Van Ness Avenue to The Embarcadero. The LED strands will be suspended safely above SF MUNI lines by anchoring into existing light post infrastructure. They will use BART and MUNI APIs to brilliantly illuminate the movement of underground trains. After BART and MUNI have closed, randomly distributed small pulses of light will move along Market Street, simulating the passage of pedestrians. The piece will thus be a celebration of the many sustainable modes of transportation that make up city life."
As for what it might look like, check out the following video rendering:
While the project remains under review for city approval, we hope to see chasing lights zooming up and down Market in the very near future. Ben Davis, of Illuminate the Arts, calls the budding project "a form of civic activation." We call it downright beautiful.
Make it happen, San Francisco.