By
Whether you're looking for a recreational spin or a serious workout, getting a good, long bike ride within city limits is a challenge. Get out of town on one of these six trails with urban starts.
The Bay Bridge Trail
Stretching 2.2-miles over the San Francisco Bay, the newly renovated (and finally open) eastern leg of the Bay Bridge Trail allows cyclists (and pedestrians) to travel from Oakland to Yerba Buena Island on their own two wheels. With freshly laid sections over 15 feet wide, the Bay Bridge Trail is far from a claustrophobic endeavor, unlike other East Bay urban bike paths. You will delight in the generously marked bike lanes—as will pedestrians who still have ample room to walk about. With three public access points in Emeryville and a weekend public shuttle available to SF-based cyclists leaving from Treasure Island, you'll be hard-pressed to find an excuse not to ride this hella scenic out-and-back East Bay route. // Ride details.
Marin Headlands
One of the most popular escapes from the city for hikers and bikers, the Marin Headlands offer sensational scenery, opportunities to ride both on and off road, and a few serious ascents. The best time to go is spring and fall and an early start is recommended to avoid the swarms of tourists on the Golden Gate Bridge and the viewpoints along Conzelman Road. Some of the best views and least crowds are to be found on the battery Townsley loop. Go counter-clockwise via the Marine Mammal Center for the easy approach, clockwise for an intense climb. // Ride details.
San Andreas Trail
Follow the fault line alongside San Andreas Lake and Crystal Spring Reservoir, and take the opportunity for an extended ride all the way to Woodside (where a good lunch is the reward). The ride is even more carefree on Sundays in the summer when Canada Road is closed to cars. // Ride details
Tour de Presidio
If you want an energetic but short ride, this is your course. At approximately 1,500 feet and 16 miles, it provides enough on/off riding to really test your mettle. If that's your goal, then get out early to avoid traffic. If it's a laid back ride you're seeking, this is a scenic way to take in almost all of the Presidio. // Ride details
San Bruno Mountain
San Bruno Mountain offers not only a good workout but some of the most stunning views in the Bay Area—at some 1,300 feet, you really are above it all. But it'll take a bit of work to get to the top. // Ride details
Paradise Drive
The Paradise Drive loop offers more mileage than a Headlands ramble but less elevation, plus the possibility of coffee or lunch with views of the city. You'll start at this 38-mile trek at Crissy Field, riding the span of the Golden Gate Bridge into Sausalito, past killer vistas of Mt. Tam and, eventually, into downtown Tiburon and back to Sausalito. Starving? Take our guide for where to grab a bite and drink. // Ride details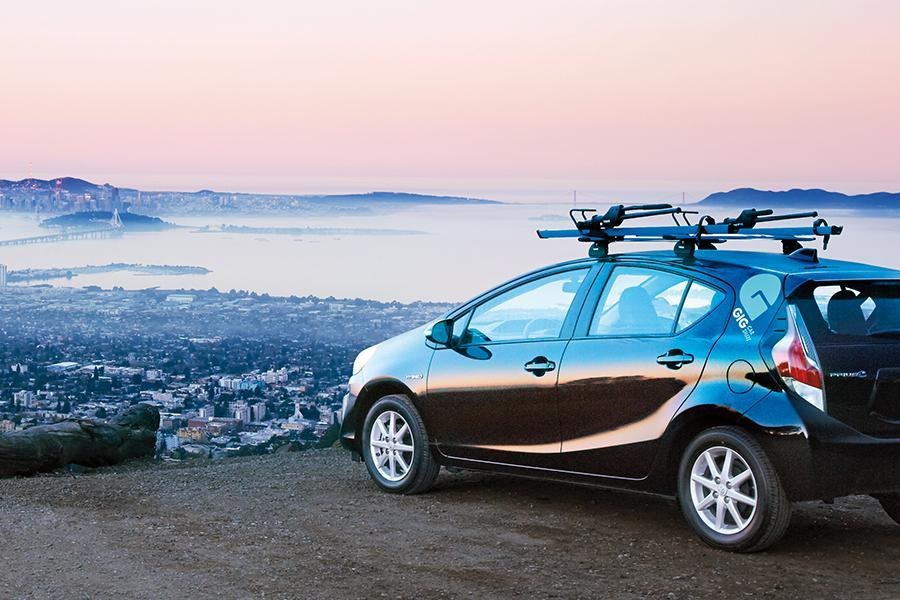 (Courtesy of Gig Car Share)
Need a car to get you to the start of the trail? Gig car share promises super flexible access to a ride, with affordable rates by the mile, hour, or day. Just download the app, hop in a Gig, and get going—the car is fully tricked out with a bike rack, gas, and it even comes with insurance (restrictions and limitations apply) and 24/7 support. When you're spun out, hop back in the car and park it almost anywhere in the Oakland or Berkeley HomeZone. You'll be home loading up on carbs before you know it. // gigcarshare.com
(Special thanks to our partners at Gig Car Share)

DON'T MISS A BAY AREA BEAT! SUBSCRIBE TO OUR NEWSLETTER.