It's been a long time since there was a TV show based in San Francisco that showed any potential of longevity. There was the short-lived Alcatraz, the even shorter lived Eli Stone, and the barely there Trauma. Then there were SF-based shows like everyone's favorite, Full House — and that wasn't even filmed here. HBO's forthcoming series, Looking is about to change the void of San Francisco representation on TV and creators Michael Lannan and Andrew Haigh are going to make sure of that — in more ways than one.
The new comedy premieres on Sunday January 19 and has been drawing comparisons to Sex and the City and Girls but with gays. There are three gay friends: Patrick (Jonathan Groff), Agustín (Frankie J. Alvarez), and Dom (Murray Bartlett) who are trying to get through the trials and tribulations of life. One is about to turn 30, another is in his 30s, and the other reaching the age of 40. The comparisons are warranted, but thanks to Lannan (who once lived in SF) and Haigh, there's a distinct vision and storytelling style that has nothing to do with Manolos and twentysomething angst. A lot of it has to do with a fresh, modern take on gay lifestyle (with a lack of the predictable sassy stereotypes, thankfully), smart writing, and, best of all, a representation of San Francisco that will happily gain the approval of skeptical locals.
I had a chance to watch the first couple of episodes and talk to Lannan and Haigh about the road to HBO and some of the interesting reactions they got while filming around the city.
How long has this show and the idea been in the works?

Michael Lannan: Quite a while — in some form or another. Eight years ago I was living in New York and working for a director named Allen Coulter who's done a lot of HBO work. I started taking notes on the life I had in SF and collected these stories into a feature script on these three characters first. Nick Hall at HBO brought me in for a meeting with Casey Bloys (who's the head of comedy). They asked if I would write a half hour with the three characters and that was the first version of this TV show. 
What kind of San Francisco did you want to capture with the show?
Andrew Haigh: That's the key to what we wanted to do is -- try to show the real San Francisco and not show a picture postcard. Mike lived there for three years and knew the city well, and I'd been there a lot and we really wanted to capture the spirit and the tone of the city because it is so distinct and unlike any other city in the world. It was always my intention that we'd be out on the street -- in the bars and all the places that really exist to give it that kind of realistic feel.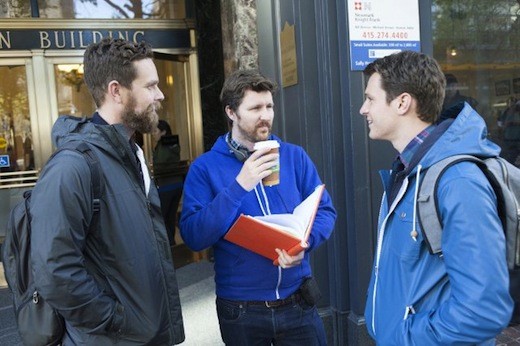 From left: Michael Lannan, Andrew Haigh, Jonathan Groff. Photo credit: David Moir/HBO.
How do you think the show would be different if it were filmed in another city? 
Michael: For one thing it's very unique physically. It's so dramatic. It has beautiful houses everywhere and such a magical strange special landscape. There's obviously a lot of gay history in San Francisco. That was a really great backdrop for us to revisit these modern gay characters and put them in a place where we can tell a very contemporary story. 
How welcoming were the people of the city?
Andrew: In the end, people were really welcoming here. That's what I love about San Francisco — they're so proud of being from San Francisco. When you're shooting on the streets you feel the energy of the city, and I think that comes across when you see the show as well.
Michael: I remember there were some rumors going around that "HBO is doing a show with rich white gay men driving Mercedes around San Francisco." I don't know where it came from. I think people got a sense of what we were doing. We were trying to do something that was a little more real and a little more true to San Francisco, and it wasn't Hollywood coming in to do their cheesy version of the city.
Andrew: On the last day of the shoot, we did have some drunk guy screaming at us, "Go home. We fucking hate you, HBO. We hate you. Go home."
Michael: We had some people yelling like, "F*ck you, Real World! THIS is the real world!" They thought we were The Real World. Overall I think it was very smooth and a lot of small business owners embraced us and helped us, and there was just a lot of excitement, too.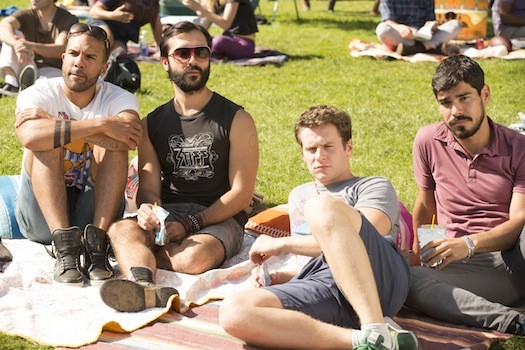 From left: O-T Fagbenle, Frankie J. Alvarez, Jonathan Groff and Raúl Castillo. Photo credit: John P. Johnson/HBO
With the uber success of a lot of HBO shows like Girls and Game of Thrones, was Looking a difficult pitch because of the specificity of the target audience?
Andrew: It obviously is about three gay people living in San Francisco, but our hope was that once you watch it and get to the last episode, you've gone through the journey with the characters — but it just becomes so much more than that. What's going on underneath, the struggle that these guys are going through. Their kind of need for connection and intimacy and all those things that we all experience become clear. It does become more than a show set in San Francisco with gay people.
Michael: I also think that Andrew and I both subscribe to the idea that you sort of get the transcendent by being very specific and being very detailed about a world that is about characters. It's a bit of a paradox, but that's really how you get to more universal things is by just being very, very specific. I read this interview with David Simon who created The Wire, and he said he wanted to make a show about Baltimore that people who lived there would recognize and people who didn't live there would want to know more about it. Not to compare ourselves to The Wire in any way, but I hope that there's sort of a principle there that even people who don't live in this world will be excited to learn about it because it's so different from theirs.
In the fourth episode, some of the characters go to the Folsom Street Fair. That's a very popular institution here in the city. Was that actually filmed at the fair or did you stage all that?
Andrew: We shot during the fair, yeah.
How familiar was the cast with the fair? If they weren't, how did they react to it?
Andrew: I think most of the crew and a lot of the cast had never experienced it properly. Certainly it's a interesting place to be. By the end of the day, you're like, "I can't look at any more penises. I don't want to see anybody else masturbate." But everyone had a really enjoyable day. One of our grips wore leather for the day. Everybody completely embraced it.
Were there any specific favorite local things that you just had to include in the series just for your own benefit?
Michael: The Stud was a place I used to go to a lot when I was there, and I had some — shall we say — formative experiences there.

Andrew: I love Orphan Andy's because that was the first diner I went to when I came to San Francisco.
Michael: A lot of the locations are places that I used to go to or go by. I think lots of places like Esta Noche were really fun places to shoot. We got to shoot at El Rio, too. That was a bizarre experience to go location scouting at a place I used to just go for fun.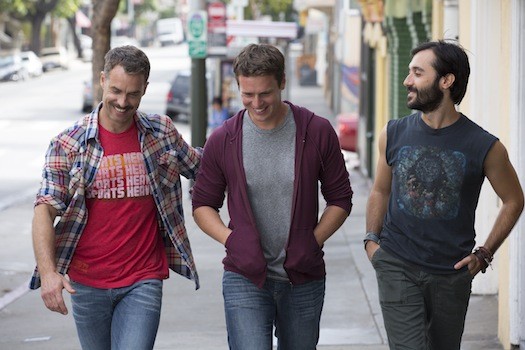 Photo credit: John P. Johnson/HBO

While you were shooting here, were there some favorite spots that you and the cast hung out constantly?
Andrew: I think when you're in the middle of production you're so exhausted all the time that you don't really go out. But we went to Stars and we went to the local bars in the Mission.
Michael: We were right around the corner from the Mission Bowling Club. Sometimes we would have a post-work drink there or post-work bowl. We had some gatherings at The Mint.
Andrew: Lots of Mission Chinese was eaten.
Michael: Oh yeah...
"Looking" premieres Sunday, January 19 at 10:30 PST on HBO.