Last weekend, local celebrity chef and avid cyclist Michael Chiarello (Bottega, Coqueta) brought together his two loves with Bottega Gran Fondo, an inaugural two-day cycling event in his hometown of Napa to benefit Napa Valley Bicycle Coalition, Napa Valley Vine Trail and Clinic Ole Community Health. Two bike routes, a 40-mile and a 75-mile loop, laid the course for 24 teams led by by cycling pros, chefs, and winemakers, with delicious stops along the way.
Along the course, bikers fueled up at aid stations with bites by famed chefs Daniel Humm (Eleven Madison Park, New York City), Jody Adams (Rialto and TRADE, Boston), and homeboy Matt Accarrino of SPQR (who made a delicious Budino Bianco sausage sandwich on a pretzel roll).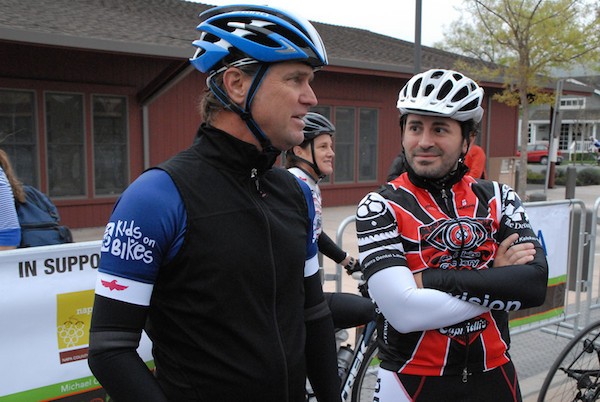 Team leaders: Owner of Carmichael Training Systems Chris Carmichael (former pro) and chef Matt Accarino.
With wine-soaked lunches followed by rigorous tours en velo through Wine Country, it's safe to say we'll be signing up next year. But in the meantime, we can get a taste with Chiarello's own gourmet energy bars, which he whipped up for the event—check out the recipe below.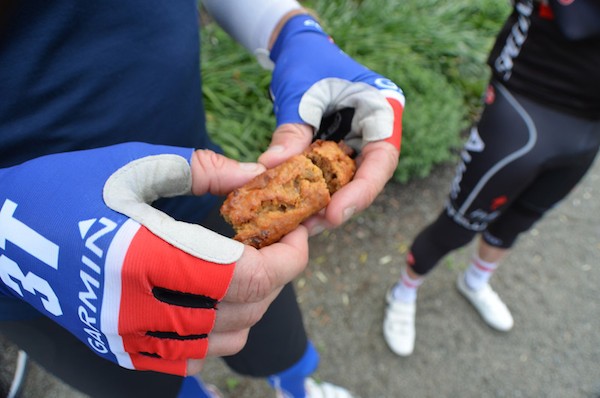 Michael's Energy Bars
Yield: 18 bars
1 cup quick-cooking oats
½ cup sliced almonds
½ cup dark raisins
½ cup golden raisins
½ cup dried apricots
⅓ cup unsalted butter, room temperature
½ cup brown sugar
¼ cup golden molasses
1 egg
1 cup unbleached all-purpose flour
¼ cup whole-wheat flour
½ cup nonfat dry milk
¼ cup toasted wheat germ
1 ½ teaspoons baking powder
½ teaspoon baking soda
½ teaspoon vanilla
pinch gray salt
½ cup milk (2 percent is preferable)
1 tablespoon unsalted butter
1.     Preheat oven to 300 degrees.
2.     Place oats and sliced almonds on a baking sheet. Toast in oven for 10 minutes. Set aside.
3.     Turn the oven to 325 degrees.
4.     Place raisins, apricots, oats, and almonds in a food processor. Pulse about 10 times until coarsely chopped. Set aside.
5.     In the bowl of a heavy-duty mixer fitted with a paddle, beat the butter, brown sugar, molasses and egg until light and fluffy.
6.     In a separate bowl, combine both flours, dry milk, wheat germ, baking powder, baking soda, vanilla, and salt.
7.     Add to the creamed mixture.
8.     Add the milk and mix thoroughly.
9.     Add dried fruit mixture.
10.  Butter a 13 by 9 by 2-inch baking pan. Pour in the batter and spread evenly.
11.  Bake for about 30 minutes, until set. Cool in the pan.
12.  Cut into 18 (1- by 4-inch) bars.
13.  To store, wrap bars individually in plastic wrap. Will keep for about 1 week.